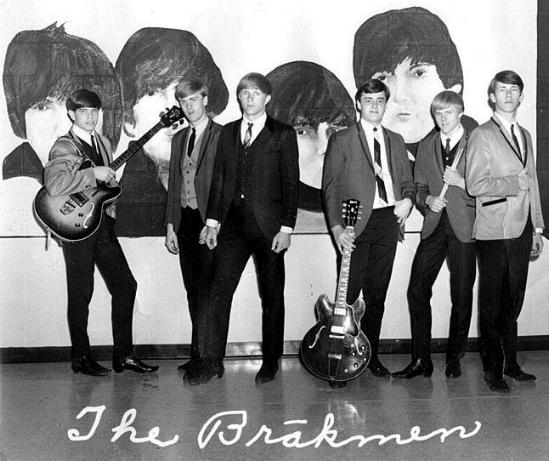 At the Brāk-Up Club, l-r: Tom Schultz, Gordon Kruse, Jim Ladd, Bob Kellogg, Jerry Ladd, and Landy Landholm.
The band just prior to recording the 45.
The Brākmen came from the town of Freemont, Nebraska a short drive northwest of Omaha. Lowell Reithmuller (keyboards), Bob Kellogg (guitar), and Gordon Kruse (guitar) formed the Brakemen while in high school in 1963. Other early members include Ken McMahon on guitar and Kent Armstrong on drums. In 1964 they found first Gene Starmer then Dave Nelson to play bass, and Jerry Ladd from another local group the Fugitives, on drums. With the addition of Jerry's older brother Jim Ladd, they became the Six Wild Brākmen.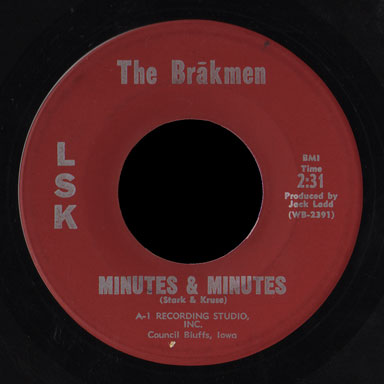 They gave their first live show in April, 1965 at the DeMolay building in Freemont, but a Battle of the Bands at the Armory was their first big performance; a home-made light show helped them win. They became known for their wild stage antics and shouted vocals. They started playing at a teen club in Omaha called Sandy's Escape, and soon became house band at the Brāk-Up Club in Fremont and toured into Colorado and Iowa.
After many personnel changes, the lineup at the time of recording was Jim Ladd on vocals, his younger brother Jerry on drums, and Gordon Kruse and Bob Kellogg on guitars, Landy Landholm on keyboards and Eric Stark on bass.
In 1967 they traveled to A1 Studio in Council Bluffs, Iowa to record a 45 financed by Jim and Jerry's father, Jack Ladd. 'Minutes & Minutes' really cooks, propelled by a fat, fuzzed-out guitar line, organ and good use of horns, with some great shouting. It was written by Stark and Kruse.
'Movin', written by Jim Ladd and Bob Kellogg is more controlled but equally intense. Jerry keeps up a constant beat on the toms, while Eric makes some Entwistle-like runs on the bass and the horns repeat a line in the background. I'm not sure how they decided to add horns to these tracks, or who plays them.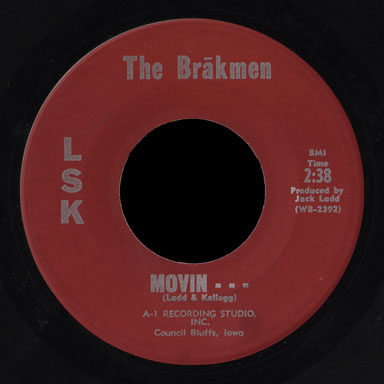 The label name, LSK was taken from the initials of the members' last names. The record sold well locally, and a second 45 on LSK Nitey Nite is rumored to exist, but may have never been released.
Soon after the record's release, the band almost signed with Kasenetz and Katz, but Jim Ladd was drafted and other members wanted to stay in college to keep their student deferments. The band continued until 1969, when Jerry Ladd was drafted. In 2001 the Brākmen were inducted into the Nebraska Music Hall of Fame.
Sources: The Nebraska Music Hall of Fame and the 7 Legends site (http://www.geocities.com/the7legends/thebrakmen.html – now defunct) site both have lots of information, photos and recollections of the Brākmen.