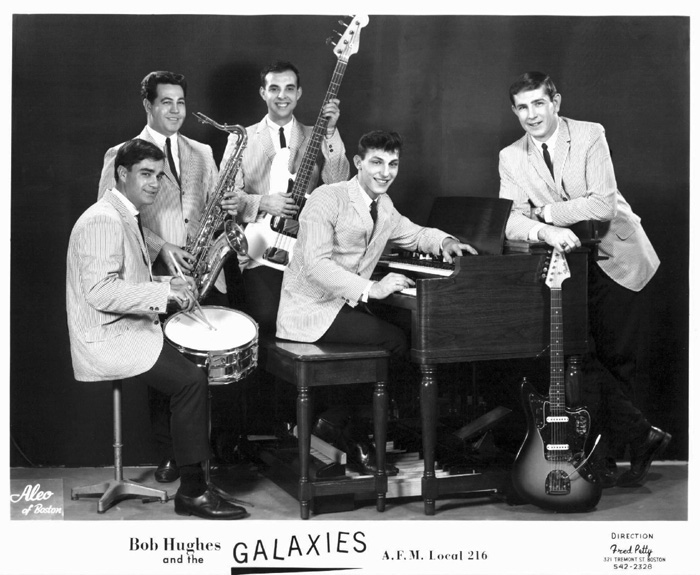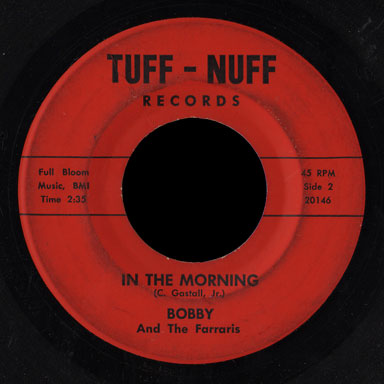 Bobby & the Farrari's cut this great 45 in 1967. "Farrari's" is a misspelling for "Ferraris" as in Ferrari, the car.
"In the Morning" has the dense, moody sound New England is known for. It was the b-side to "Pretty" a song in a somewhat older style of pop balladry. Both songs were written by Carl Gastall, Jr., who later joined Phase IV who had their own 45 on Tuff-Nuff, "Plastic World", written by D. Bourguet and "It's You".
Two later 45s on Tuff-Nuff are Ray Gambio & the Darkest Hour "I'll Be There" / "The Mountain" and Charlie Quintal's "It's a Crazy World We Live In".
When I first covered Bobby & the Farraris a few years ago, I listed the group as from Bangor, Maine, an error I repeated from a guide to New England bands published in the early '90s. Bob Hughes tells me the group was based in Fall River and played primarily throughout southeastern Massachusetts and around Providence, Rhode Island.
Bob kindly answered many of my questions and provided photos and a detailed history of his career with the Farraris and his earlier group, Bobby & the Galaxies, along with a cool demo they cut at Metcalf Recording, one side a weeper, "I'm Tearing My Heart Out" and the flip a great upbeat novelty "Giggle Wiggle" with lyrics like "she's got long black hair way down her back, too bad there ain't none on her head". As an aside, Metcalf was the studio for Masada's "A Hundred Days and Nights", released on Sadbird in 1968 and written by Paul Brissette.
Bob takes the story from here:
The Farraris were originally a four piece group, me on guitar and lead vocals, Rick Philbert (deceased) on bass and back up vocals, Danny ? on keyboards and Vinny ? on drums. We later added Lenny ?, a sax player from New Bedford, MA. He had the unique ability to play two saxophones at once, and in harmony. Very cool.

The name Farraris was a misspelling. The band was only together for two years. I formed the band because of the breakup or my other band, Bobby & The Galaxies.

Bob Hughes

Carl Gastall was a friend of mine and a fellow local musician, and really good song writer. His [uncle] Tommy was a catcher for the Baltimore Orioles. Carl admired my work and approached me with these songs. He wanted us to record them and he would get the backer to finance everything. "Pretty" / "In the Morning" was recorded at Wye studios in Rhode Island. It was our only record. It achieved some local success in Providence.

It was the first release on the Tuff Nuff label which was created by a local business man Ritchie Martin, to promote our recording. Later Charlie Quintal and some other local musicians recorded on the label. Don Perry (aka Dino and Don DeCarlo) and Larry Santos also had record labels in Fall River: Honey Bee and Little Town Records. We only sold around 500 of them.

We played mostly in the bars in and around Fall River/Providence area. My day job caused me to transfer out of the area in April of '69 and that ended the band. I don't have any pictures of the group.

Ricky Philbert the bass player, and I had been together for quite some time. We first met at a talent show at Lincoln Park Amusement Park in Dartmouth MA. It was a big place and the main attraction in all of S.E. New England.

Ricky's band and my band, Bobby & the Galaxies, were in the talent contest that was held every Sunday in the outdoor pavilion. My band won that week. Ricky approached me after about teaming up. Since I didn't have a bass player, I agreed. He immediately joined my band and we went on to win the finals at the end of the summer. The park's manager asked if we'd like to play in the park's pub every Sunday and we agreed. We were a big hit in there.

After three weeks he approached us about playing in the large ballroom every Saturday night. We jumped at the chance. The place held 3500 people. He had Al Rainone's 18 piece orchestra playing there, and drawing about 200 people. When they were fired and we were hired, Al, who was the head of the local Musicians union, threatened to close the park down since we weren't union. Needless to say, we quickly joined the union. We played there every Saturday night to a packed house for at least five years.

Each week a different star artist or band would appear and do a 45 minute show. We played the rest of the time. We backed up most of the stars of the day. Jerry Lee Lewis, Freddy Cannon, Lou Christy, etc. We opened for The Kingsman, The Beau Brummels, The 4 Seasons, and many more. It was a great experience.

As an aside, I will tell you that after every Saturday gig, we would go to Dirty Nick's hot dogs, in Fall River. A guy was working there who was at least 10 years older than us, and looked like a bum, and had horrible body odor. He seemed slightly retarded. His name was Joe Baker. Every week he used to beg me to let him sing with my band. He swore he sounded just like Elvis. Well after two years, I relented. He asked me if I could pick him up, since he didn't have a car. I agreed. The next Saturday I picked him up and he had a bundle in his arms. I asked him what it was and he said it was his outfit. He opened it to show me. He had taken a suit and a pair of shoes and spray painted them gold and sprinkled on gold flecks. That night, he appeared with us, with no rehearsal and just a play list of Elvis songs in the original keys. I introduced him as Golden Joe Baker. So I named him. If you know of him, you know what a huge success he turned out to be (see goldenjoebaker.com. He was a big hit that night and not because he could sing like Elvis, but because he thought he could and went through all the motions and gyrations. He sang badly and the audience thought it was a put on and a hilarious one. But Joe was dead serious about being as good as Elvis. After that night I took Joe with us everywhere we went. He was a big hit at all the frat parties, etc. He ended up being a star of the longest running daytime show in Las Vegas history.

Besides Ricky and me, Bobby & the Galaxies also consisted of Pete Vanasse (Berklee School of Music) on sax, Don Facciano (New England Conservatory of Music) on Hammond organ, and Ron Kook Barrera on drums. Jerry Valle was the drummer for Bobby & the Galaxies for a few years. He ended up being the drummer/singer with the very successful Spi-Dells from Taunton.

Jonny Locks, backed by the Galaxies

We never released any records of our own, but we did back Johnny Locks on his local hit ["I Know You Want Me Baby" / "All I Want From You" from the second half of 1965], on the Locks label. Johnny was a local stock car driver at Seekonk Speedway. Our record would be played there every weekend. It also got some radio play.

Q. Someone on Youtube commented there may be a second 45 by Jonny Locks, "I Really Gotta Go" b/w "My Dead Girl", and also a demo for "Long Hair and Mini Skirts".

If Johnny Locks recorded other songs I am not aware of them, and they weren't with my band.

Other than that we only recorded songs that were never released. "Tearing My Heart Out" / "Giggle Wiggle" is the only record we ever made. This was a demo recorded at Metcalf studios in New Bedford, MA around 1958.

This is the first iteration of Bobby & the Galaxies. The group consisted of me on vocals and guitar, Rick Philbert on bass and backup vocals, Dave Ray on drums, Boh Kiriutowski on sax, and Johnny Pastel on organ. "Tearing My Heart Out" was written by Carl Gastall, and I wrote "Giggle Wiggle". This record was never released. [There was] a live taping that was done by the later and better version of Bobby & the Galaxies.

We did have offers for record deals, but could not work out a satisfactory deal. We were approached at our Lincoln Park gig, by some producers who wanted to feature us on a weekly TV show, out of Boston. They were going to call it Jamboree, and film it at Lincoln Park, but on a Tuesday night, not at the Saturday gig. It was to be a half hour show with one or two featured guest stars, and my band would be the house band, We would open and close the show with the theme song, Bill Dogget's "Hold It", do one featured song a week, and back up the acts that needed back up. It was filmed live with the kids dancing. We signed the contract and filmed four episodes that aired on WBZ, if I remember right. Unfortunately we couldn't draw a large enough crowd on Tuesdays to finance the producers expenses so they stopped.

I was also involved with Jimmy Crane who owned Ribbon Records, and was a great song writer. He had hits with Elvis, Eddie Fisher, Timi Yuro and Joe Stafford. I was recording demos for him at Wye Records. We also represented WPRO in Providence at the Annual March of Dimes telethon and concert. We appeared on TV and also on the same bill with the Elegants, The Scott Brothers, Anita Bryant, Ritchie Adams and the Fire flies, and other stars of the day.

The Galaxies had an offer to go on the USO tour, for a year, which I rejected, and that caused a lot of dissension in the band. It was the start of the band unraveling. I had finished college, met my wife to be, and had planned on leaving town to get my Masters degree at U. Mass, in Amherst. I had already decided I was not going to pursue a career in music. Of course that meant leaving the Lincoln Park gig too. BTW, at U Mass I hooked up with a bunch of guys from Boston who had a band called the Esquires. I joined them while I was at U Mass. We were a Beatles tribute groups and we worked lots of frat parties. We were one of the two top bands there. The other was Taj Mahal.

After graduation I went home and reformed the Galaxies. I was able to get all of the original members back together. This was '64. We worked at local clubs and bars, and started to do some society work in Boston. We worked with the Herb Zane Orchestra, as the "rock band" who would play during the orchestra's breaks, at Debutante parties and such. In '67 we had a disagreement about the musical direction of the band. The drummer Ronny was pushing to get Ricky out of the group and bring in his friend Manny, who was very good and sang well too, but the reason was to play more soul type music. Ronny didn't think Ricky had the chops for that. He was wrong. However Ricky got so mad, he quit. Manny joined the group, and the arguments over the material we would play worsened. Three months later I left the group and joined Ricky again, and we formed the Farraris.

When I left the area in '69, I was transferred to northern New Jersey. There I worked with many fine musicians playing parties and weddings, etc. I got to play at Sardis and the Empire room at the Waldorf Astoria in New York.

The music scene in Providence and So. E. Mass. was very rich with lots of talented people and groups. The Cowsills came out of Newport R.I. – I actually repossessed their Silvertone Amps when I worked for Sears. To my ears, The Fabulous Raiders were the best band in the area. A few that were outstanding that I remember were Cal Raye, The Spidells, Talk of The Town, Johnny & The Blue Jays, The Royal Coachman, Frankie James, Benny King & the Royal Jesters, Charlie Quintal, Paul Chaplin & Emeralds (Ct.), The Fabulous Raiders, The Blends, The Videls, Jim Scott & The Crusaders, Golden Joe Baker, and more. The only other Tuff Nuff artist I know was Charlie Quintal. Charlie was really good and played with Dicky Doo & the Don't for a while. I was a member of Johnny & Blue Jays for about a year.

My old sax player Pete and keyboard player Don are still plying music today. Pete is with an oldies group at Foxwood Casino. Kings Row contains original members from several local groups and is also still active in the area.

You can also view my video on You Tube, Live at The House of Welsh w/ Ketron synthesizer.

Bob Hughes