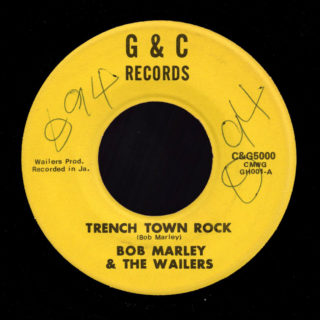 This is the US issue of the original 1971 version of "Trench Town Rock" by Bob Marley & the Wailers, issued by G & C Records C&G-5000.
Like the first Jamaican Tuff Gong issue, this US version clocks in at 3:29. The last thirty seconds contain the verse: "Don't call no cop, we can trash things ourselves, got no snacks on the shelves, but let me tell you behave yourselves". These thirty seconds do not appear on later Tuff Gong pressings, the UK Green Door 45, or the African Herbsman LP on Trojan, among other issues, which time at about 2:59.
I'd like to know exactly which Tuff Gong issues have the longer version, only the ones with red text & logo, or do any with a blue printed logo or handwritten labels.
Interestingly, this longer version has what sounds like an edit about 3:02 into the song, so possibly the ending was grafted from another take. The instrumental version on the B-side, titled "Grooving Kingston" on this release, or "Grooving Kgn. 12" on others, times at 2:59 on all releases I've heard.
This seems to be the only release on G & C Records.