The Beatmen were from Bratislava, which in 1965 was part of Czechoslovakia, but is now the capital of Slovakia. Original members were Marián Bednár (bass guitar), M. Bedrik, and P. Petro. Lead guitarist Stano Herko joined, but soon left to be replaced by Dežo Ursiny of the group Fontana, who sang and played harmonica as well as lead guitar.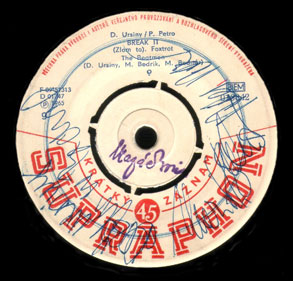 In 1965 the Beatmen released two 45s almost simultaneously, becoming enormously popular in Czechoslovakia. Both records feature a Kinks-like r&b original on one side with a slower tempo song on the flip. All four songs are originals and sung in English, something bands in other East bloc countries probably couldn't have gotten away with.
In 1966 they became the first one of the early East European beat groups to play in the West, with a concert in Munich, and even received a mention in Time magazine. After seeing them in Bratislava, Manfred Mann attempted to get the Beatmen on the bill of their upcoming UK shows, but the Beatmen were denied permission to tour.
The Beatmen emigrated to Western Germany, leaving Ursiny, who remained in Bratislava. With new guitarist Peter Eperješi, the band failed to find much success, and the Beatmen soon split up.
Ursiny formed the Soulmen in 1967, with Vlado Mally and Fedor Freso, releasing one excellent EP in '68. Ursiny's music went into a more jazzy and progressive direction after the Soulmen. He died from cancer on May 2, 1995, in Bratislava. After the Beatmen, bassist Marián Bednár joined the Braňo Hronec Orchestra for at least one single.
Thanks to Yag for the music and scans. Yag tells me that four tracks of the Beatmen from a radio performance also exist.
Beatmen 45 releases:
Supraphon 013842, 1965
Break It (D. Ursiny, P. Petro)
Let's Make a Summer (D. Ursiny, P. Petro)
Supraphon 013843, 1965
Safely Arrived (M. Bedrik, P. Petro)
The Enchanted Lie (M. Bednar, M. Bedrik, P. Petro)