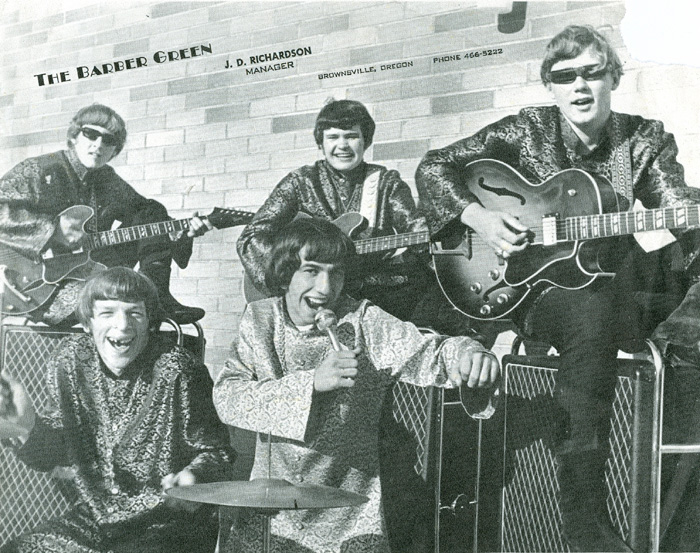 The Barber Green, circa 1968
Top left to right: Doug Collver, Don Harding, Mike McNeil, bottom left to right: Don Hurb and David Harding
The Barber Green came out of Brownsville, Oregon, about a half hour north of Eugene. Like the Moguls, the Dominions, and other acts in the area around that college town, the band recorded at Alan Graves studio. They released one excellent 45 in 1968 on the F-Empire label, which is most well-known for the Beauregarde LP.
One side of the Barber Green single is "Life", a gentle musing on a search for love and family, with harmonies and nice guitar picking. The flip "Gliding Ride" is more energetic. The guitar plays some excellent repetitive riffs as well as a good, short solo and the bass and drums are clear and well-played.
The lyrics are worth quoting:
Do you want to take a ride
A gliding ride, oh yeah, a gliding ride
We can see our city,
Yeah, our pretty city
We can see our city,
From a perch, it's so pretty
We can see the lights all through the night
We'll be in a daze until the break of day

Then tomorrow will come
We will go downtown
You'll be wearing a frown
As you go downtown
The people will stare
As if they don't care
Then you say, what is this (?)

Do you want to take a ride
A gliding ride, oh yeah, a gliding ride
We can see our city,
Yeah, our pretty city
We can see our city,
From a perch, it's so pretty
Besides the polished songs on the single, there are four unreleased songs also cut at Graves which are much rougher. One is a cover of "Proud Mary", but for me the other three are much more exciting, all single takes recorded live, with distorted guitar and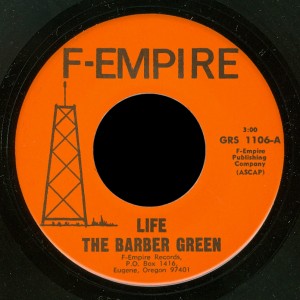 vocals that peak in the red.
First comes "Destruction", with a four-minute long repetitive section featuring guitar chords clipped by turns of the volume knob, a marching drum beat, and a long monologue. Halfway through the song, everything breaks loose for one of the wildest minutes of feedback since "Sister Ray", then it's back to the guitar motif and monologue for another three minutes to the close.
"(Thinking About The) Good Times" vaguely reminds me of the Pretty Things song of the same name in the way the lead guitar sustains distorted, wailing notes while the drummer cuts loose. Last is "Toe Jam (That Song)", fourteen and a half minutes that build and extend into one of the more interesting jams I've heard from the time.
The band has plenty of attitude on these tracks, with even the vocalist willing to improvise with abandon for extended periods. Although it sounds excessive at times, I liked hearing this session because it shows a side of bands you don't usually hear: creating music only for themselves without thinking of how it would come across to an audience, either live or listening to their record.
The Barber Green's guitarists Mike McNeil and Doug Collver wrote the following history of the group:
We were a Pacific Northwest Rock and Roll band, playing in Oregon from 1966 until 1970. We played rock, pop, R&B and a few country & western tunes. We had a number of original songs and recorded a hit single 45 rpm record. The "A" side was the hit song "Gliding Ride", the "B" side was a song simply called "Life", recorded by Graves Recording Service in Eugene, Oregon, circa 1968.

The recording was not generally distributed, but was on the top ten list of a number of radio stations, and went to #1 on some West Coast stations, including KGO 810 AM, in Seattle, WA and KSFO 560 AM in San Francisco.

Band members included the late David Lee Harding, (lead singer), Donald Harding (bass guitar and vocals), Douglas Collver (lead guitar and vocals), Michael McNeil (rhythm guitar, harmonica and vocals) and Donald Herb (drums and other percussion). The band's manager was the late Jack Richardson.

All the band members were students at Central Linn High School except for Doug Collver who attended Harrisburg Union High. We called Brownsville home and rehearsed in the old Brownsville Theater.

We played all over Oregon from Medford to Salem and from the Oregon coast to Oregon's eastern border. In Eugene we were the opening act for the premier showing of the Beatles Yellow Submarine movie. Other memorable moments included more than one gig at the U of O student union which translated into frat parties. Crazy!

Our manager, Jack Richardson connected with country star Dottie West and she had us lined up for a USO tour in Viet Nam but the Tet offensive of 1968 prompted the cancellation of that tour.

40 years later The Barber Green reunited and that's another story all together.

As well as our memories will allow this information was provided by:

Mike McNeil of Portland, OR and Doug Collver of Bend, OR
I followed up with some questions for Doug Collver:
Q. How did the band get that unusual name?
If you google "Barber Green" you will find a company that once manufactured a paving machine. Some one in the band came across one of these pavers one day and we became The Barber Green.
Q. How did the band break out of the Brownsville area to start playing shows around Oregon?
We were just kids who wanted to play our music. Jack Richardson was the one who did all the leg work and all the booking.
Q. Who did the song writing for the group?
I'm sure that David come up with the lyrics for "Gliding Ride" and "Life". The music and orchestration was a collaboration that involved all of us.
Q. How did you find Alan Graves and his studio?
We purchased all of our equipment from Graves Music (Vox Super Beatle amps & Gibson guitars). Again the credit for the connection must go to Jack Richardson. He did all that stuff.
Q. Can you tell me about the four unreleased songs the band recorded?
We only had one recording session that resulted in the two releases mentioned above. With the rest of the studio time that was paid for we jammed. David made up the lyrics as we played. When the band reunited in March of '09 we all brought whatever memorabilia we had saved over the years including copies of the LP that was cut from that session. I was able play it one time – one take, scratches and all and capture it forever.
Q. Did you or any of the other members stay in music after the Barber Green?
Don Hurb still plays a little. I put it down after the band broke up then started to play again in 1996. For the last 11 years I've been in a band called Blues Quarter playing clubs, resorts & special events in and around Central Oregon.