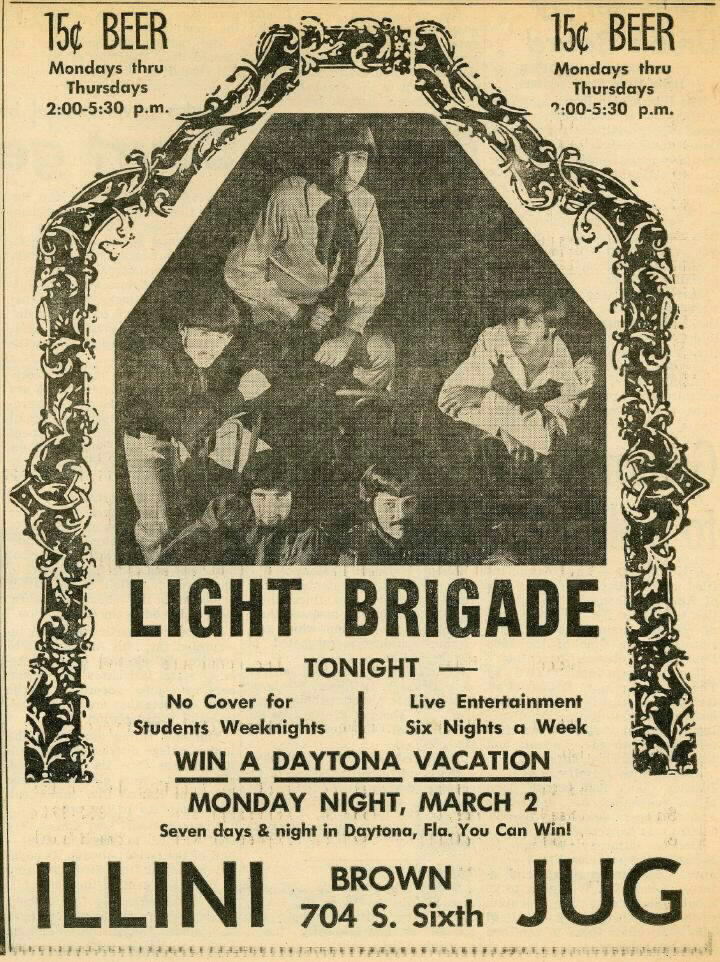 The Bacardis 45 on Midgard, "This Time" / "Don't Sell Yourself" is one of the classics of mid-60s independent singles. "This Time" is a beautiful folk-rock original, very much inspired by the Byrds but with a haunting quality to the vocals that makes it stand out. The b-side gets more attention from garage collectors, for its unison bass and drum hook, great guitar break, and ragged lead vocal.
Incredibly rare, it is also one of the few 'garage' 45s from this time to sell for over $3,000 at auction.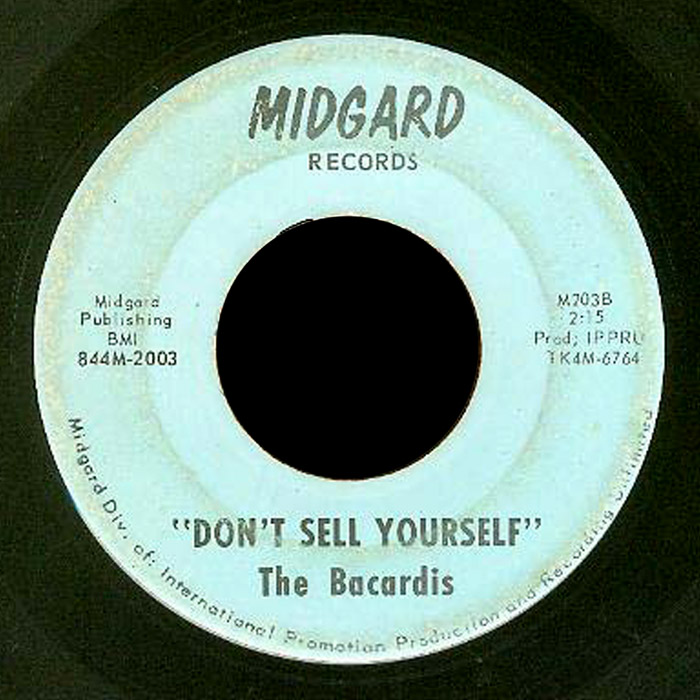 The RCA mastering number TK4M-6763/4 shows Midgard Records owner Chuck Regenberg sent this tape to RCA's Indianapolis plant at the same time as fellow Midgard release the Suns of Mourning which is TK4M-6765/6. Both are late 1966 custom pressings. The production listing "IPPRU" is just an abbreviation for "Div. of International Promotion Production and Recording Unlimited".
For ages record collectors knew nothing about this band. There are no names on the label to help track it. The Midgard label was from Madison, WI, but the band most certainly was not. One source told me Bun E. Carlos of Cheap Trick remembers a band called the Bacardis playing around the Rockford area when he was young. He didn't know any of the group though.
Then I received this photo of the Light Brigade from Illinois, and we found the group that had originally been called the Bacardis. The band members included Charlie Leeuw, Larry Walters, John Shaw, Bill Throckmorton and Chuck Miller. After changing their name to the Light Brigade, they eventually broke up sometime in the early '70s.
Chuck Miller contacted me with this info about the group:
My name is Chuck Miller. I was the bass player in the Bacardis and Light Brigade. That's me at the top of the Brown Jug clipping. I joined the Bacardis when I was stationed at Chanute AFB in Rantoul, Ill in 1966. At that time they were four guys who were also stationed at Chanute.

"This Time" was written by Larry Walters when we were living together in an apartment in Rantoul. It was recorded at the band rehearsal hall at Chanute AFB in 1967.

I believe "Don't Sell Yourself" was written by Larry and Charlie. I think it was recorded at one of the places we played but not sure where. Both songs were band demos to get jobs and never intended to be made into a record.

I will dig through my attic to find any pictures I have of the group.

Chuck Miller
In Febuary 2013, Charles Leeuw wrote to me about the band:
Just thought I'd fill in some names to go with the flyer of the Light Brigade at the Brown Jug. "The Jug" was just off campus and a predecessor to the Red Lion and Chances R.

Chuck Miller – bass guitar, sometime lead guitar and vocals
Tom Becker- Hammond B3, Fender Rhodes, vocals. Tom replaced John Shaw our original keyboard player in the Bacardi's
Larry Walters – lead guitar, originator of the band, vocals and songwriter
Charlie Leeuw (Chas) – lead vocal
Bill Throckmorton- drums, sometime keyboard

Jim Murn was our original rhythm guitar player and an original member, but our first keyboard player was John Shaw, who replaced Jim Murn and also played rhythm guitar and was backup vocalist. By the time of the Brown Jug billboard, Tom Becker was our keyboard player. I strongly believe John Shaw was keyboard on the Midgard record.
More info has come in on the comments below. Hopefully we'll see more photos of the Bacardis soon.
Source: news clipping from Hollywood Hangover.