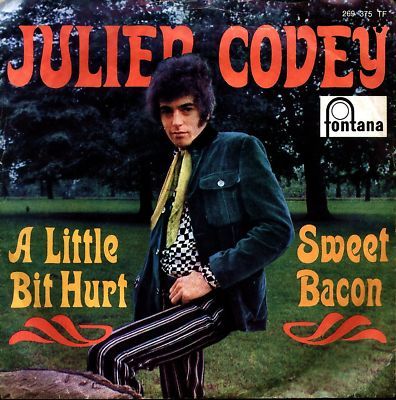 Drummer Robert Cromwell Anson (b. 20 October 1940, Sherwood, Nottingham) had played with various jazz bands, including The Don Rendell Quintet before joining The Brian Auger Trinity in July 1963 and working under the name Phil Kinnora.
In August 1964, Anson left to form his own group, The Machine, and adopted a new stage name, Julian Covey. The first line-up of the new formation came together that September.
Over the next three years, Julian Covey & The Machine underwent a staggering number of personnel changes, which often resulted in entirely new formations lasting a handful of months.
One of the first significant musicians to feature in the group's ranks was Hammond organist Vincent Crane (b. Vincent Rodney Cheesman, 21 May 1943, Reading, Berkshire, d. 14 February 1989), who had previously worked with The Vincent Cheesman Trio, The Simon Magus Band/The Vincent Cheesman Blues Brothers, Lew Hird's Australian Jazz Band and The Big Sound. It's quite possible that Crane was part of the formation when Julian Covey & The Machine made its Marquee debut, opening for The Spencer Davis Group, on 4 May 1965.
Noted jazz sax player Bob Downes (b. 22 July 1937, Plymouth, Devon), who had previously worked with The John Barry Seven, remembers Crane being a member of the band for a while but it is unlikely that the Hammond organist was still on-board when Julian Covey & The Machine travelled to Accra in Ghana and performed a weekly-long gig in the city.
Crane, of course, would later go on to play with The Crazy World of Arthur Brown and Atomic Rooster after playing with The Word Engine, Vincent Crane's Freedom Riders and The Vincent Crane Combo in the interim.
Downes meanwhile would also work with The Word Engine before playing with Jimmy Nicol & The Shub Dubs, Chris Andrews and then Dave Antony's Moods.
Around June 1965, Julian Covey pieced together a new version of The Machine comprising the following:
Julian Covey – drums/vocals
Jim Cregan – lead guitar
Dave Levy – piano
Cliff Barton – bass
+
Saxophone player
Cliff Barton (b. 1944, West Ealing, London, d. 16 May 1968) had worked with a host of bands before joining but didn't stay very long, according to Jim Cregan (b. 9 March 1946, Yeovil, Somerset). Barton's pedigree included playing with Cyril Davies and The R&B All Stars and Long John Baldry & The Hoochie Coochie Men. He would join The Alan Price Set on leaving Julian Covey.
Jim Cregan told Jason Barnard at the Strange Brew website that he joined Julian Covey and future Yes bass player Chris Squire for a short trip to Ghana to mark the inauguration of the Ghanaian TV service. The trio supported pianist Ramon Bouche and played on TV a couple of times but did not perform any live gigs. Ghana Today Television, the country's national public broadcaster, run by the Ghana Broadcasting Corporation commenced operations on 31 July 1965, so the band's trip to Ghana would have been around this time.
Cregan would go on to play with The Ingoes and more significantly Blossom Toes in 1960s among others. He would also become a noted session player during the 1970s.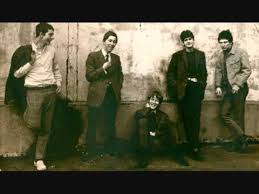 In October 1965, Covey formed yet another formation of The Machine which included:
John McVie – bass
Stan Marut – Hammond organ
+
Geoff Krivit – lead guitar
John McVie (b. 26 November 1945, Ealing, London) had been sacked from John Mayall's Bluesbreakers for his drinking in early October (his place taken by Jack Bruce initially).
Hammond organist Stan Marut also joined at this time after working with The Jynx Pack. He had previously been a member of Dickie Pride & The Original Topics.
Before the year was out, guitarist Geoff Krivit (b. 1948) who had subbed for Eric Clapton in John Mayall's Bluesbreakers between September-October 1965 joined The Machine briefly. He'd previously played with The Secrets, Jimmy Powell & The Dimensions and The Five Dimensions.
Marut remembers that The Machine landed a regular Saturday night gig at the Cromwellian during this period.
Shortly after John McVie returned to John Mayall's band in the first week of January 1966, future Herd drummer Andrew Steele (b. 2 August 1941, Hendon, London, d. 18 April 2005) joined after working with Johnny Halliday. Steele was an old friend of Jim Cregan's.
Geoff Krivit also departed around February 1966 to spend time with Freddie Mack & The Mack Sound before hooking up with Dr K's Blues Band.
Guitarist Mike Ward and bass player Steve Rance from The Ad-Libs, the house band at Leicester Square club, the Ad-Lib joined at this time. The band then comprised:
Julian Covey – lead vocals
Mike Ward – guitar
Stan Marut – Hammond organ
Steve Rance – bass
Andrew Steele – drums
Marut remembers the band played Peter Stringfellow's club, the King Mojo in Sheffield and also at the Britannia Boat Club in Nottingham. On 26 February 1966, they played at the Dungeon in Nottingham. He also remembers sax player Dave Quincy from Chris Farlowe & The Thunderbirds used to jam with the group regularly.
On the eve of a tour with John Lee Hooker in May 1966, Marut was forced to leave. While playing at Tiles, Oxford Street, the band's drummer (Ed: Andrew Steele?) had to pull out and Covey took over the drum stool and gained praise from Hooker.
According to David Else, a revamped line-up played in a side tent at the Windsor Festival on 30 July 1966.
Around September 1966, however, Covey reshuffled the band yet again to include:
Julian Covey – lead vocals
Dave Mason – lead guitar
Keith Webb – drums
Dave Mason (b. 10 May 1946, Worcester, Worcestershire) had played in several local Worcester bands, most notably The Hellions before jumping ship to join Covey in late 1966.
Keith Webb (b. 1934, Stoke-on-Trent, Staffordshire, d. 31 March 2007) had previously worked with The Hipster Image and was probably the most consistent member of The Machine after Covey, surviving to the band's split in September 1967.
On 22 September 1966, Julian Covey & The Machine made their second Marquee appearance, opening for The Move.
In late 1966, Julian Covey & The Machine played at the Bag O'Nails in Kingley Street, Soho for a week. However, Mason didn't stay long and in spring 1967 he formed Traffic and later found success as a solo artist.
Around November 1966, Covey reshuffled the pack again to:
Julian Covey – lead vocals
John Morsehead – lead guitar
Johnny Spence (aka Johnny Holiday) – bass
Keith Webb – drums
Johnny Spence (b. 26 January 1942, Birmingham) had some pedigree, having previously worked (most notably) with Johnny Kidd & The Pirates and The Pirates after splitting from the singer. He'd recently spent time backing US legend, Jerry Lee Lewis.
Indian-born John Morsehead had met Spence while playing with Johnny Kidd & The Pirates and The Pirates. In May 1966, he joined The Shotgun Express where he played with future Machine member Peter Bardens.
A few notable gigs from this period include:
29 November 1966 – Ram Jam, Brixton (Melody Maker)
14 December 1966 – Club A Go Go, Newcastle upon Tyne (Fabulous 208)
16 December 1966 – Slade School of Fine Arts, Gower Street, London with The Move (Fabulous 208)
Around February 1967, Covey formed what is probably considered to be the definitive version of the band, which cut the group's lone 45, "A Little Bit Hurt" c/w "Sweet Bacon".
Julian Covey – lead vocals
John Morsehead – lead guitar
Johnny Spence – bass
Pete Solley – Hammond organ
Keith Webb – drums
Ex-Trinity College of Music keyboard player Pete Solley (b. 19 October 1948, London) joined the existing line-up.
Having cut a lone single for Island Records, which was produced by Jimmy Miller, "A Little Bit of Hurt" c/w "Sweet Bacon" was released on 12 May 1967.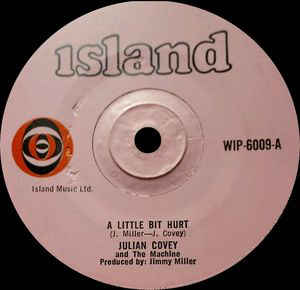 The new formation gigged incessantly and included the following shows:
24 March 1967 – Ram Jam, Brixton (Melody Maker)
21 April 1967 – Ram Jam, Brixton (Melody Maker)
6 May 1967 – Ram Jam, Brixton with The All Night Workers (Melody Maker)
On 29 May, Covey also depped on drums for Keith Moon in The Who when the sticks man hurt his stomach throwing his drum kit at the crowd.
28 June 1967 – Corn Exchange, Leicester with Family (Flyer)
In August 1967, they also performed at the 6th National Jazz and Blues Festival but soon after Peter Bardens, who'd briefly worked with The Love Affair, joined on Hammond organ. Bardens had an impressive musical pedigree, which included The Cheynes, Them, The Peter B's and The Shotgun Express, which is where he worked with Morsehead.
Pete Solley next joined Chris Farlowe & The Thunderbirds but left in May 1968 to briefly work with Los Bravos. In late 1968, he joined Terry Reid's backing band (where he reunited with Keith Webb) and then worked with The Crazy World of Arthur Brown before becoming member of Paladin.
In September 1967, Julian Covey & The Machine ran its course. Renamed Philamore Lincoln, Anson joined Graham Bond for several months before embarking on an intriguing solo career.
Morsehead next joined Aynsley Dunbar's Retaliation while Spence retired but later reformed The Pirates.
NOTE: the band's history is difficult to trace accurately so I would welcome any additions/corrections below in the comments section
Thanks Stan Marut, Bob Downes, Jim Cregan, Jason Barnard, David Else, Bruno Ceriotti and John Warburg for providing information. This website was also incredibly useful:
http://newuntouchables.com/magazine/tag/julian-covey-the-machine/
Copyright © Nick Warburton. All Rights Reserved. No part of this article may be reproduced or transmitted in any from or by any means, without prior permission from the author