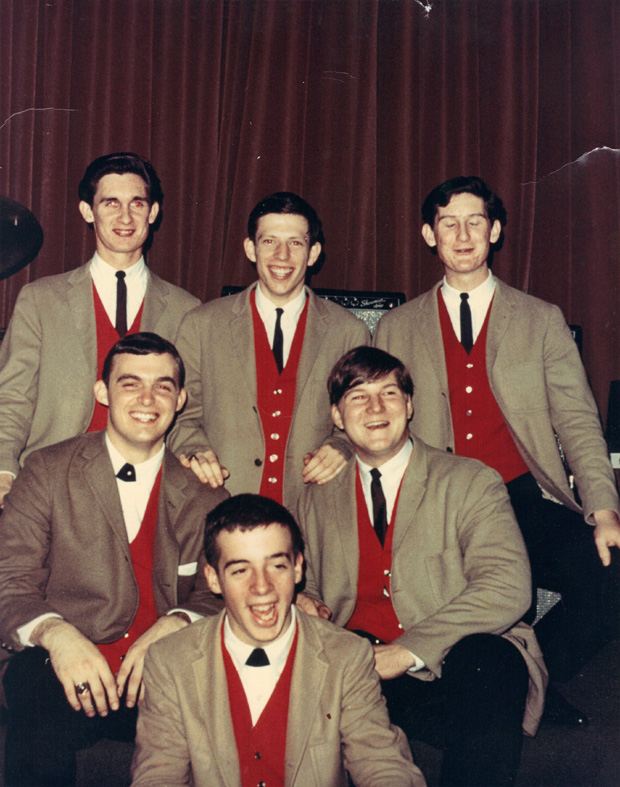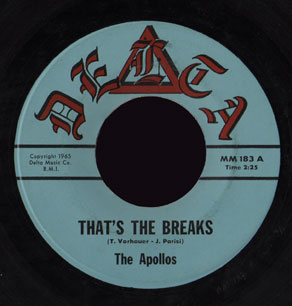 Updated Jan. 2, 2012
From McLean, Virginia, the Apollos went through several personnel changes while leaving behind demos, live tapes and two 45s as their legacy. I've read conflicting accounts of who was in the band when, but with feedback from Jim Price and Tommy Vorhauer, this seems to be correct:
The original band consisted of brothers Dave and Don Harney on guitar, Jim Price on bass, and Dave Elliot on drums. Jan Sylvester soon replaced Elliot on drums was himself replaced by Wayne Groves, and Jon Parisi came in on keyboards. The band's repertoire leant heavily on surf numbers until they added Tommy Vorhauer on vocals. This is the group in the photo at top.
A win at a local battle of the bands gave them studio time at Edgewood Studios in D.C., and they cut several sides, including early versions of "That's the Breaks" and "Country Boy". They re-recorded these two for their own Delta label in 1965.
"Country Boy" is a fine surf instrumental written by Don Harney. Surprisingly it has never been comped before. "That's the Breaks" has great drumming and nice fluid guitar work with a strong vocal by Vorhauer. I'm not sure who's playing the organ on this 45.
Tom Vorhauer clarified some points about the band in a comment below that I'll reproduce here:
Jon Parisi played keyboard and wrote the music for "That's the Breaks". I wrote the words and sang lead vocal. I also sang lead vocals on "Target Love" and "It's a Monster". We were playing on M street in Washington DC at Mack's Pipe and Drum and were approached by two gentlemen who were scouts for Paramount Artists. They were interested in signing the Apollos to a record contract but on one condition, they wanted to replace our manager Bill Moser, we refused and never signed.
By late 1966 Vorhauer, Groves and Parisi had left to be replaced by Doug Collins on vocals, Dwight James on keyboards and Wayne Goubilee on drums. Their second 45, "Target Love" b/w "It's a Monster" on the Montgomery label is a great double-sided 45. I hope to feature it in the future, but it seems to be rarer than the Delta one.
There's also a live tape of the band, with good versions of "Dirty Water" and "I'm Crying". At some point they were turned down by MGM, and that seems to be the end of their story.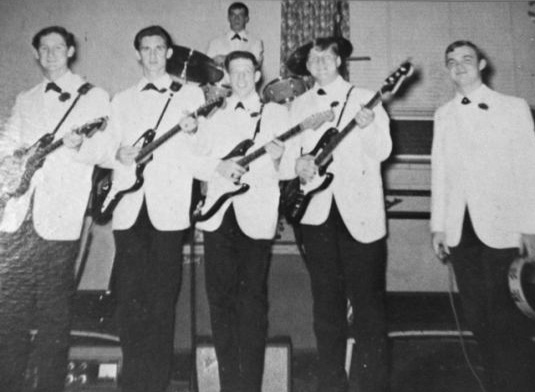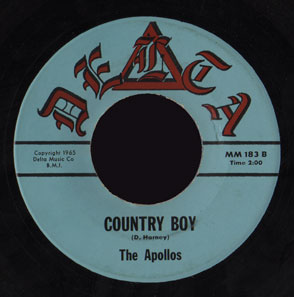 In December, 2011 Jim Price contacted me and gave some background on the group:
We were from McLean, Virginia, not Falls Church. Dave, Don and I all lived in Woodside Estates, McLean. That's where it all started in 1963. I was playing my guitar on our front porch and Dave and Don came wandering up and introduced them selves and said they played as well. I was playing lead guitar, Dave rhythm and Don played bass.We switched up as time went on and everyone found their niche.

We did our demo cut of 4 songs at Edgewood:

1. "That's The Breaks" words by Tommy Vorhauer and music by the band.
2. "Country Boy" by Don Harney
3. "Dance Dance Dance" (Beach Boys) sung by Wayne Groves
4. "Mr. Lonely", a remake of the original, sung by Tommy Vorhauer

"Mr. Lonely" was to be our front side of the first 45 but we decided to go with two original songs instead. They were both hits but "Mr. Lonely" would have been a hit as well. It would today.

I created "Delta Music Company" with the help of our agent Bill Moser, thus Delta on the label. We outsourced the art work for the label. Since Edgewood had recorded the songs we contracted through them to have the records pressed and the labels put on them. The records would then be made and sent to us and Bill and I would take them out to the stores and put them on the shelves. In those days you could put your records in stores on consignment. It was all we could do to keep up.

MGM did offer to buy the rights to "That's The Breaks" but we turned them down. Paramount contacted our agent Bill Mosser three times trying to get us to sign a contract with them but we would lose $ on each record that was sold so we turned them down. Within 3 weeks of the last turndown, our records were not being played on any radio station in the nation. Paramount told Bill that "the boys will be sorry they did;nt sign with them." The stores even started refusing to slot them any more. "Target Love" and "It's A Monster" only made it to #10 before it vanished from the airways.

Through this phase the band members were: Don Harney, Dave Harney, Wayne Groves, John Parisi (now John Ian), Jim Price and Tommy Vorhauer. Some time after that John Parisi left the band and we added Dwight James.

The summer of 1966 we recorded "It's A Monster" and "Target Love" on the Montgomery Label. I can't remember the name of the studio. Shortly after that Tommy and I left the band and went to Boston to college. Dave and Don Harney continued to run the band with a new drummer who was the singer as well. When I was home on break, I would go and sing with them down in Georgetown, lots of fun.

The band stayed together for a while longer then everyone seemed to go their own way. Tommy is now in Denver, Dave is in Dayton Ohio, Don is in Seattle, Wayne is in Great Falls VA, John Ian DC, Dwight Fairfax VA and I am in Hot Springs, Arkansas.

My oldest son Jason Price does production work in his spare time in the northern VA area – take a look at www.squadcar37.com.

Jim Price