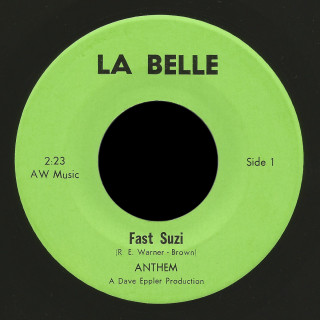 I'm not sure how a record this good could be this obscure. When I heard "Fast Suzi" by a band called Anthem, I thought it was late '70s power-pop. I can't find any definite info on the record, but the release date seems to be much earlier, even as early as 1968.
Both "Fast Suzi" and the ballad flip "Not Sure She's Mine" were written by R.E. Warner & Brown for AW Music.
The label was La Belle, and reads "A Dave Eppler Production". Various sites on the 'net say the band came from Oconomowoc, Wisconsin, about halfway between Madison and Milwaukee. There is a La Belle Lake in Wisconsin, but not close to Oconomowoc.