Here's an oddity – not garage but a gonzo 60's instrumental with horns, twangy guitar line and all.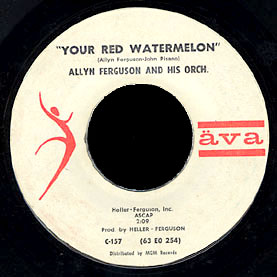 "Your Red Watermelon" is catchy and funky, and was well received when I spun it at Shakey's Night Owl Record Fair this past Tuesday.
Allyn Ferguson was best known as the band leader on the Andy Williams Show. In the late '50s his Chamber Jazz Sextet had an LP on Cadence as well as backing Kenneth Patchen on his LP for the same label, and in the '70s he co-wrote the theme to the Barney Miller TV show.
Update: I'm sorry to report that Allyn Ferguson passed away on June 23, 2010, he was 85 years old. A full obit is here
The äva label also released a fine 45 by the Pace-Setters that I've covered on this site.