Welcome to another posting of a series of gig listings for 1960s bands. None of these lists is exhaustive and my idea is to add to them in the comments section below over time. They are here for future researchers to draw on.  I have also added a few interesting bits of information and will add images in time.
I'd like to encourage band members to get in touch to share memories, or for anyone to send corrections/clarifications to my email: Warchive@aol.com 
Equally important, if you attended any of the gigs below or played in the support band, please do leave your memories below in the comments section for future historians to use. If you know of any missing gigs, please add them too, if possible, with the sources.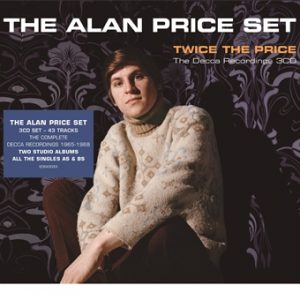 Alan Price – Hammond organ/lead vocals
Cliff Barton – bass
Nigel Stanger – saxophone
John Walters – trumpet
Geoff Robinson – drums
After leaving The Animals in early May 1965, Alan Price returns to Newcastle upon Tyne and forms The Alan Price Combo with local friends, including Nigel Stanger, who has just left Herbie Goins & The Night-Timers and Cliff Barton, who recently worked with Julian Covey & The Machine.
New Musical Express lists the line-up in its 16 July 1965 and the group starts playing at the Club A Go Go in Newcastle.
Moving to London, Barton departs and subsequently gains employment with Georgie Fame & The Blue Flames. Former Krewkats bass player John Bradley fills in before Boots Slade takes over on bass on a permanent basis.
Stanger also leaves and former Zoot Money's Big Roll Band baritone sax player Clive Burrows joins alongside tenor sax player Steve Gregory. Roy Mills also takes over the drum stool and they become The Alan Price Set.
23 August 1965 – Cooks Ferry Inn, Edmonton, London (Wood Green and Southgate Herald) Billed as The Alan Price Combo
12 September 1965 – Redcar Jazz Club, Redcar, North Yorkshire with The Skyliners (Dennis Weller, Chris Scott Wilson and Graham Lowe's book) Billed as The Alan Price Combo
4 September 1965 – Galaxy Club, Town Hall, Basingstoke, Hampshire (Hampshire & Berkshire Gazette)
20 September 1965 – Garden of Eden Club, Blackbird Leys Community Centre, Oxford with The Victors (Oxford Mail)
1 October 1965 – Redcar Jazz Club, Redcar, North Yorkshire with The Graham Bond Organisation, Ronnie Jones & The Blue Jays and The Crawdaddies (Dennis Weller, Chris Scott Wilson and Graham Lowe's book) Billed as The Alan Price Combo
5 October 1965 – Marquee, Wardour Street, Soho, London with The Crowd (Tony Bacon's book: London Live)
18 October 1965 – Cooks Ferry Inn, Edmonton, London (Wood Green and Southgate Herald)
20 October 1965 – Orford Cellar, Norwich, Norfolk (Eastern Evening News)
11 November 1965 – Marquee, Wardour Street, Soho, London with Derry Wilkie & The Pressmen (Tony Bacon's book: London Live)
14 November 1965 – Blue Moon, Hayes, London (Harrow Weekly Post)
25 November 1965 – Marquee, Wardour Street, Soho, London with TC's Big Boss Band (Tony Bacon's book: London Live)
3 December 1965 – RAE Assembly Hall, Aldershot, Hampshire with The Worrying Kinde (Aldershot News)
9 December 1965 – Marquee, Wardour Street, Soho, London with The Mark Leeman Five (Tony Bacon's book: London Live)
11 December 1965 – Birdcage, Eastney, Hampshire (Dave Allen research)
13 December 1965 – Cooks Ferry Inn, Edmonton, London (Wood Green and Southgate Herald)
16 December 1965 – Marquee, Wardour Street, Soho, London with Bluesology (Tony Bacon's book: London Live)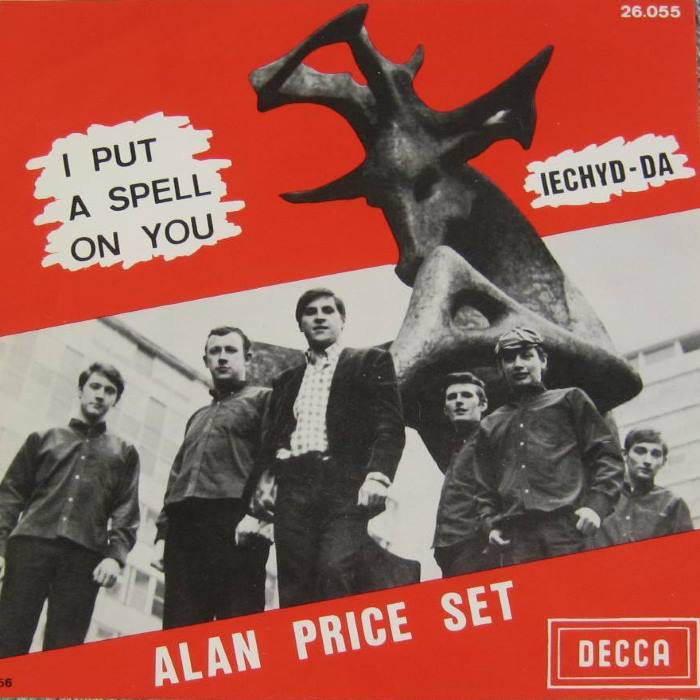 1966:
6 January 1966 – Marquee, Wardour Street, Soho, London (Tony Bacon's book: London Live)
7 January 1966 – Carousel Club, 1 Camp Road, Farnborough, Hampshire with support (Aldershot News)
20 January 1966 – Marquee, Wardour Street, Soho, London (Tony Bacon's book: London Live)
22 January 1966 – Birdcage, Eastney, Hampshire (Dave Allen research)
30 January 1966 – Carousel Club, 1 Camp Road, Farnborough, Hampshire (Aldershot News)
3 February 1966 – The Village, Cleethorpes, North East Lincolnshire (Grimsby Evening Telegraph)
4 February 1966 – Club A Go Go, Newcastle upon Tyne, Tyne & Wear (website: http://www.readysteadygone.co.uk/club-agogo-newcastle-2/)
6 February 1966 – Esquire Club, Sheffield, South Yorkshire (The Star)
17 February 1966 – Marquee, Wardour Street, Soho, London (Tony Bacon's book: London Live)
26 February 1966 – Birdcage, Eastney, Hampshire (Dave Allen research)
6 March 1966 – Redcar Jazz Club, Redcar, North Yorkshire with The Skyliners (Dennis Weller, Chris Scott Wilson and Graham Lowe's book)
20 March 1966 – Dungeon Club, Nottingham (website: https://dungeonmods.wordpress.com/)
22 March 1966 – Klooks Kleek, West Hampstead, London (Geoff Williams' research: Decca Studios and Klooks Kleek book)
26 March 1966 – Birdcage, Eastney, Hampshire (Dave Allen research)
9 April 1966 – Carousel Club, 1 Camp Road, Farnborough, Hampshire with Jay Anson Sounds (Aldershot News)
13 April 1966 – Orchid Ballroom, Purley, London (Chris Broom book: Rockin' and Around Croydon)
15 April 1966 – Links R&B Club, Maxwell Park Youth Centre, Borehamwood, Herts with Sands (Simon Gee research)
24 April 1966 – Woodhall Community Centre, Welwyn Garden City, Hertfordshire with The Op-Scene (website: http://www.coda-uk.co.uk/60's_music_scene.htm)
2 May 1966 – Silver Blades, Streatham (Lewisham Borough News)
4 May 1966 – Eel Pie Island, Twickenham, London (website: http://www.eelpiemuseum.co.uk/rollcall/rollcall/)
5 May 1966 – Club A Go Go, Newcastle upon Tyne, Tyne & Wear (website: http://www.readysteadygone.co.uk/club-agogo-newcastle-2/)
15 May 1966 – Agincourt Ballroom, Camberley, Surrey with The Alleycats (Aldershot News)
22 May 1966 – Central R&B Club, Central Hotel, Gillingham, Kent (Chatham, Rochester and Gillingham News)
24 May 1966 – Marquee, Wardour Street, Soho, London with The Clayton Squares (Tony Bacon's book: London Live)
30 May 1966 – Lincoln City Football Ground, Lincoln, Lincolnshire with Barron Knights, Crispian St Peters, Dave Dee, Dozy, Beaky, Mick and Tich, Georgie Fame & The Blue Flames, The Ivy League, The Kinks, The Koobas, Screaming Lord Sutch & The Savages, The She Trinity, The Small Faces, The Who and The Yardbirds (Grimsby Evening Telegraph)
3 June 1966 – Dungeon Club, Nottingham (website: https://dungeonmods.wordpress.com/)
4 June 1966 – Rhodes Centre, Bishop's Stortford, Herts with The Gentry (Steve Ingless book: The Day Before Yesterday)
11 June 1966 – Toft's, Folkestone, Kent (Melody Maker)
13 June 1966 – Supreme Ballroom, Ramsgate, Kent with The Cortinas (Paul Griggs' book: Diary of a Musician)
29 June 1966 – Stevenage Mecca, Locarno, Stevenage, Hertfordshire (website: http://www.coda-uk.co.uk/60's_music_scene.htm)
2 July 1966 – Dreamland, Margate, Kent with The Longboatmen (East Kent Times)
5 July 1966 – Marquee, Wardour Street, Soho, London with James Royal Set (Tony Bacon's book: London Live)
7 July 1966 – Ram Jam, Brixton, London (Melody Maker)
8 July 1966 – California Ballroom, Dunstable, Bedfordshire with supporting group (website: www.california-ballroom.info/gigs/)
9 July 1966 – Royal Links Pavilion, Cromer, Norfolk with The Style (Julie Fielder book: What Flo Said Next)
21 July 1966 – Astoria Ballroom, Oldham, Greater Manchester (Fabulous 208)
22 July 1966 – Gedney Playing Field, Gedney, Lincolnshire with The Koobas (Fabulous 208)
26 July 1966 – Blue Lagoon, Southsea, Hampshire (Fabulous 208)
28 July 1966 – Dorothy Ballroom, Cambridge (Fabulous 208)
29 July 1966 – Grimsby Mecca, Grimsby, Humberside (Grimsby Evening Telegraph)
30 July 1966 – Town Hall, Clacton, Essex (Fabulous 208)
13 August 1966 – New Scene, Corn Exchange, Leicester with The Farinas (Leicester Mercury)
17 August 1966 – Bromel Club, Bromley Court Hotel, Bromley, London (Melody Maker)
18 August 1966 – Ram Jam, Brixton, London (Melody Maker)
21 August 1966 – Town Hall, Hawick, Scotland (Fabulous 208)
23 August 1966 – Civi Hall, Grays, Essex (Fabulous 208)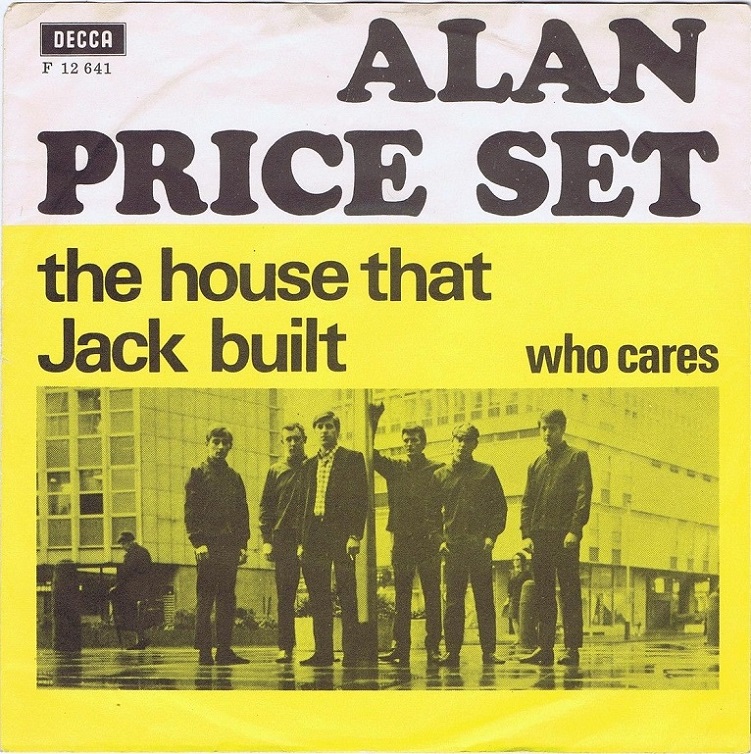 3 September 1966 – Civic Hall, Barnsley, South Yorkshire (Fabulous 208)
4 September 1966 – Carousel Club, 1 Camp Road, Farnborough, Hampshire (Aldershot News)
13 September 1966 – Winter Gardens, Malvern, Worcestershire (Fabulous 208)
15 September 1966 – Odeon Manchester, Manchester with Otis Redding and St Louis Union (Fabulous 208)
16 September 1966 – Marine Ballroom, Morecambe, Lancashire (Fabulous 208)
17 September 1966 – Winter Gardens, Weston super Mare, Somerset (Fabulous 208)
18 September 1966 – Dereham Tavern, Dereham, Norfolk (Eastern Evening News)
20 September 1966 – Silver Blades Ice Rink, Bradford, West Yorkshire (Melody Maker)
24 September 1966 – Paris Olympia, Paris, France (Melody Maker)
29 September 1966 – Odeon Cheltenham, Cheltenham, Gloucestershire with Dusty Springfield and Los Bravos (Fabulous 208)
1 October 1966 – Capitol, Cardiff, Wales with Dusty Springfield and Los Bravos (Fabulous 208)
2 October 1966 – Colston Hall, Bristol with Dusty Springfield and Los Bravos (Fabulous 208)
During mid-October Peter Kirtley joins on lead guitar from The Loose Ends
15 October 1966 – Marcam Hall, March, Cambridgeshire (replacing Moody Blues) (Cambridgeshire Times)
15 October 1966 – Gaiety Ballroom, Ramsey, Cambridgeshire with The Rising Sons and Friction (website: http://peterboroughimages.co.uk/music/?p=8130)
20 October 1966 – Olympic Ballroom, East Kilbridge, Scotland (Fabulous 208)
21 October 1966 – Raith Ballroom, Kirkcaldy, Scotland (Fabulous 208)
21 October 1966 – Community Centre, Whitburn, Scotland (Fabulous 208)
22 October 1966 – Market Hall, Carlisle, Cumbria (Fabulous 208)
23 October 1966 – Top 10 Club, Dundee, Scotland (Fabulous 208)
24 October 1966 – Kinema Ballroom, Dunfermline, Scotland (Fabulous 208)
26 October 1966 – Majestic Ballroom, Newcastle upon Tyne, Tyne & Wear (Fabulous 208)
28 October 1966 – Hillside Ballroom, Hereford, Herefordshire (Fabulous 208)
29 October 1966 – Floral Hall, Southport, Lancashire (Fabulous 208)
30 October 1966 – Top Ten Club, Manchester (Fabulous 208)
2 November 1966 – Top Rank Suite, Cardiff, Wales (Fabulous 208)
3 November 1966 – Public Hall, Wallington, London (Fabulous 208)
5 November 1966 – Civic Hall, Guildford, Surrey with Phantom 4 (Surrey Advertiser)
18 November 1966 – Club A Go Go, Newcastle upon Tyne, Tyne & Wear (website: http://www.readysteadygone.co.uk/club-agogo-newcastle-2/)
2 December 1966 – Hoverton Village Hall, Hoverton, Norfolk with News (Eastern Evening News)
7 December 1966 – Hull University, Hull, East Yorkshire (Fabulous 208)
8 December 1966 – Locarno Ballroom, Bristol (Fabulous 208)
10 December 1966 – Birmingham University, Birmingham, West Midlands (Fabulous 208)
9 December 1966 – Top Rank Suite, Cardiff, Wales (Fabulous 208)
14 December 1966 – University College, Gower Street, London (Fabulous 208)
15 December 1966 – Willenhall St Giles Youth Club, Willenhall, West Midlands with The 'N' Betweens, The Measles and the Cobras (Express & Star)
16 December 1966 – Bluesville, Manor House, London (Fabulous 208)
17 December 1966 – Chelmsford Corn Exchange, Chelmsford, Essex with support (Southend Standard)
20 December 1966 – Guildford Civic Hall, Guildford, Surrey with Bluesology (Surrey Advertiser)
22 December 1966 – Civic Hall, Wolverhampton, West Midlands (Fabulous 208)
23 December 1966 – Trowbridge Town Hall, Trowbridge, Wiltshire (Fabulous 208)
24 December 1966 – Dreamland, Margate, Kent with The Sean Buckley Set (East Kent Times)
28 December 1966 – Orchid Ballroom, Purley, London (Fabulous 208)
30 December 1966 – Tiles, Oxford Street, London with Spectrum (Melody Maker)
31 December 1966 – Floral Hall, Southport, Lancashire (Manchester Evening News and Chronicle)
1967:
3 January 1967 – Floral Hall, Southport, Lancashire (Fabulous 208)
7 January 1967 – Winter Gardens, Weston super Mare, Somerset (Fabulous 208)
14 January 1967 – Rink Ballroom, Swadlincote, Derbyshire (Fabulous 208)
15 January 1967 – Redcar Jazz Club, Redcar, North Yorkshire with The Bluecaps (Dennis Weller, Chris Scott Wilson and Graham Lowe's book)
16 January 1967 – Gaiety Ballroom, Grimsby, Humberside (Grimsby Evening Telegraph)
17 January 1967 – Top Rank Suite, Cardiff, Wales (Fabulous 208)
18 January 1967 – Liverpool University, Liverpool (Fabulous 208)
19 January 1967 – South Parade Pier, Portsmouth, Hampshire (Fabulous 208)
21 January 1967 – College of Technology, Manchester (Fabulous 208)
4 February 1967 – Clouds, Derby, Derbyshire (Fabulous 208)
5-11 February 1967 – Towers Theatre Club, Warrington, Cheshire (St Helens Newspaper)
5-11 February 1967 – Garrick Club, Leigh, Greater Manchester (St Helens Newspaper)
18 February 1967 – Liverpool University, Liverpool (Fabulous 208)
25 February 1967 – Portland Buildings, University Park, Nottingham (Fabulous 208)
2 March 1967 – Locarno Ballroom, Coventry, West Midlands (Fabulous 208)
4 March 1967 – Aston University, Birmingham (Fabulous 208)
7 March 1967 – Klooks Kleek, West Hampstead, London (Geoff Williams' research: Decca Studios and Klooks Kleek book) Geno Washington and Herbie Goins join in
9 March 1967 – Winter Gardens, Morecambe, Lancashire (Fabulous 208)
10 March 1967 – Baths, Sutton-in-Ashfield, Nottinghamshire with Chris Farlowe & The Thunderbirds (Fabulous 208)
11 March 1967 – Chelsea College, Manresa Road, Chelsea, London with The Real McCoy (Fabulous 208)
13 March 1967 – Granby Halls, Leicester with The Who and Zoot Money's Big Roll Band (Fabulous 208)
16 March 1967 – Locarno Ballroom, Coventry, West Midlands (Fabulous 208)
18 March 1967 – Twisted Wheel, Manchester (Fabulous 208)
19 March 1967 – Central Hotel, Gillingham, Kent (Fabulous 208)
22 March 1967 – Technical College, Uxbridge, London (Fabulous 208)
23 March 1967 – Locarno Ballroom, Sheffield, South Yorkshire (The Star)
24 March 1967 – Beachcomber, Nottingham (Nottingham Evening Post)
25 March 1967 – Clouds, Derby, Derbyshire with Jimmy James & The Vagabonds (Fabulous 208)
27 March 1967 – Floral Hall, Southport, Lancashire (Fabulous 208)
Around this time Clive Burrows leaves to join Geno Washington & The Ram Jam Band and Terry Childs joins on baritone sax
31 March 1967 – Town Hall, Rugby, Warwickshire (Fabulous 208)
1 April 1967 – Civic Hall, Nantwich, Cheshire with The Tatters (Crewe Chronicle)
2-5 April 1967 – Cavendish Club, Newcastle upon Tyne, Tyne & Wear (Fabulous 208)
2-8 April 1967 – Club Latino, Newcastle upon Tyne, Tyne & Wear (Fabulous 208)
2-8 April 1967 – Wetherall's Club, Sunderland, Tyne & Wear (Fabulous 208)
12 April 1967 – Top Rank Suite, Swansea, Wales (Fabulous 208)
18 April 1967 – Winter Gardens, Malvern, Worcestershire (Fabulous 208)
20 April 1967 – Sherwood Rooms, Nottingham with Cliff Bennett & The Rebel Rousers (Nottingham Evening Post)
21 April 1967 – California Ballroom, Dunstable, Bedfordshire with The Gates of Eden (website: www.california-ballroom.info/gigs/)
22 April 1967 – Century Hall, Manchester (Fabulous 208)
23 April 1967 – RAF Bentwaters, Suffolk (Fabulous 208)
28 April 1967 – Central Pier, Morecambe, Lancashire (Fabulous 208)
29 April 1967 – Town Hall, Morley, West Yorkshire (Fabulous 208)
30 April 1967 – Cosmo Club, Carlisle, Cumbria (Fabulous 208)
2 May 1967 – Club Tranchi, Jarrow, Tyne & Wear (Fabulous 208)
4 May 1967 – Edinburgh University, Edinburgh, Scotland (Fabulous 208)
12 May 1967 – Skyline Ballroom, Hull, East Riding of Yorkshire with Sounds Incorporated (Fabulous 208)
13 May 1967 – Spa Royal Hall, Bridlington, East Riding of Yorkshire (Hull Daily Mail)
14 May 1967 – Redcar Jazz Club, Redcar, North Yorkshire with The Jazz Board (Dennis Weller, Chris Scott Wilson and Graham Lowe's book)
20 May 1967 – Faculty of Tech Union, Student Union Building, Altrincham Street, Manchester with The Delmonts (Manchester Evening News and Chronicle)
24 May 1967 – Top Rank Suite, Cardiff, Wales (Fabulous 208)
25 May 1967 – Locarno Ballroom, Swindon, Wiltshire (Fabulous 208)
26 May 1967 – Royal Agricultural College, Cirecenster, Gloucestershire (Fabulous 208)
27 May 1967 – Memorial Hall, Norwich, Norfolk (Fabulous 208)
28 May 1967 – Starlite Ballroom, Greenford, London (Fabulous 208)
31 May 1967 – Boom Boom Club, Durham, County Durham (Fabulous 208)
1 June 1967 – Mayfair Ballroom, Newcastle upon Tyne, Tyne & Wear (Fabulous 208)
2 June 1967 – Cricket Club, Newton-le-Willows, Merseyside (Fabulous 208)
3 June 1967 – University of Sussex, Brighton, West Sussex (Fabulous 208)
6 June 1967 – The band left for West Germany for three night-stand at the Big Apple, Munich, Bavaria (Melody Maker)
10 June 1967 – Winter Gardens, Weston super Mare, Somerset (Fabulous 208)
12 June 1967 – Trinity College, Cambridge with Cliff Bennett & The Rebel Rousers (Fabulous 208)
16 June 1967 – Keble College, Oxford, Oxfordshire with Cliff Bennett & The Rebel Rousers (Melody Maker)
19 June 1967 – Corpus Christi College, Oxford, Oxfordshire with Zoot Money & The Big Roll Band (Melody Maker)
28 June 1967 – Disco Blue Club, Ryde, Isle of Wight (Fabulous 208)
4 July 1967 – Palace Ballroom, Douglas, Isle of Man (Fabulous 208)
23 July 1967 – Central Hall, Gillingham, Kent (Fabulous 208)
28 July 1967 – Tiles, Oxford Street, London with The Screen (Melody Maker)
29 July 1967 – Gaiety Ballroom, Ramsey, Cambridgeshire with The Sect (website: http://peterboroughimages.co.uk/music/?p=8130)
30 July 1967 – Kirklevington Country Club, Kirklevington, North Yorkshire (Middlesbrough Evening Gazette)
Around this time Peter Kirtley leaves to form Happy Magazine and guitarist Paul Williams joins
4 August 1967 – New Century Hall, Manchester with Dixie's Don'ts (Manchester Evening News and Chronicle)
17 August 1967 – Dreamland, Margate, Kent (East Kent Times & Mail)
25 August 1967 – Flamingo, Redruth, Cornwall with The Jaguars (West Briton & Royal Cornish Gazette)
26 August 1967 – Town Hall, Torquay, Devon (Fabulous 208)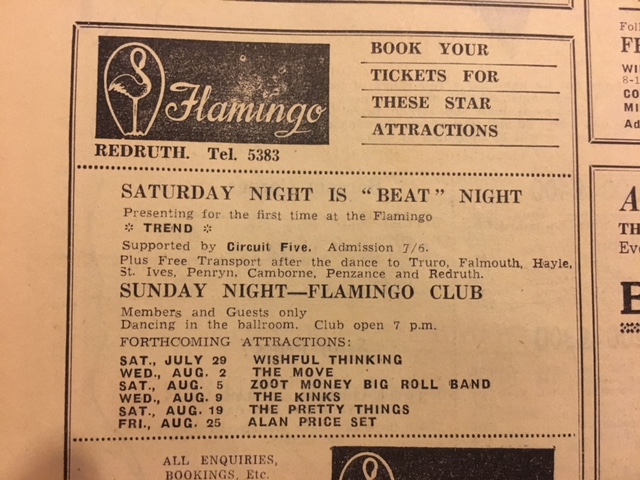 1 September 1967 – Marquee Club, Wigan, Greater Manchester (Fabulous 208)
2 September 1967 – Spa Royal Hall, Bridlington, East Riding of Yorkshire (Hull Daily Mail)
3-4 September 1967 – Tito's Marimba, Stockton on Tees, County Durham (week-long gig from Sunday 3 September) (Middlesbrough Evening Gazette)
17 September 1967 – The Place, Hanley, Staffordshire with The Fix (Evening Sentinel)
21 September 1967 – Pavilion Theatre, Matlock Baths, Derbyshire (Fabulous 208)
22 September 1967 – Central Pier, Morecambe, Lancashire (Fabulous 208)
29 September 1967 – The Barbeque, Whetstone, Leicester (Fabulous 208)
30 September 1967 – Kitson Club, Leeds, West Yorkshire (Fabulous 208)
5 October 1967 – Locarno Ballroom, Bristol (Fabulous 208)
6 October 1967 – University of Salford, Salford, Greater Manchester (Fabulous 208)
7 October 1967 – Winter Gardens, Weston super Mare, Somerset (Fabulous 208)
8 October 1967 – Birdcage, Harlow, Essex with The Riot Squad (Essex Chronicle)
11 October 1967 – Industrial Club, Norwich, Norfolk (Fabulous 208)
12 October 1967 – Dorothy Ballroom, Cambridge (Fabulous 208)
13 October 1967 – Top Rank Suite, Hanley, Staffordshire (Fabulous 208)
14 October 1967 – Tinned Chicken Club, York, North Yorkshire (Fabulous 208)
14 October 1967 – Civic Hall, Nantwich, Cheshire with The Jaytree Organisation (Crewe Chronicle)
15 October 1967 – Redcar Jazz Club, Redcar, North Yorkshire with James South Set (Dennis Weller, Chris Scott Wilson and Graham Lowe's book)
26 October 1967 – Club A Go Go, Newcastle upon Tyne, Tyne & Wear (Fabulous 208)
27 October 1967 – Hairy Bob's Cavern/Candelight Club, Scarborough, North Yorkshire (Scarborough Evening News/Fabulous 208)
28 October 1967 – Faculty of Technology, Manchester (Fabulous 208)
3 November 1967 – Caesar's (Palace) Club, Bedford, Bedfordshire (Fabulous 208)
4 November 1967 – University of North Wales, Bangor, Wales (Fabulous 208)
5 November 1967 – Saville Theatre, London with The Foundations and David McWilliams (Melody Maker)
10 November 1967 – Pink Flamingo, Soho, London (Melody Maker)
17 November 1967 – St George's Hall, Hinckley, Leicestershire (Fabulous 208)
18 November 1967 – Bristol University, Bristol (Fabulous 208)
21 November 1967 – Top Rank Suite, Doncaster, South Yorkshire (Fabulous 208)
23 November 1967 – Southampton University, Southampton, Hampshire (Fabulous 208)
24 November 1967 – Top Spot, Ross on Wye, Herefordshire (Fabulous 208)
28 November 1967 – Newcastle College of Education, Newcastle upon Tyne, Tyne & Wear (Fabulous 208)
30 November 1967 – Locarno Ballroom, Coventry, West Midlands (Fabulous 208)
2 December 1967 – Burton's, Uxbridge, London (Melody Maker)
5 December 1967 – Royal Albert Hall, London (Fabulous 208)
6 December 1967 – Big Beat '67 concert, Royal Albert Hall, London with Joe Tex, Ferris Wheel, Steve Hammond and Jan Kimbell (Melody Maker)
8 December 1967 – Pantiles, Bagshot, Surrey (Fabulous 208)
9 December 1967 – Dreamland, Margate, Kent with The Human Instinct (East Kent Times & Mail)
11 December 1967 – Padgate College of Education, Wallington, Surrey (Fabulous 208)
15 December 1967 – Lewes Town Hall, Lewes, East Sussex with Downling Chasers and Herb & Grace (Sussex Express & County Herald)
17 December 1967 – Linden Sports Club, Bournemouth, Dorset (Bournemouth Echo)
22 December 1967 – Locarno, Student's Union, Derby with Sons and Lovers and John Smith Affair (Derby Evening Telegraph)
29 December 1967 – Birmingham Town Hall, Birmingham (Fabulous 208)
30 December 1967 – Lewes Town Hall, Lewes, West Sussex with Herb and Grace and Downline Chasers (Sussex Express)
1968:
1 January 1968 – Leeds University, Leeds, West Yorkshire (Fabulous 208)
9-13 January 1968 – Fiesta Club, Stockton on Tees, County Durham (Fabulous 208)
9-13 January 1968 – Collingwood Club, West Hartlepool, County Durham (Fabulous 208)
26 January 1968 – Civic and Wulfrun Halls, Wolverhampton, West Midlands with Tony Rivers & The Castaways, The Soul Seekers, Peter Green's Fleetwood Mac and Barmy Barry Show (Express & Star)
3 February 1968 – Durham University, Durham, County Durham (Fabulous 208)
1 March 1968 – Pavilion, Weymouth, Dorset (Fabulous 208)
6 April 1968 – Winsford Civic Hall, Winsford, Cheshire with Kaspers Engine (Crewe Chronicle)
21 April 1968 – Redcar Jazz Club, Redcar, North Yorkshire with O'Hara's Playboys (Dennis Weller, Chris Scott Wilson and Graham Lowe's book)
24 April 1968 – Mistrale Club, Beckenham, London (Melody Maker)
1 May 1968 – Memorial Hall, Barry, Wales (Fabulous 208)
7-11 May 1968 – Cavendish Club, Sheffield, South Yorkshire (Fabulous 208)
12-13 May 1968 – Cavendish Club, Newcastle upon Tyne, Tyne & Wear (Fabulous 208)
21-24 May 1968 – Club Titos, Stockton on Tees, County Durham (Fabulous 208)
21-24 May 1968 – Club La Bamba, Darlington, County Durham (Fabulous 208)
31 May 1968 – Marquee, near Huntingdon, Cambridegshire (Fabulous 208)
1 June 1968 – Hereford College, Oxford (Fabulous 208)
4 June 1968 – Colston Hall, Bristol (Fabulous 208)
8 June 1968 – Royal Star Hotel, Maidstone, Kent (Maidstone Gazette)
1 September 1968 – Redcar Jazz Club, Redcar, North Yorkshire with The Candy Choir (Dennis Weller, Chris Scott Wilson and Graham Lowe's book)
Shortly after Alan Price leaves to go solo and the band becomes The Paul Williams Set
Copyright © Nick Warburton. All Rights Reserved. No part of this article may be reproduced or transmitted in any from or by any means, without prior permission from the author