The Actioneers recorded these two songs in just two hours on November 15, 1965 at Huey Meaux's Recording Service Studios in Pasadena, Texas. You can tell they went straight from the garage or rec room into the studio, this 45 is about as unpolished as garage gets.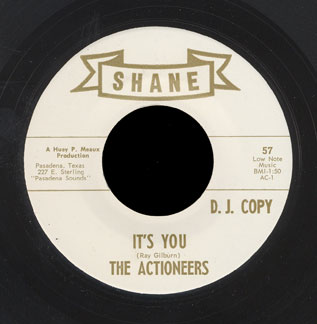 "It's You" is a great fast rocker, with a repetitive guitar line. I think it's amazing that there's no bridge or break, or change of chords for the chorus! The band gets the riff down and stays with it to the finish. The drum kit might be nothing more than a tom tom and a snare!
"No One Wants Me" is also simple, but has a tom tom and tambourine break. I'll bet they didn't do many takes of this one!
Both sides were written by Ray Gilburn. The band was probably from Houston, but they were pretty much unknown until boxes of unplayed copies of their 45 were found in Huey Meaux's studio. The only other 45 I know about on the Shane label was by the Eccentrics – "Baby I Need You" / "She's Ugly" on Shane 60, both songs written by L.J. Swift.