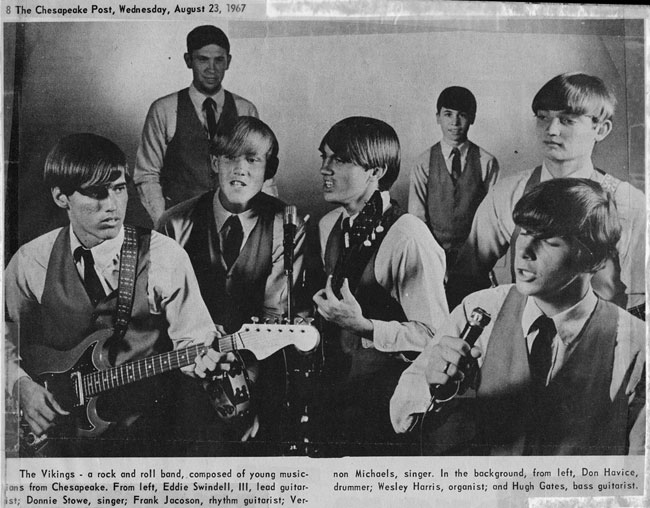 The Vikings started at Oscar Smith High School in South Norfolk. Members were Vernon Michael and Donnie Stowe on vocals, Eddie Swindell lead guitar, Frank Jackson rhythm guitar, Wesley Harris organ, Huey Gates bass guitar, and Don Havice drums. Mike Ruggles and Tom Burlage were in the band about a year until they went to college.
They won a Battle of the Bands in Feb. 1967 at the Ponie Teen Club on Godwin Ave, then known as the Portlock Au Go Go. They also participated in WNOR's Battle of the Bands on Sept. 22, 1967, at the Dome in Virginia Beach, competing against the Aliens, American Shags, Beechnuts, Denis & the Times, Regents with Mel Gaines, the Sound Effects, and the Stingrays.
Although an article in the Chesapeake Post on Aug. 23, '67 states that the band will soon be recording their first song, "Why Did You Lie," an original by Eddie Swindell and Donnie Stowe, the band never did record. Their set list included dozens of songs, both rock and soul.
Eddie Swindell says "Donnie and Vern sang both rock and soul and harmonized together like Sam & Dave. I knew members of the Swinging Machine, Barracudas, Bill Deal and the Rhondels most of the bands in the area. Some of us are still performing. I also played in a band in the 70's with Dickey Harrell the drummer from Gene Vincent and the Blue Caps I see him around occasionally. I have a scrap book with articles and pictures of local bands listing dates and places they were gigging."
The Vikings reunited in 1989, and again in 2007 for a benefit concert.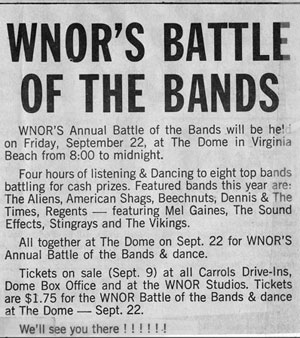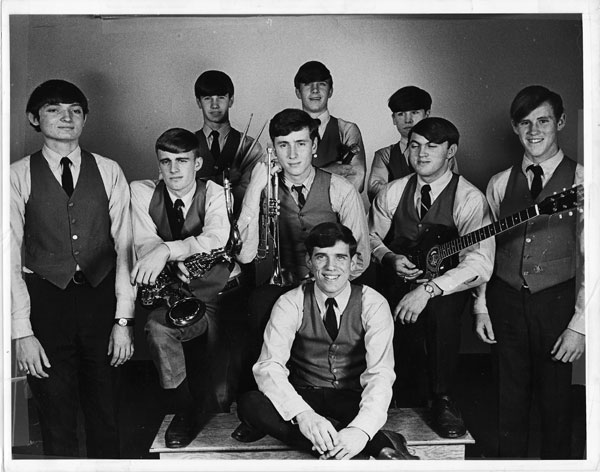 1st row sitting Eddie Swindell. 2nd row left to right: Hue Gates, Mike Ruggles, Tom Burlage, Frank Jackson, Donnie Stowe.
Back row: Marty Rogers, Vern Michaels, Wes Harris.