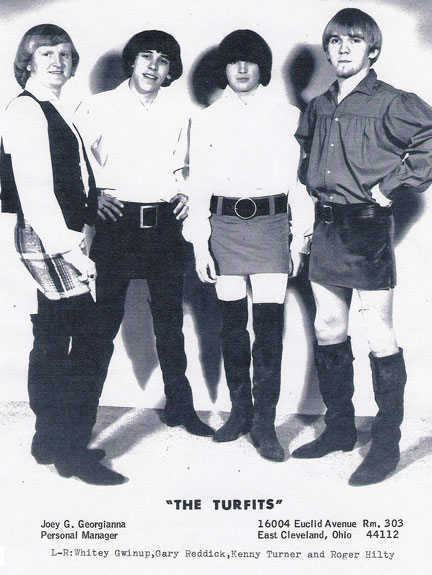 Robert "Whitey" Gwinup was guitarist in a group from Fremont, Ohio called the Vandaliers whose members included Wayne Van Doren on drums and Harry Kerr. The Vandaliers had been playing together since 1962, and recorded a demo, If "It's Love You Want" on September 2, 1965 at Cleveland Recording.
Meanwhile in Findlay, Ohio was the American Way, with members Roger Hilty drums, Gary Reddick organ, Kenny Turner bass and Bob Peeler lead guitar. Whitey Gwinup left the Vandaliers on July 9, 1966 and took Bob Peeler's place on lead guitar. This new lineup changed their name to the Other Ones, and later changed it again to the Turfits.
They based themselves in Xenia, at a nightclub the band half-owned called The Castaways. They also played often at a club called the Capitol in nearby Dayton.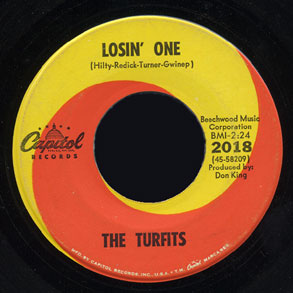 Gwinup brought "If It's Love You Want" with him when he joined the Turfits, who recorded their own version at Cleveland Recording in 1967. Although the original version was written by Gwinup and Harry Kerr of the Vandaliers, writing credits on the label list all the members of the Turfits.
Gwinup also wrote "Losin' One", but as with "If It's Love You Want", all the Turfits' names were listed on the songwriting credits (with Gwinup's name misspelled as Gwinep).
Capitol Records had done very well with the Cleveland band the Outsiders and Youngstown's the Human Beinz, so they were willing to take a chance on other local Ohio acts. The Turfits didn't reach the charts like those other acts, but "Losin' One" has a classic garage sound – mumbled self-pitying lyrics and a high-pitched organ behind a restrained garage solo.
Production was by Don King – not, as I originally thought, the future boxing promoter (though that Don King was producing soul and gospel records in Cleveland at the same time as an investor in Way Out Records), but the brother of Tom King, singer for the Ohio group the Outsiders, who hit big with "Time Won't Let Me" and cut the garage classic "I'm Not Trying to Hurt You".
Thanks to BuckeyeBeat for some of the background information about the Turfits. Be sure to check out BuckeyeBeat's site dedicated to Ohio garage. Additions and corrections were made from contact with Jaremy Hilty, son of Turfits drummer Roger Hilty, and by Wayne Van Doren and Whitey Gwinup.