The Mark IV, from Poughkeepsie, released three 45s on the Giantstar label out of Mahopac, in Putnam County.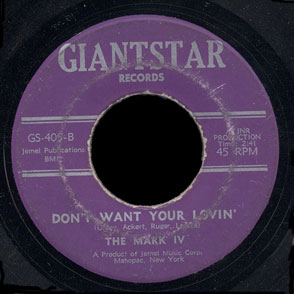 I haven't heard the first, or the other side of their second 45, "Hey Girl (Won't You Listen)", a good folk-garage song.
The b-side of their last 45, "Don't Want Your Lovin'" is the toughest 45 song they cut, a crazed rave-up with plenty of furious strumming. The A-side, "Would You Believe Me" is fine too, though the transfer is from my VG- copy.
Songwriting credits go to John Ackert, Butch Loreto, Emery Ruger and Ed Gilroy, maybe the son of their manager, Bob Gilroy. Besides these four, another member of the bnad was Jimmy Marino, who I believe is listed on the card as Jay.