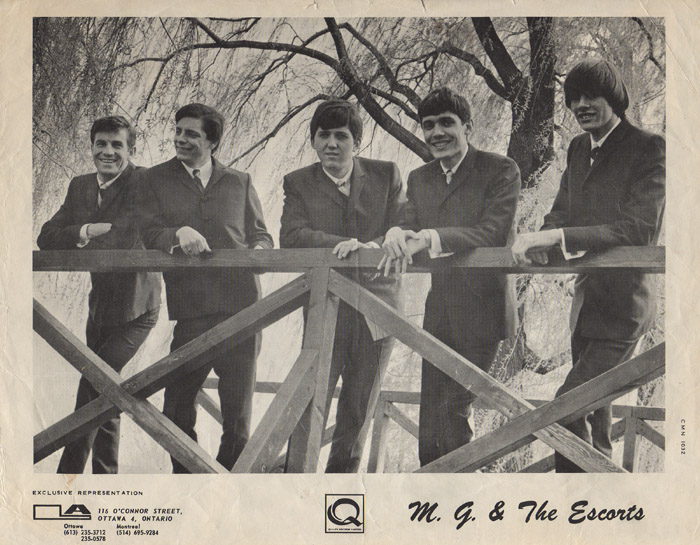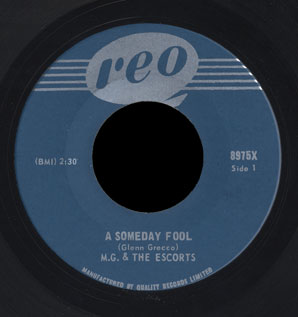 Where does a song like "A Someday Fool" come from? The parts are not much more than a steady snare beat, a repetitive fuzz riff, simple rhythm guitar and faked at-wits-end vocal, but the result is staggering, a template for what garage bands have been trying to do ever since. The unstoppable drum beat and the mesmerizing guitar really give this song its hooks, and they catch you fast.
The band was Glenn Grecco lead guitar, Graham Powers vocals, Mike Gauthier guitar, Glen Stephen bass and Bill Bryans on drums, from the Pointe Claire section of Montreal.
Their other 45s are excellent as well. You can hear that distorted guitar sound on their very first 45, "Please Don't Ever Change", which was a top ten Canadian hit in May of '66. It was written by Glenn Grecco, who also wrote "A Someday Fool", and backed with a slow ballad, "Sorry to Hear".
Their second 45 featured a great British-sounding beat number, "I Can't Go On" backed by one I haven't heard yet, "The One Who Wants You".
"It's Too Late", the flip of "A Someday Fool", is maybe their most complex song, featuring organ, celeste, solid rhythm playing and good harmonies and was written by Grecco and Bill Bryans.
The band's fourth and final 45, "Next to Nowhere" shows a more soulful direction, and lightly psychedelic. It was backed with "Remembering", a well-crafted ballad with more fine harmonies, and a personal favorite of mine. This single also was released in the U.S. on the Mala label.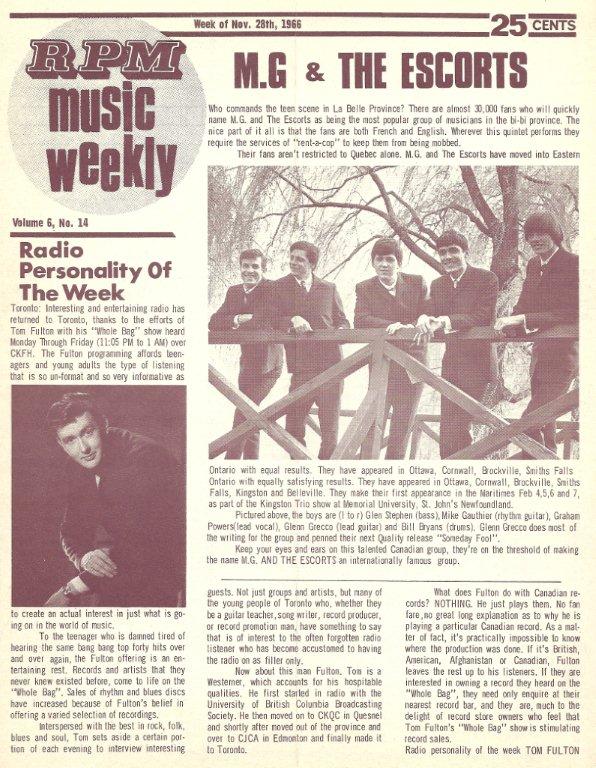 Bill Bryans has been keeping a blog, misterbryans, which is focused mainly on Cuban music, but he has an entry about the band that I'll quote here, with his permission, along with the photo he posted:
We were called M.G. & The Escorts. This type of name was trendy back then, initials followed by a name (I've no idea why). The biggest group at the time was called J.B. & The Playboys – another suit band – who were from NDG [Notre-Dame-de-Grace]. We were from Pointe Claire, which was a bit more middle class. But eventually, we became more popular.

We did pretty good, we had a good run. We put out three singles that got a lot of airplay and we played every weekend in Montreal or Ottawa, Kingston, Brockville – that area of the country. We played teen clubs and high school dances mostly and a lot of "Battle of The Bands", which were popular back then.

We had an advantage because my father owned a record store, so we could get the newest songs before anyone else because back then all the music came out as singles, and whoever could play the hit parade was the most popular. The hit parade was the best music back then. Albums were just the singles with a few filler tunes.

Everything changed in 67. Pop music began to get more complex. I remember seeing the Grateful Dead and The Jefferson Airplane at Expo 67 and that changed everything for me. I began to listen to Frank Zappa, Miles Davis, John Coltrane, blues music, free jazz, Aretha Franklin. I began to connect the music to the other things going on in the world, mostly triggered by the war in Viet Nam. I didn't even hang out with the guys in MG & The Escorts anymore.
I followed up with a few short questions:
Q. I read a rumor that the group was going to record an album in Texas – is that true?
Billy Bryans: News to me although I'd love to know where you read the rumour.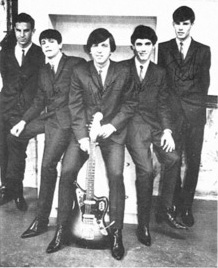 [I read this in the liner notes to Nightmares from the Underworld, a great Canadian garage compilation by Andre Gibeault that was released over 20 years ago – but even there it's called a rumor.]
Q. Was there much recorded that was never released?
Billy Bryans: I don't believe so. We just recorded single by single.
Q. Did you ever play any TV shows – is there any live footage of the band?
Billy Bryans: We did play TV shows (usually lip-synching) but I've no idea if any of that footage exists.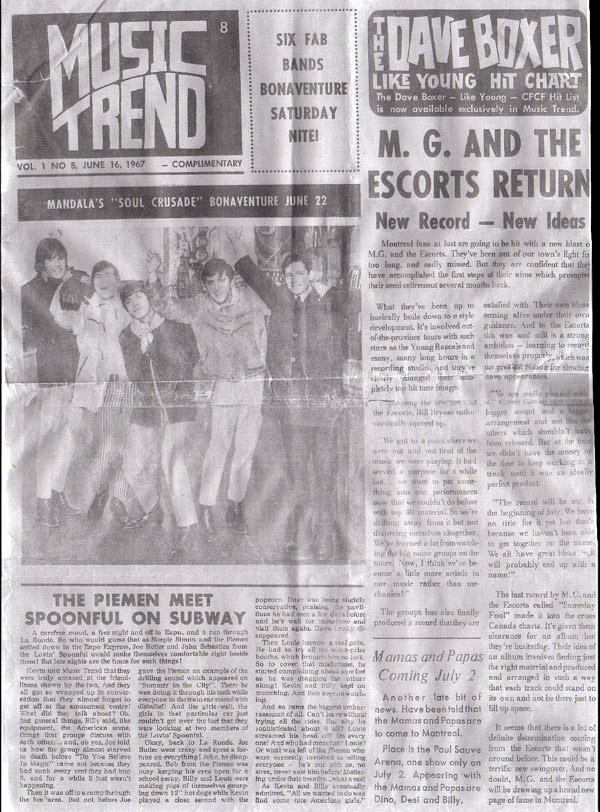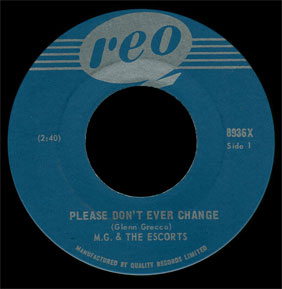 In late 2010, Glen Stephen sent in photos and news clippings on the group. An article from Music Trend in June of '67 quotes Bill Bryans: "we got to a point where we were out and out tired of the music we were playing. It had served a purpose for a while but … we want to put something into our performances now that we couldn't do before with top 40 material. So, we're drifting away from it but not divorcing ourselves altogether. We've learned a lot from watching the big name groups on the tours. Now I think we've become a little more artistic in our music rather than mechanical."
The article continues "The groups [sic] has also finally produced a record that they are satisfied with," and quotes Glen Grecco saying "We are really pleased with it. It's a bigger sound and a bigger arrangement and not like the others which shouldn't have been released. But at the time we didn't have the money or the time to keep working at a track until it was an ideally perfect product. The record will be out in the beginning of July. We have no title for it yet but that's because we haven't been able to get together on the name."
Since the article says the band's previous record was "Someday Fool", it seems the song they're discussing is either "Next to Nowhere" or "Remembering", the two sides of their last single.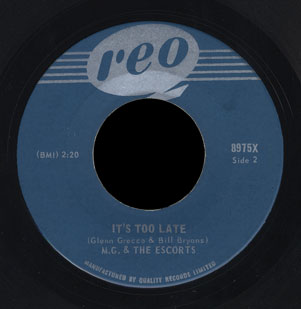 I asked Glen Stephen about the Music Trend article, and also about the band's early days:
I played in a couple of groups prior to M.G. and the Escorts. The first band was in high school in a group called the Crescents which focused on Buddy Holly songs. I later joined a group with Glenn Grecco and Billy Bryans in a group called the Strangers and the focus of the music was Cliff Richard and the Shadows.

The Stratocaster was purchased in New York City in 1961 and it was coral red. I played rhythm guitar and we used a Danelectro reverb for the lead guitar. Glenn Grecco could imitate the Shadows guitar sound to the letter. We also played the Chet Akins style of finger picking as there were several people in the Pointe Claire area that played that style.

I don't remember the details of how the group formed into M.G. and the Escorts. Part of the group The Strangers joined with another part of a group with Graham Powers and Mike Gauthier.

Our first major performance as M.G. and the Escorts was at the Maurice Richard Arena where we were the opening act for the Beach Boys" Other groups we opened for were The Young Rascals, Tommy James and the Shondells, Neil Diamond, Paul Revere and the Raiders, Serendipity Singers, & the Happenings. Our group would play a lot of the top 40 of the hit parade, many of which involved four part harmony which we did fairly well.

Glen Stephen with 1960 Fender Stratocaster

We could see that there was a trend towards a heavier sound, ex. The Rolling Stones and we started to adjust accordingly, but still maintained much music that involved harmonies. That is where "Someday Fool" flowed from. There was no harmony, some background singing, but a solid beat which was different from the style we played.

The first recording we did was at Stereo Sound Studios where we recorded on a two track system which was one one of the better ones in Montreal. It cost $100/hour in the early 60s which was alot of money in those days. When recording you had to play and sing at the same time and make no mistakes or you would have to redo the song. Once completed you would hope for a good mix.

In one song, we recorded the guitar and lead on a 4 track tape machine in a house; brought the track to the recording studio and added in the drums and bass at the studio. The last song we recorded was in the RCA studio in Montreal which had a 4 track system. It was called "Next To Nowhere."

Q. The article in Music Trend in June of '67 mentions many long hours in a recording studio – what kinds of songs was the band working on? What became of them? Is it true the band had clearance for an album?

All the songs that we worked on in the studio, we recorded. There was some talk of an album. but it never materialized.

We played in the Garden of Stars at the World's Fair in 1967 and it was not much longer after that that we disbanded.

Q. The article also says the band was in semi-retirement before June '67? Is this true?

What we did was re-evaluate our direction and a change in the style of music. It was more of a time of reflection. We were offered a possible recording session to produce advertising music for French's Sloppy Joe Mix. We were to go to Texas for the recording, but it didn't materialize.
M.G. and the Escorts 45 releases:
Reo 8936 Please Don't Ever Change / Sorry to Hear
Reo 8960 I Can't Go On / The One Who Wants You
Reo 8975 A Someday Fool / It's Too Late (early 1967)
Reo 8998 Next to Nowhere / Remembering (released in the U.S. on Mala 582) (late 1967)
Thank you to Billy Bryans and Glen Stephen for the photos and clippings and for answering my questions.
Thanks to Ivan Amirault for many of the scans from RPM.
Update, April 2012:
I'm sorry to hear that Billy Bryans passed away on April 23, 2012. Bill was seventeen when he started recording with the Escorts, and he spent the rest of his live working in music as musician, promoter, producer, and writer.
CBC news has a detailed obitiuary and video tribute, plus a short audio interview with Bill and a clip of the Parachute Club here.
The Globe and Mail also has a good overview of his life.