Once in a while I come across something that doesn't fit into the garage category but deserves some wider exposure – the Lumpen 45 is one of these records.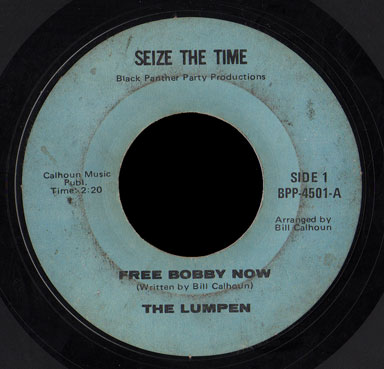 "Free Bobby Now" is an anthem for Bobby Seale. The Lumpen were a group of Black Panthers based in Oakland but peforming throughout the Bay Area to get the Panther's message across through music.
A full history of the group by member Michael Torrance is on the Black Panther history site, It's About Time. I'll quote some of it here for background:
The original members were Bill Calhoun, Clark (Santa Rita) Bailey, James Mott and myself, Michael Torrance. We had all sung in groups in the past, Calhoun having performed professionally in Las Vegas, and it just came naturally.

Calhoun wrote "No More" in a spiritual/traditional style, and then "Bobby Must Be Set Free", a more upbeat R&B song. We recorded these two songs and soon we were singing at community centers and rallies. Emory Douglas, Minister of Culture, named the group the Lumpen for the "brothers on the block," the disenfranchised, angry underclass in the ghetto.

Thanks to Calhoun's expertise, we were able to put together a high-energy hour-long "act" complete with uniforms and choreography. By the time the Lumpen were about to go on an East Coast tour, the auditorium at Merritt College was packed for the kick-off concert which was recorded live. The whole audience sang along with "Bobby Must Be Set Free."
The first copy I found was in New Orleans shortly before Katrina hit. I was listening to a batch of records and this one caught my attention, though I realized right away it was mislabeled – it has labels from a hit on the White Whale label that must have been at the press at the same time. Which would date this to December, 1970. Recently I found another copy with the correct labels on it.