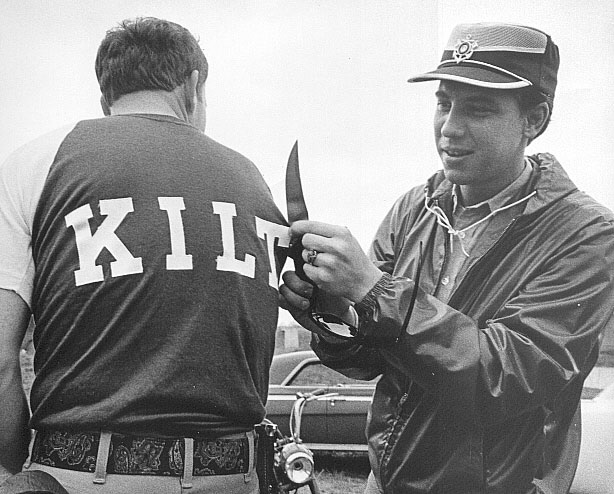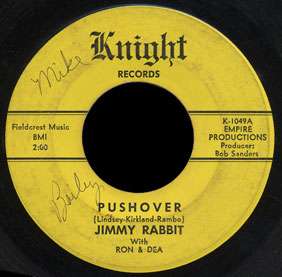 Jimmy Rabbit was a prominent DJ at Dallas station KLIF AM 1190 with a show that mixed British Invasion sounds with Texas acts like Mouse and the Traps, Sir Douglas Quintet and the Five Americans. Having tried his hand at singing as a young rockabilly under his real name, Eddy Payne (Dale Payne), he decided to make another attempt in 1965. With help from friends, Rabbit released three good garage 45s from '65 to '67.
"Pushover" is distinguished by a popping rhythm and sharp guitar. It was released with three variations in the name. First as Jimmy Rabbit with Ron and Dea on the yellow Knight label, on a blue Knight label as simply Jimmy Rabbit, and then picked up for national release on Southern Sound as Jimmy Rabbit and the Karats (ha ha).
The b-side "Wait and See" is dark and less catchy, but pretty good too. Both of these were written by Lindsey-Kirkland-Rambo, arranged by Bob Rambo and produced by Bob Sanders.
Next came the bluesy "Wishy Washy Woman" from July of 1965, written by Ron Price. "Wishy-Washy Woman" reached #31 on the KLIF charts thanks to Jimmy's connection with the station. It's a formulaic blues, but gains momentum a little over halfway through as Jimmy sings just over the drums, with the other instruments coming in at the end of each measure.
The flip side is "My Girl", credited as a Price original but really more a version of Willie Dixon's "My Babe" with some different lyrics.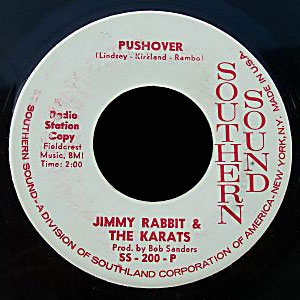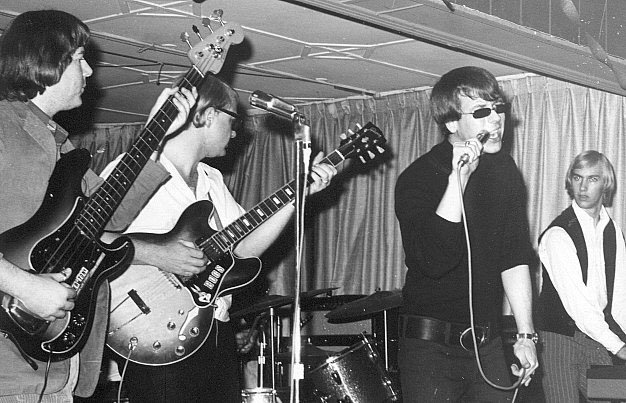 His biggest hit came in 1966, with a buzzy cover of "Psychotic Reaction" under the name Positively Thirteen O'Clock, recorded at Robin Hood Brians studio in Tyler, Texas with members of Mouse and the Traps: "Bugs" Henderson and Ronnie "Mouse" Weiss on guitars, Ken "Nardo" Murray drums, David Stanley bass, and Jerry Howell organ.
The solo has a frantic, trebly quality that's a trademark Texas sound. The band ends the song with a final burst of fuzz rather than coming back into the verse as in the Count Five's original, itself an imitation of the Yardbirds' raveups. This abbreviated version clocks at a tidy 1:59!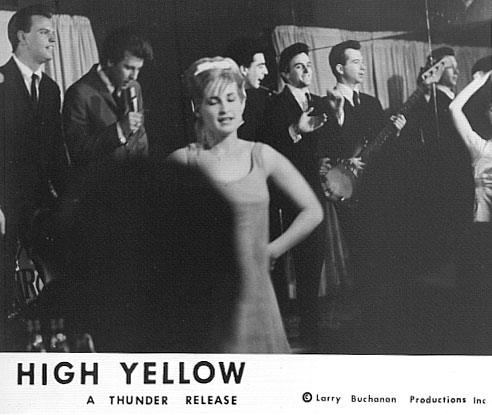 Mr. Rabbit wrote to me:
The Dallas records ["Pushover" & "Wishy Washy Woman"] were a totally different thing than the Tyler recordings ["Psychotic Reaction"]. When Bobby Rambo and I teamed up in late '64 we were a part of a new kind of music "thing" in Dallas-Ft. Worth.

We all came out of rockabilly music and we all used to hang out at the Sand-Lin Recording Studio (Bob Sanders and Lewis Lindsey) and played at, among other places: LouAnn's and The Cellar in Dallas. This was right when the change from American to English music was taking place. We really tried to become/sound English! (like my friends in The Sir Douglas Quintet).

I was a teenager with a Beatle haircut who was the number-one d.j. on KLIF Radio. I had brought the Beatles on stage when they played Dallas [fascinating write up was at http://www.radiodailynews.com/rabbittchapter12.htm but is now defunct] and played in several bands, so we all got record deals at different times. There were several bands that hung out and listened to and recorded music. At any given time, there could be a band called 'Jimmy Rabbit and the Karats', 'Jimmy Rabbitt with Ron (Boston) and Dea' (Kirkland), 'The Rowdies', 'The Bobby Rambo Rock-Kings' and on and on.

The songs "Pushover" and "Wait and See" were recorded in 1965 and were featured in the movie, High Yellow. The band included Bobby Rambo, Lewis Lindsey, Dea Kirkland, Rex Ludwick, Ron Boston, and others who have been long forgotten!

Bobby Rambo, Rex Ludwick and I (and others) became Jimmy Rabbitt and Texas (on Atco Records) and later Jimmy Rabbitt and Renegade who recorded an album for Capitol with Waylon Jennings producing in 1977. Of all the records that I have made over the years, the only song that Bobby Rambo didn't play on was "Psychotic Reaction".
Check out Jimmy Rabbit's website at www.jimmyrabbitt.com.(defunct)