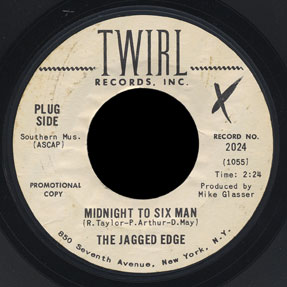 Supposedly recorded in California, but released on a NY label, with the band maybe from Ohio? That's how different versions of the story go, which has to make the Jagged Edge one of the best '60's bands whose history was a mystery until recently.
Their fantastic double-sider on the Twirl label features a cover of the Pretty Things' "Midnight to Six Man" that surpasses any other I've heard. The b-side "How Many Times" is an original by D. Brown (which could stand for Donner Brown). It was released in February, 1966.
Band members were:
Shelly Leader – lead vocals, rhythm guitar
Don Brown – lead guitar, vocals
Freddie Ebner – bass
Peter Gretch – drums
Lenny Matlin (Leni) – organ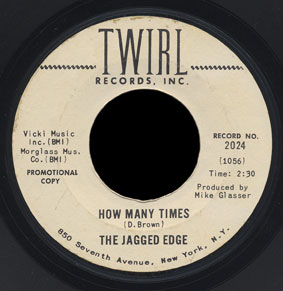 As Alan points out in a comment below, the Twirl label was started in Detroit. Harry Balk had formed Twirl and the publishing company Vicki Music and had a business partner, Irving Micahnik. They released about twenty singles on Twirl before Balk sold his share in Twirl and Vicki to Irving and formed the Impact label, which released some great 45s by the Human Beings and others. It seems that Irving Micahnik relocated the Twirl label to New York, where he resided, in 1965.
When I originally made this page in March, 2007, I gave an edge to Detroit as the most likely origin for the band, but I finally heard from the band's manager, Mike Glasser and their vocalist Shel Stewart, and have confirmed the band was from New York City.
This was their only release, but a couple of unreleased acetates turned up that I'm fairly sure is the same band, but I would like confirmation of this from one of the members. The demos feature an excellent original song (?) "Gonna Find My Way", and a frantic version of "I'm a Man". The other songs on the acetate are a decent version of "Big City" and a slower take on "I'm a Man". Who has the acetate – where was it recorded?
I wonder if any photos of the group exist? If anyone knows of one please contact me.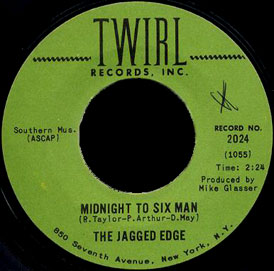 To make clear another confusing matter, this band was not the Jagged Edge from Brooklyn that released "You Can't Keep a Good Man Down" / "How She's Hurting Me" on Gallant in April of '66, and then became the Off-Set, recording "Xanthia (Lisa)" for Jubilee in July of '66. That band also did a version of "A Change Is Gonna Come" that went unreleased at the time.
Shel Stewart wrote to me:
Shel Stewart, known as Shelly Leder at the time. I formed the group with Don Brown in NYC in 1965. I played rhythm guitar and sang lead with Don Brown on this record. Don Brown played lead. Lenny from Brooklyn played Vox organ, Mike Glasser at the time was our manager. Peter a friend of Don played drums.

Don Brown is a childhood friend of mine that goes way back when we were both in high school together. We played together before the Jagged Edge, which I named the band. It was a high school band called the Continentals and we played many of the NYC synagogues and some churches.

Because of my brief but exciting past with this band I will recall most of what I can remember in a future memoir/historical document.

I kept in touch with Don sporadically till about 1973/1974, then we drifted into different lifestyles I presume.

Most of my life I played in various original bands after the Jagged Edge still looking for the dream. I have been in glitter rock projects (Dorian Zero) during the pre-punk days, Poptronix a new wave band, Fahrenheit 451 a gothic band, Orange Midnight a garage retro band, The Lucifer Scale, an industrial band. To listen to some of my other projects after that just google my name Shel Stewart. I'm featured on bigmusic.org and reverbnation.
The band's producer Michael Glasser also produced The Soup Greens' "Like a Rolling Stone"/"That's Too Bad" at Dick Charles Studio. I believe Mike also recorded for LHI (Lee Hazelwood) under the name Michael Gram, but I haven't confirmed this with him yet. Mike Glasser commented below, "I was the manager/producer, and a Long Island, NY band took the name when the original band dismantled. Joe Mara of the Night Owl Cafe loved this band and if Joe is still with us I know he can verify the origin of the Jagged Edge and so many other bands and artists that the Night Owl Cafe showcased back in the early 60s."