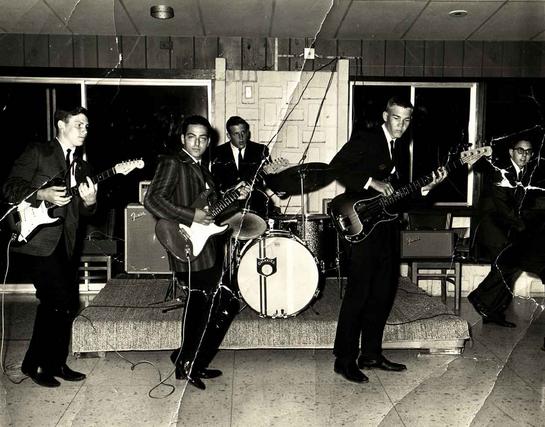 Early photo, 1963, l-r: Ronny Randall, Floyd Dakil, Geoff West on drums, Terry Billings on bass, and Andy Michlin on keys
Updated April, 2010

Floyd Dakil formed his group in 1963 with fellow Highland Park High School friend Andy Michlin, and three sophomores of Thomas Jefferson High School: Ronny Randall on guitar, Terry Billings on bass, and Geoff West on drums. Within a year or so, Andy's brother Laurry Michlin took over on keyboards.

In February 1964 they won a competition to become the house band at the Pit Club, a 2,500 person venue located at the Bronco Bowl in Oak Cliff. "Chuck Berry rock 'n roll pre-Beatles – that's how I would best describe the music we played at that time" said Floyd in a 2008 interview.

They soon released their first 45, the classic "Dance, Franny, Dance" b/w "Look What You've Gone and Done" on Jetstar. The label says both sides were recorded live at the Pit. Originally I thought it was likely to be a studio recording with overdubbed handclaps and applause at the beginning, but Geoff West says in his comment below that it was recorded in front of a large crowd at the Pit in the Spring of 1964: "on 'Dance Franny Dance' it required at least five minutes to get several hundred teenagers to clap together!"

In 2009 original member Ron Randall contacted me about the group:

Geoff's recollections are correct. The recording of "Dance, Franny, Dance" was done live at the Pit Club. Larry Lavine was the engineer using a 4 track recorder set up in the women's dressing room backstage. It was just one of those nights when everything came together. A great recording.

The recordings done live at the Pit survive on CDs that Geoff West made from an original, not released LP. There are eight songs, some are covers, some original. I have my copy.

Maybe, to add to the confusion, or clear things, the songs "recorded live at the Pit", and then released on Jetstar have the name of the group as The Floyd Dakil Combo. This is correct for legal reasons. "The Pitmen" referred to the house band at the Pit Club. We were the first. The original Pitmen backed a long list of entertainers at the Pit Club, and went on to other successes around Texas. There were others, after we left the Pit Club, called the Pitmen.

The eight songs recorded at the Pit Club represent the beginnings of Dallas's incredible garage rock scene. The songs are "Roadrunner", "Dance, Franny, Dance", "Look What You've Gone and Done", "You Got Me Crazy", "Concentrate on You", "Bad Boy", "Maybe Someday" and "Rendezvous".

Floyd recalled that he and the producers brought the live tape into a studio and "sweetened" the two songs for the single.

"Dance, Franny, Dance" peaked as high as #4 on KLIF in May, 1964, which is not surprising given KLIF DJ Chuck Dunaway's involvement – he's listed as co-producer along with Bob Sanders, owner of the Knight and Spectra record labels. When the Phiadelphia-based Guyden label picked up the songs for national distribution, "Dance, Franny, Dance" hit local charts in Pennsylvania and California, leading to a brief tour of California state fairs and DJ hops that summer. Floyd noted that the Beach Boys came out with their hit "Dance, Dance, Dance" soon after (in November 1964).


Floyd Dakil and Pitmen, the group on the Jetstar 45, l-r: Floyd Dakil, Geoff West, Laurry Michlin, Ronny Randall and Terry Billings


The Floyd Dakil Combo, l-r Floyd Dakil, Andy Michlin, Dennis Mills, Ronny Randall, and Chris Brown

Floyd Dakil went on to record three 45s on the Earth label as the Floyd Dakil Four. "Bad Boy" is the first of these, a very good rocker, produced by John Anderson. The flip is a good uptempo song "Stoppin' Traffic" about a girl who does just that.The second Earth single combines the rockin' "Kitty Kitty" (great guitar solo too) with a neat pop song, "It Takes a Lot of Hurt". The third 45 on Earth has a good original, "You're The Kind Of Girl" with "Stronger Than Dirt" on the A-side.It was a later Pitmen group who recorded a couple 45s: "Earthy", plus "Summertime Blues" b/w "Suzi Q" (released on Earth 401).

Ron Randall:

There was another, later group, called the Floyd Dakil Four. That group was Floyd, Ronny Randall, Mike Giles (drums) and Terry Billings on bass. That group recorded the songs on the Earth label, produced by John Anderson. I have that picture somewhere.

"Earth" was a term coined by John Anderson, our manager/producer to describe the sound we had with the Floyd Dakil Four. I had added a Fender VI Bass Guitar to the instrument mix, along with my Stratocaster. So we had two bass instruments on some recordings and live performances. Terry Billings on Fender Precision bass, Ronny Randall on Fender VI bass. It was/is a hard driving click-bass/surf/rock sound done an octave lower to the Stratocaster. Add Terry's Precision bass, and Mike's drums and that was the foundation of the sound called Earth. "Earth" was written in huge letters on the back of that Fender VI bass. Ron Chapman commented on how full the live sound was at the "Sump'n Else" Studio at Northpark.

I continued to perform with Floyd at all kinds of venues until I decided to go to college, get a day job. We continue to be friends today. We participated in a concert about 18 months ago at the Lakewood Theater on Greenville Ave. The concert was dubbed "The Legends of Rock and Roll," produced by Kenny Daniels. We did a "Reunited" performance live at the Stoneleigh in 2005.

After the Earth 45s, Floyd kept the band together while earning a B.A. from Texas Tech. In 1968 he had a solo 45 "Merry Christmas Baby" / "One Day" on Pompeii. Sometime after that Floyd became the guitarist for one of his idols, Louis Prima, and remained for several years until Prima's ill health curtailed his touring.

In 1975 he released a LP with his own group, Live! in which he runs through 42 songs in as many minutes. It's definitely an odd mix, if you can imagine "Everyday People" segueing to a chorus of "Yummy Yummy Yummy" then straight into "Whiskey River"! Also about 1975 Floyd turned down a two LP contract with CBS, feeling that the contract was unfair in charging promotional costs back to the artist.

In the late '80s he started a band with Larry Randall, and this group's songs were featured in a 1991 movie, Love Hurts with a brief cameo by the group.

In 2009 Floyd was one of the featured acts at the Ponderosa Stomp at SXSW in Austin. I've heard a tape of the show and it's one of the better sets from that night. Floyd played "Dance Franny Dance", "Look What You've Gone and Done", "Bad Boy" and "Stopping Traffic", as well as "Nadine".

This year Floyd's friend Phil York released an official new CD Rolling Dynamite, collecting some of his early singles and a number of previously unreleased tracks. I just received the copy I ordered, and can provide an overview:

Included are both sides of the Jetstar 45 and both sides of the first Earth 45 ("Bad Boy" and "Stoppin' Traffic", though "Bad Boy" on the CD is an alternate with a shorter intro and piano solo ['take it Andy!'] instead of the ringing guitar break on the 45). Also included are "Kitty Kitty", the A-side to the second Earth 45; "You're the Kind of Girl", the flip from his third Earth 45; and his Pompeii single, "Merry Christmas Baby". Everything else on it was never released on vinyl that I know of, though five of the unreleased tracks did appear on a CD collection in the mid-90s.

It's hard to know when the unreleased tracks were cut, as the notes only include a general reminiscence by Floyd and no recording specifics, nor is the CD sequenced strictly by recording date. Of the unreleased tracks the two highlights are definitely the title song, "Rollin' Dynamite" (a cover of Scotty McKay's first single, written by Joann Owen) and "Shiver". Other early songs include "Cold As Ice" and "Sweet Little Anna" and a ballad "Pretty Girl". "She Bops a Lot" may have been a later song done as a throwback to his earlier style, it's hard to tell.

A few tracks sound like they could be from late-'60s or early '70s sessions, including "I Know", "Turn to the Night" and "Here I Am", all excellent songs in a gentler style. "Good Times and Rock and Roll" sounds like a 70s track, at least in it's nostalgic look at the early rock scene. The rest are definitely from the late '80s or '90s and range from country to zydeco to "Old Time Rock & Roller".

Details on recording personnel and dates would be useful for fanatics like myself, but overall I would consider this an excellent retrospective of Floyd's work, with all of his essential songs presented in excellent sound quality.

I had been looking forward to hearing him play in Brooklyn, New York this summer, but I'm very sorry to report that Floyd passed away on Saturday, April 24, 2010.

Sources include photos from the bigd60s group and a long interview with Floyd Dakil by WFMU's Michael Shelley from May 10, 2008.


Floyd Dakil … Live!