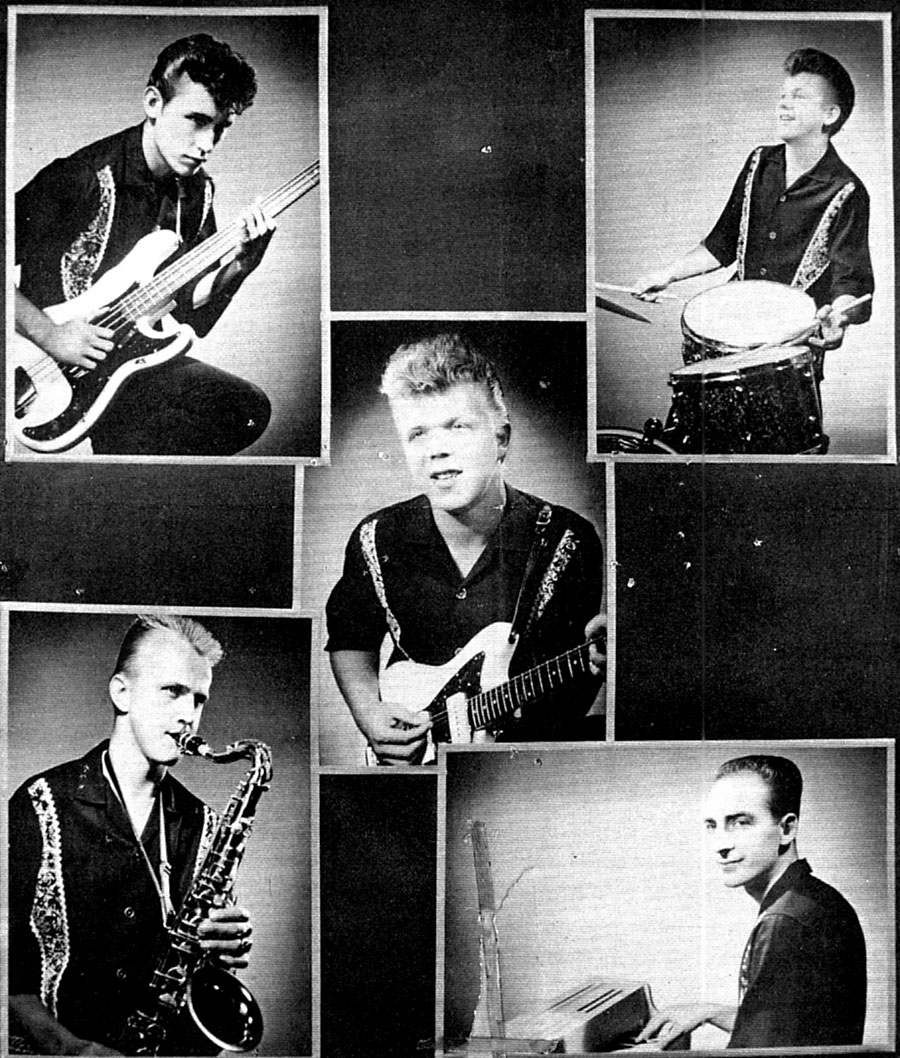 The Darnells circa 1962, clockwise from top L: Tom Hahn, Mike Blattner, Bruce Wells, unknown (sax),
center: Denny King (photo courtesy Bruce Wells).
These Darnells (unrelated to the ones on Gordy) began in Milwaukee as Denny & the Darnells circa 1959, with various musicians (including future Legends drummer Jim Sessody) passing through the band. The line-up that went into the Cuca studios to record the first single consisted of lead guitarist Denny King, tenor saxophonist Tom Fabre, singer Gary Lane, Bruce Wells on piano, Norm Sherian on rhythm guitar, and Jerry Sworske on drums. The A-side is their remake of Gene Vincent's "Little Sheila", while the instrumental flip is a Latin standard, featuring the jazz oriented sax-man Fabre.

Mike Blattner eventually replaced Sworske on drums, and singer Kim Marie was a member when they played off-night gigs at the Spa on 5th & Wisconsin in September 1962. Our Florida band, the Nightbeats, was touring through Milwaukee's ACA agency, and they had booked us into the Spa for two weeks. We were looking for a different guitar man and King was looking for steady work, so he joined our band, putting a temporary end to the Darnells. However, five months later King and I left the Nightbeats to reform the Darnells as a trio, with bassist Tom Hahn. Hahn had already been out to Southern California with the Bonnevilles and he wanted to make another trip in order to obtain a Mexican divorce from his estranged wife. A SoCal trip sounded great to Denny and me, so in May 1963 we headed west and landed a gig for the summer at the Firehouse, a beer bar on 17th Street in Costa Mesa.

On the referral of the Nightbeats' bass player, we connected with the Tide label in L.A. and recorded eight sides – two instrumentals and a pair of vocals by each of us. "Spooner", the first instrumental, is an up-tempo, surfy, 12-bar blues guitar rocker. The flip is another 12-bar blues, this time a slightly jazzy mid-tempo swing. Denny King's "She's My Girlfriend" is teenish, while the flip has the flavor of Troy Shondell's "This Time". My own release is teen pop with added strings and voices. To my knowledge, Hahn's vocals were the only cuts not released from those sessions.

We returned to Milwaukee that fall and, in January 1964, Hahn and I left to join the Cashmeres, bringing a final end to the Darnells. The Cashmeres metamorphosized into the Mojo Men (who later evolved into the Portraits with releases on Sidewalk). Hahn left the Mojo Men and did some work in Memphis with Ace Cannon ("Tuff," 1962) before leaving the music business and settling in Michigan. After doing some club work with country singer Johnny Carver, Denny King returned to California and teamed up with the Canadian Beadles (sic), whom we had previously met in Ishpeming, Michigan. That combination recorded one single for Tide as the Mojo Men, but they had no connection with the Milwaukee Mojo Men. (It seems that Tide Records, having had their only national chart appearance with Larry Bright's "Mojo Workout" in 1960, tried to capitalize on the "Mojo" name in every possible way).

After his solo recording for Specialty in 1972, King moved to the Sacramento area and formed a booking agency. He later imported medical supplies from Korea and had other business involvements before he died in 2000; Mike Blattner died in 2004. Gary Lane had gone on to work with the Mad Lads and the Saints Five, and later owned a club in Milwaukee. Besides the Darnells, Jerry Sworske had drummed with several other Milwaukee bands, including the Noblemen and Junior & the Classics. He later became a police officer. Tom Fabre moved to Los Angeles and continued in music until his death in 2007. Kim Marie has organized frequent oldies shows in Milwaukee since 2000. This writer has lived in the greater L.A. area since 1965, played full-time until 1982, and part-time since then.

Darnells releases:

Sara 1055: Little Sheila/Besame Mucho, 11/61
Tide 1090: Spooner/Sleepy, 9/63

Related:

Tide 1091: She's My Girlfriend/Long Lonely Night (Denny King), /63
Edit 2005: Poor Little Baby/If (You'd Only Be Mine) (Gary Myers), 11/63
Tide 2000: Surfin' Fat Man/Paula (Mojo Men), 2/64
Tide 2001: Mojo Workout/I Got A Woman (Tommy Hahn & the Mojo Men), 5/64
Specialty 726: Bessie Mae/Go Down Moses (Denny King), /72
Specialty LP 5003: Evil Wind Is Blowing (Denny King), /72

Gary E. Myers is author of two histories of Wisconsin music of the 50's & 60's, "Do You Hear That Beat" and "On That Wisconsin Beat", as well as two instructional books, "Understanding and Using Chords and Chord Progressions" and "Understanding and Using Scales and Modes". Check Gary's website for more information.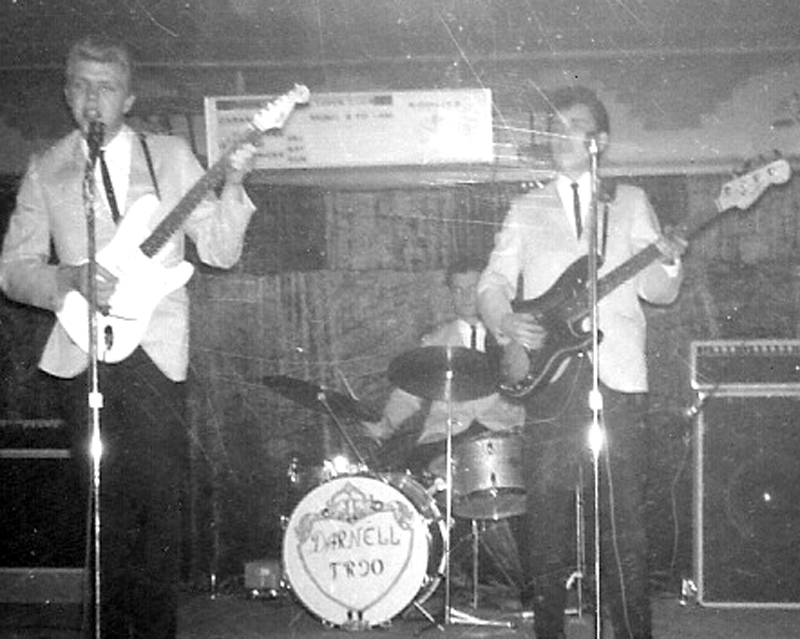 Darnells in Appleton: Tom Hahn, Gary Myers, Denny King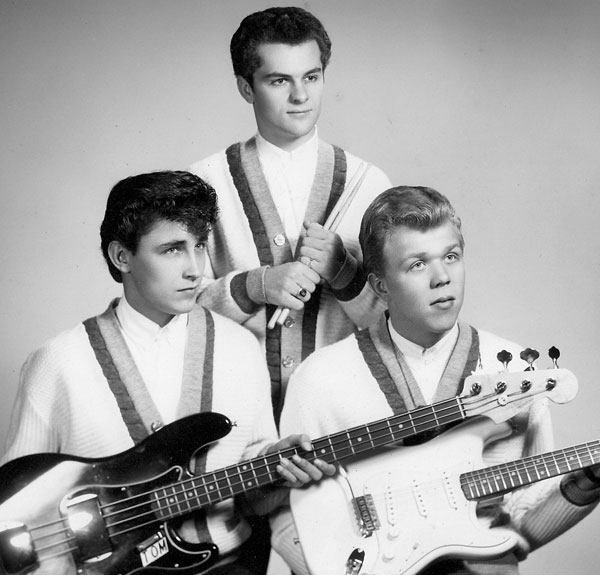 Darnells 1963: Tom Hahn, Gary Myers, Denny King