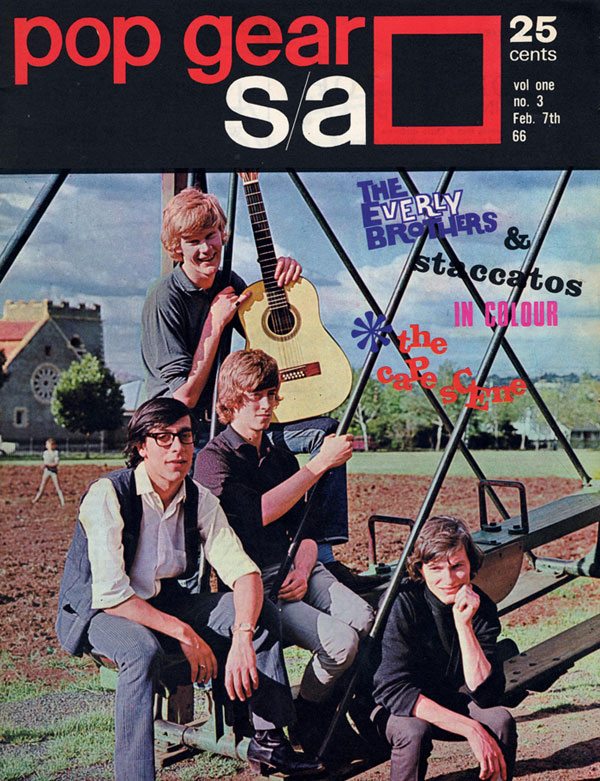 John E. Sharpe & the Squires on the cover of Pop Gear S/A, February 7, 1966.
Chris Demetriou is seated at left.
Chris Demetriou is best known for co-writing the UK top 5 hit "He's Gonna Step On You Again" with fellow South African John Kongos and for producing Cat Stevens and former Manfred Mann singer Mike D'Abo. He talks to Nick Warburton about his South African years, working with UK-based groups Floribunda Rose and Scrugg and becoming a pastor.
Q) Hi Chris, I gather from your surname that your heritage is Greek? I know that you grew up in South Africa so what is the connection?I was born in Cyprus but my parents immigrated to South Africa and I stayed there until John Kongos and I moved to the UK in 1967.

Q) You started out as a keyboard player. Was John E Sharpe & The Squires your first group and how did you come to join them?

In fact I started playing guitar, moved on to bass guitar, and ended up playing a Farfisa organ out of necessity. I'm not sure, but I think Les Goode brought me into The Squires.

Q) Besides John E Sharpe and yourself, the other original members were bass player Les Goode, guitarist Barry Saks and drummer Mervyn Harris. The group has a reputation for being one of the best groups on the Johannesburg live scene in the mid-1960s. What do you remember about recording with the band?

We played as more of an R&B band when doing gigs but somehow changed styles in the recording studio. Hence, the cover version of "I am a rock" (by Paul Simon). The band was South Africa's answer to The Rolling Stones.

Q) You co-wrote a few songs for the band with John E Sharpe. What prompted you to start composing material?

Although I had been writing lyrics since I was twelve and experimenting with different musical styles, it was very natural for me to write with someone else. I chose songwriting partners because that's what worked for me.

Q) John E Sharpe & The Squires were managed by Clive Calder, who later went on to become one of the richest men in the music industry. What was he like to work with?

I found Clive to be very focused and extremely astute as a musician. You could see that he had a future beyond South Africa.

Q) The band's lone album "Maybelline" is now almost impossible to find but is regarded as one of the best South African records from that period. What do you remember of the album's sessions?

Hey I'd love to hear it again! We recorded it at Gallo Studios on a four-track machine. Not many overdubs or clever tweaking. A nearly "live" recording in a true R&B style.


Chris Demetriou, October, 1966.


Floribunda Rose in Johannesburg, May 1967 before setting off for England. Left to right: John Kongos, Chris Demetriou, Pete Clifford (foreground), Jack Russell and Nick Dokter. Courtesy of Jack Russell.

Q) In mid-1967, you left the group to join fellow countryman, John Kongos in London for his new group Floribunda Rose alongside Dutch-born Nick Doktor, Welshman Jack Russell and English guitarist Pete Clifford. How did you make the connection with John and how did you know the other players?John located me through the Jo'burg Greek club. I was invited to his house and the next thing I knew we were planning to leave the country and seek fame and fortune in London. The other players were already in place.

Q) What were you first impressions of London and where did you all end up living? Also, do you have any memories of playing live on the local scene? I found one date for the band playing at Tiles in London in September 1967 with Simon Dupree & The Big Sound.

Wow! You have sourced some interesting information. The Tiles Club! I remember playing the Tiles Club more than once. However, most of our gigs were up and down the M1 at less prestigious venues. We did play some university events and supported more well known acts, but it's so long ago, I wouldn't be able to confirm if we were just in the crowd or on the actual bill. I remember seeing Joe Cocker and Jethro Tull.

Q) The group signed to Piccadilly Records and worked with John Schroeder on the single "One Way Street" c/w "Linda Loves Linda", both sides of which are great tracks. What do you remember about recording this single? Were there are any other songs recorded that were subsequently scrapped?

John Schroeder was very organised when it came to booking studio time. We were in and out as quickly as was necessary to lay down the backing tracks. No real freedom to create on our own.

Q) What was the decision to change the band's name from Floribunda Rose to Scrugg? Was it the same line up of musicians? I read that Henry Spinetti played some drums?

The "flower power" thing was on its way out and we thought a name change would help us re-focus and take a slightly different direction. Also, Henry had just joined the band.

Q) Scrugg issued three hopelessly rare singles for Pye, none of which seem to have sold that well. What do you remember about these tracks and why do you think the group never got the success it deserved?

We were managed by The Walker Brothers' manager and had reasonable exposure on radio and some TV, so I do not really know why we didn't make more of an impact. I suppose that this is just the way the music business runs.

Q) When Scrugg folded in early 1969, you elected to stay in England and continue to work with John Kongos on his solo material. What happened to the other members? I believe that Pete Clifford returned to South Africa to join The Bats?

John and I had burnt our bridges after leaving South Africa. Going back was not an option. John and I were very close – like brothers. Therefore, continuing to work together was natural.

Q) How did you come to move into production work? Did you still continue to perform?

Before "He's Gonna Step On You Again" became a hit (and after the group had disbanded), I answered an ad in Melody Maker for a production assistant. It was GEM Productions, which was set up by Laurence Meyers and Tony Defries. Tony took me under his wing and I got to help their artists and producers in the studio and out. Sometimes mixing singles, other times helping with promotion. David Bowie, Gary Glitter, Johnny Johnson and the bandwagon, and Mike d'Abo were all part of the team. Right after the successes with John Kongos' recordings on the Fly label, I seized the opportunity to get into production. I was introduced to Barry Krost (Cat Stevens' manager) and he took me on board and immediately introduced me to A&M Records. I then established a strong connection with the label and recorded four albums with different artists (including "Down at Rachel's Place" with Mike d'Abo).

Q) Tell me about your work with Cat Stevens. How did that come about?

As I was being managed by Barry Krost (BKM) it was only a matter of time before Stevens and I would work together. I first helped out on some live recording and then worked with him on the "Budda and the Chocolate Box" album. But it was not a good combination. Two Greek boys in the studio! I eventually had to back out in order to preserve the relationship. We are still friends.

Q) You also worked with Mike D' Abo on his album "Down At Rachel's Place". What were those sessions like?

This is my finest recording. Even now I listen to it and enjoy every moment. We had the best of everything – musicians, arranger and engineer. Ken Scott was my engineer (he went on to produce David Bowie, Supertramp and Chris de Burgh).

Q) You are probably best known for co-writing "He's Gonna Step On You Again" with John Kongos which became a huge hit in the UK, South Africa and the States and became a hit for The Happy Mondays years later. Tell me about the inspiration for that song and how you and John came up with it?

I had written the first part of the lyric in South Africa in protest of the political situation and the mistreatment of the black population. I had seen similarities between this and the abuse of the Red Indians. John liked the theme and we started writing a song with the guitar riff as a strong lead. John and I could write five songs a day if necessary but when we started writing this song it was different – we knew something truly unique was taking place.

Q) When did you give up a career in music to become a pastor? What prompted that change in career?

I had already moved away from the music business and into the media industry. The career change never took place, rather, I evolved. However, there was a distinct heart change. My career in the media is still very active, even though I am a pastor. Business is what I do – a pastor is who I am. The difference between "calling" and career. I trust you understand.

© Nick Warburton, January 2008

Many thanks to Jack Russell for the use of photos from Pop Gear SA and his personal collection.


The as-yet unnamed Floribunda Rose in Jo'burg, May 1967.