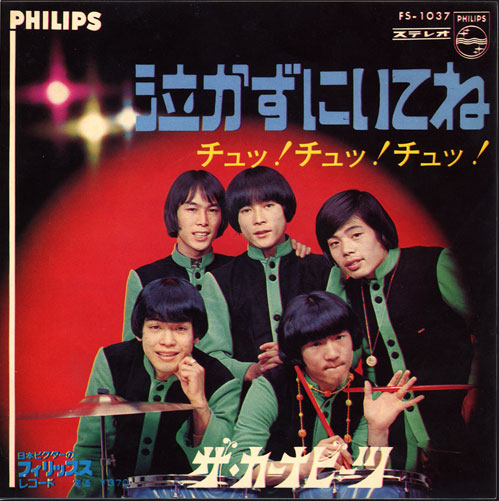 Their fourth 45, with one of their finest B-sides, "Chu! Chu! Chu!"
In early 1967, teenager Ai Takano was playing drums and singing at the Red Shoes club in Yokohama. When an opportunity to join the Freelancers fell through, Takano and ex-Swing West guitarist Jiro Kitamura formed Robin Hood adding friends Keikichi Usui on vocals, Hiroshi Koshikawa lead guitar, and Paul Tadao Oka on bass.

Within a week of forming they had a contract and a new band name, the Carnabeats. They immediately went into the studio to record their first 45, a cover of "I Love You" by their main influence, the Zombies. It was a huge hit, the biggest of their career, and led to the release of the Zombies original version on 45 in Japan.

They put out a total of ten singles, a split LP with the Jaguars, and their own LP Carnabeats First Album, all of varying quality before breaking up in 1969, but here and there are b-sides and odd releases that together make for a good collection of music.

The B-side of their second 45 "Koio Shiyo Yo Jenny", is a cover of the Canadian band the Great Scots' "Give Me Lovin'" every bit as good as the original.


Note Robin Hood figure still on van!


Back cover of "Chu! Chu! Chu!" sleeve.

The b-side to the worst kind of overwrought ballad, "Chu! Chu! Chu! (Kiss! Kiss! Kiss!)" shows how the Carnabeats could range from silly pop to rocking moments within a single song. Still, this is maybe their wildest performance, containing a stupendous fuzz break and slamming drum work by Takano.






Their next 45 was a collaboration with Gary Walker (Gary Leeds). "Cutie Morning Moon" must be one of the strangest of all Group Sounds records. Produced by Scott Walker, "Cutie Morning Moon" is wonderfully moody and uncommercial. Not many have heard the flip, "Hello Gary", which is merely a dopey Gary Walker goofing over the backing track of "Cutie Morning Moon". Later on, the Carnabeats opened for Gary Walker and Rain's Japanese tour.

From japrocksampler.com:

Although The Carnabeats were friendly with other Group Sounds acts, the band's management insisted that they maintain a distance in public in order to appear cool and aloof, and Carnabeats drummer Ai Takano later described Jaguars singer Sin Okamoto visiting his house after dark to keep up the deceit.

However, a professional friendship developed between the band and The Walker Brothers. Ai Takano later described drummer Gary Leeds, who appeared on the B-side of their super-groovy Strangeloves style hit 'Cutie Morning Moon', trying to sing and play the A-side song and failing miserably.

"Go Go Stop" is from what seems to be their rarest 45. It's a fine b-side that hasn't been comped before to my knowledge.

Last up are a couple tracks from various artists LPs from the time. "Love Only For You" is a track from Let's Go Group Sounds #3 and "Twinkie Lee", with a brief but rockin' guitar solo, is from Group Sounds World Top Hits.

After breaking up, Tadao Okada joined the Japanese cast of Hair while Ai Takano joined the Eddie Ban Group and then the Golden Cups, performing with them at their last, disastrous gig in Okinawa. Ai has since passed away.