The Canadian Squires evolved from Ronnie Hawkins' backing band the Hawks. Hawkins and his drummer Levon Helm were from Arkansas, but finding huge success in Ontario, they started recruiting local musicians as original members of the Hawks returned to the U.S.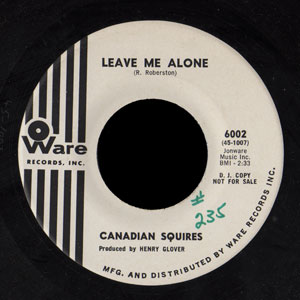 After leaving Hawkins in 1964, the group toured on their own, usually billed as Levon and the Hawks. Personnel changed periodically, but by the time of this recording, all the members of the group that would go on to become the Band was in place, four of the five from southern Ontario.
Hawkins' producer at Roulette, the legendary Henry Glover brought them into Bell Studios in New York to record two fine Robbie Robertson originals, "Leave Me Alone" and "Uh Uh Uh", in the spring of 1965. Glover released these on the Ware label in the U.S., and on Apex in Canada.
In September they recorded two further Robertson originals, the soulful "He Don't Love You" and "The Stones I Throw" that made it to the Atco label, but all this was overshadowed by their meeting Dylan in late summer of '65. In late 1968, Atco dug up one further song, "Go Go Liza Jane", recycling "He Don't Love You" for the flip.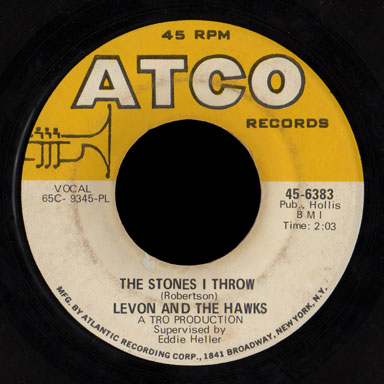 Thanks to Ivan for the scan of the Apex 45.
45 releases:
Ware 6002: Canadian Squires – Leave Me Alone / Uh Uh Uh (1965)
Apex 76964: Canadian Squires – Leave Me Alone / Uh Uh Uh (1965)
Atco 6383: Levon and the Hawks – He Don't Love You / The Stones I Throw (1965)
Atco 6625: Levon and the Hawks – He Don't Love You / Go Go Liza Jane (1968)