Boystown is a collaboration between Michael Lloyd and his childhood friend Jimmy Greenspoon. Lloyd and Greenspoon had been playing music together and recording as far back as 1963, with the New Dimensions. Greenspoon also may have played with Lloyd in an early version of the West Coast Pop Art Experimental Band.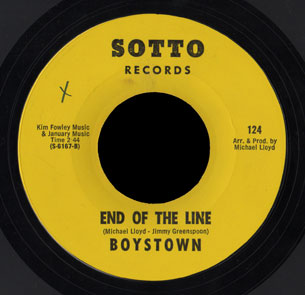 When the Boystown 45 was released in June of 1967, Lloyd had recently left the WCPAEB, but was busy with with many projects, including helping produce Kim Fowley's first lp, Love Is Alive and Well.
Greenspoon wrote the very poppy "Hello Mr. Sun", and co-wrote with Lloyd the hypnotic "End of the Line", which would have sounded right at home on an early West Coast Pop Art album.
Soon after this release Jimmy Greenspoon moved to Denver briefly, before returning to LA and forming Three Dog Night. Lloyd stayed busy with productions for Mike Curb and his own group, Smoke.