The Satyrs released two singles in 1972 and 1974, both recorded in Bridgeport, Connecticut, but released with an address in Syracuse, New York.
I haven't heard their first single yet, "Right On" / "Sahib Sam", released on Randall Records MF 10013-2514. Credits show both songs by Maceo Jefferson, Gerald Randall and Samuel Turiano; arranged by Tobias C. Frey, and engineered by Steve Csordas. Copyrights on these songs date back to December 21, 1970.
There was a Maceo Jefferson who played with Louie Armstrong as far back as 1934; it seems unlikely this could be the same person.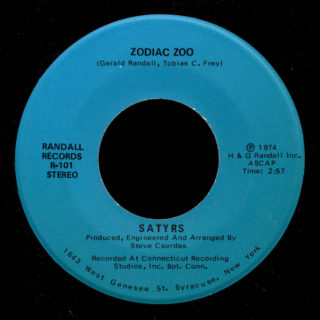 Their second single, "Zodiac Zoo" starts with a slow rhythm that reminds me of Traffic Sound's "Virgin", then doubles the pace just before the verse. The vocals are an unusual meld, a male voice sounds slowed down a little.
Released on Randall Records R-101 with an address of 1643 West Genesee St., Syracuse, New York, the labels note it was "produced, engineered and arranged by Steve Csordas" and also that it was recorded at Connecticut Recording Studios, Inc., Bridgeport, CT.
The musicians on both songs are obviously accomplished. The flip side is "I'm an Astrologer, Too", but it is lighter fare.
Both songs were composed by Gerald Randall and Tobias C. Frey, with H & G Randall, Inc as publisher. Library of Congress copyright records show lyrics by Gerald Randall, and music by Tobias Charles Frey, registered on July 25, 1973 along with several other songs: "Two Souls in Love", "If What the People Say Is True" and "Satyrs' Ball".
Registration for "I'm an Astrologer, Too" came in 1974, plus a host of other collaborations that must not have seen release, including "Bagnew Dixen", "Be My Destiny"; "I Guess You Can Blame Me"; "Mr. Uncle, Little Yahoo"; "Mr. World War II"; "Satyrs Visit Grandma's Pad"; "There's One More Adventure Left in Me"; and "What's the Shouting For".
Other songs that seem to have been unreleased include "Why Me Blues" by Maceo Jefferson, Gerald Randall and Samuel Turiano, dated October 26, 1970, and "The Toby's Song", featuring lyrics by Gerald Randall and Michael Schwab, with music by Tobias Charles Frey, registered on September 8, 1972. Also the intriguing "Satyr Called Ralph" in November, 1972, and "Why is Your Love Haunting Me" with words by Gerald Randall and Sam Turiano and music by Maceo Jefferson.
These were no the Satyrs who cut the excellent "Yesterday's Hero" on Spectrum, or the band from Asheville who cut "Don't Be Surprised" on Wal-Mor.