The 40 Fingers began playing in the middle sixties in Springfield, New Jersey. The original group consisted of Teddy O'Connell, lead vocals and keyboard, Bruce Colandrea, lead and background vocals, lead and rhythm guitar, Bruce Gerstein (officially called the Slug), bass guitar, and background vocals, and Wayne Massiello, drums and background vocals.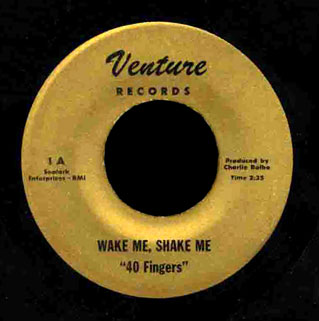 The 40 Fingers appeared on such TV shows such as Clay Cole, and Zacherley, along with appearing [billed as the Forty Fingers] at Summit High School with Lou Reed's Velvet Underground and the Myddle Class.
On or around 1968, the group decided to add high school friend Al Fridkis on B3 Hammond organ, and have Ted O'Connell on stand up vocals. Al does not appear on this 45 for the Venture label. The single has the 40 Fingers version of the Myddle Class and Blues Project's "Don't Let Me Sleep Too Long". The flip "Low Sunday" has a "Stormy Monday" kind of thing Bruce put lyrics to.
Thanks to Arnold for sending in the sound clips, scans and history of the band, co-written with Lenny.