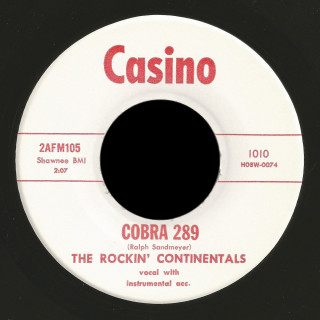 The Rockin' Continentals made two 45s for the Casino label in 1962 or 1963, but I know little about the band. Rockin' Country Style lists them as a Topeka, Kansas group, with members Johnny Thompson, Melvin Ralston, Chuck Smith, and Bill Doyle, but I can't confirm this anywhere. Thompson and Ralston's names show up on the song writing credits on the labels, but so does Ralph Sandmeyer and I don't know his connection to the group.
The Rockin' Continentals first release was a great rockabilly song with fierce drumming and scorching guitar and piano breaks called "The '309'", written by Johnny Thompson. The singer has a strong southern accent that doesn't appear on their other songs. The original A-side was "2-3-4," written by Melvin Ralston, which in comparison is simple riffing on blues changes.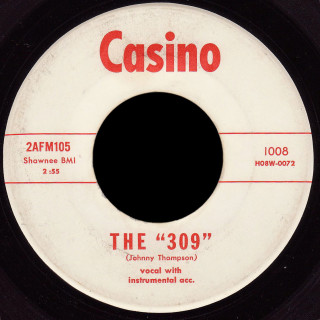 Their next and last single was "Cobra 289" written by Ralph Sandmeyer in tribute to the Ford/Shelby AC Cobra sports car first manufactured in 1962.
"Count Dracula" is mainly instrumental with a spooky reverbed riff. Like "The '309'" it was written by Johnny Thompson.
Both releases are now rare and have been bootlegged, along with another Casino release, the Argons' "Do the Dog". For more info about the authentic pressings vs the reproductions, go to my page on reproduction 45s and search for Casino.
The Casino Records label has an obscure history. It seems to have started in 1957 with a single by Jerry Dyke doing two songs written by Bob Bobo and Carl Lewis for Southern Belle, BMI, "Deep Within My Heart" and "My Empty Heart". That release, Casino 1001/1002 had a gothic style font for Casino and an address on McGavock St. in Nashville, Tennessee.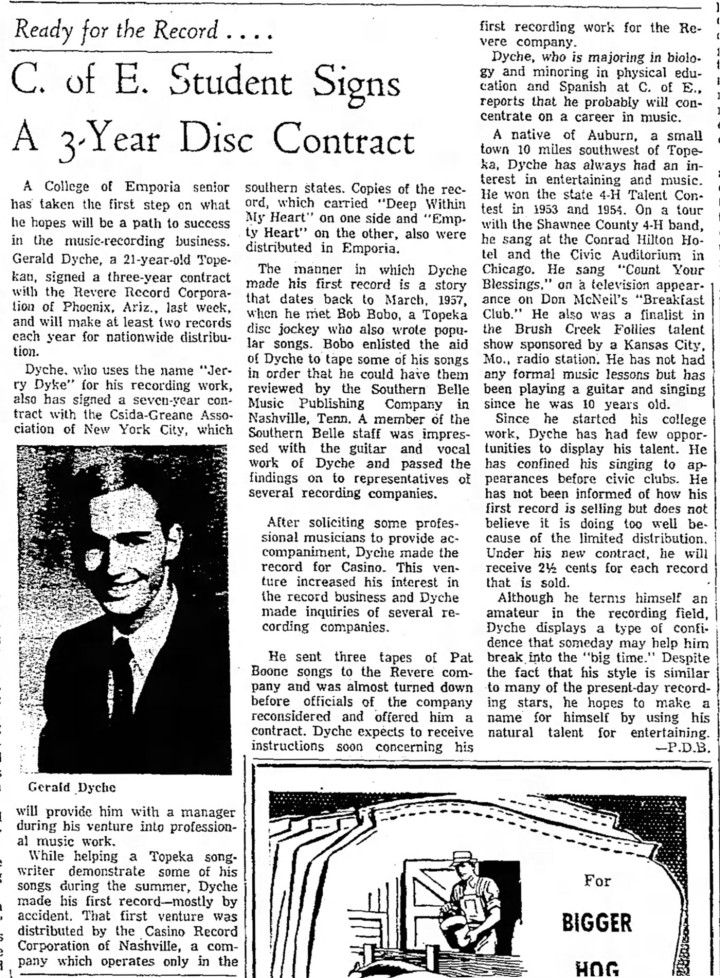 An article in the Emporia Gazette from February 1958 discusses how Jerry Dyke was the stage name for Gerald Dyche, a student from Topeka who was singing songs written by Topekan disc jockey Bob Bobo for demos to be sent to Southern Belle publishing in Nashville, which led to the Casino single, presumably recorded in Nashville. Although the article makes something of the Casino Recording Corporation of Nashville, I suspect Bob Bobo and Carl Lewis were at least part owners of Casino, and produced the Jerry Dyke single on their own hoping for attention for their song writing.
Dyke does not seem to have worked with Bobo after this single, and that may be because Bobo had a better chance of success with other artists, such as Ronnie Pearson of Osage City. Pearson's first single on the Herald Label in April of '57 included Bob Bobo's song "Hot Shot".
Bobo would place other songs in the late '50s, including "I Close My Eyes" (co-written with Lewis) for the Wilburn Brothers on Decca in August of '57, "The Answer" and "Warm as Toast" (co-written by Lewis) for Russ Veers on the Trend label, and "Let Me Go to the Hop" (co-written by Russ Veers) by the Sweethearts on Power.
By the early 1960s, Bobo seems to have stopped pursuing a career as a song writer, but kept the Casino label active. I don't know what Casino 1003/1004 is, but 1005/1006 is the Nubbins doing two standards, "The King's Highway" / "Stormy Weather" with a different font for the logo and no address.
By the time the Rockin' Continentals "The '309'" comes out around 1962, it's numbered 1007/1008. This and all future release feature Kansan artists; there is no longer any Nashville connection that I know of.
The Rockin' Continentals singles were followed by:
1011/1012 – The Argons "Spiked" (Bryson, Myers) / "Do The Dog" (Mikkelsen, Wilcox) 1964
1321/1322 – The Jerms – "That Word" (G. Senogles) / "Love Light" (Sept. 1965)
2305/2306 – The Thingies – "It's a Long Way Down" (L. Miller, Dalton) / "Merry Go Round of Life" (August 1966)
One interesting oddity about the Casino discography is that the RCA code for the Jerry Dyke single, HO8W-0066/67 would be adapted for later releases, even though most later releases were not pressed at RCA but at Wakefield Manufacturing in Phoenix, AZ. Another code on the 45s, 2 AFM also increases with each release, though I'm not sure the meaning of that code.
Bobo also owned a restaurant called Bobo's Drive In in Topeka from 1948 until sometime recently.
I want to thank the discussion of Casino on 45Cat, which gave me some leads to follow up and confirm.