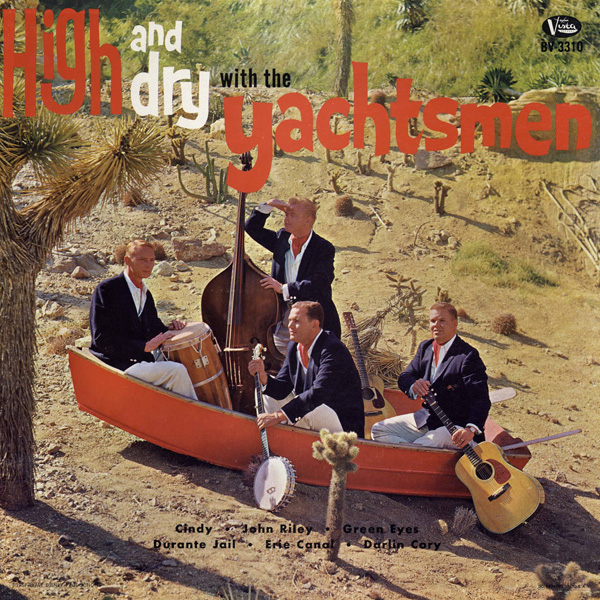 The What's New have always fascinated record collectors: mistakenly listed as a Florida band, they released two EPs in France but nothing in the U.S.
Spike Priggen found some great videos of the What's New performing on French TV and suggested we collaborate on a post, which I put up at Bedazzled last month.
Their story starts with the Yachtsmen, a folk group founded by students at Long Beach City College in 1959. The Yachtsmen became regulars at Disneyland in Anaheim, releasing an LP on Disney's Buena Vista label (BV-3310), High and Dry with The Yachtsmen in 1961.
On the LP the group were Carl Berg (vocals, guitar), Ray Jordan (vocals, banjo, string bass), Jay Huling (aka Jay Hulingpart, vocals, guitar, bongos), and Bill Reed (vocals, bass). Other members included Kevin Shipman and Mickey Elley.
The Yachtsmen continued performing at Disneyland for the next several years, appearing on another LP, Jack Linkeletter Presents a Folk Festival.
Kevin Shipman created a video history of the Yachtsmen and What's New with photos and music.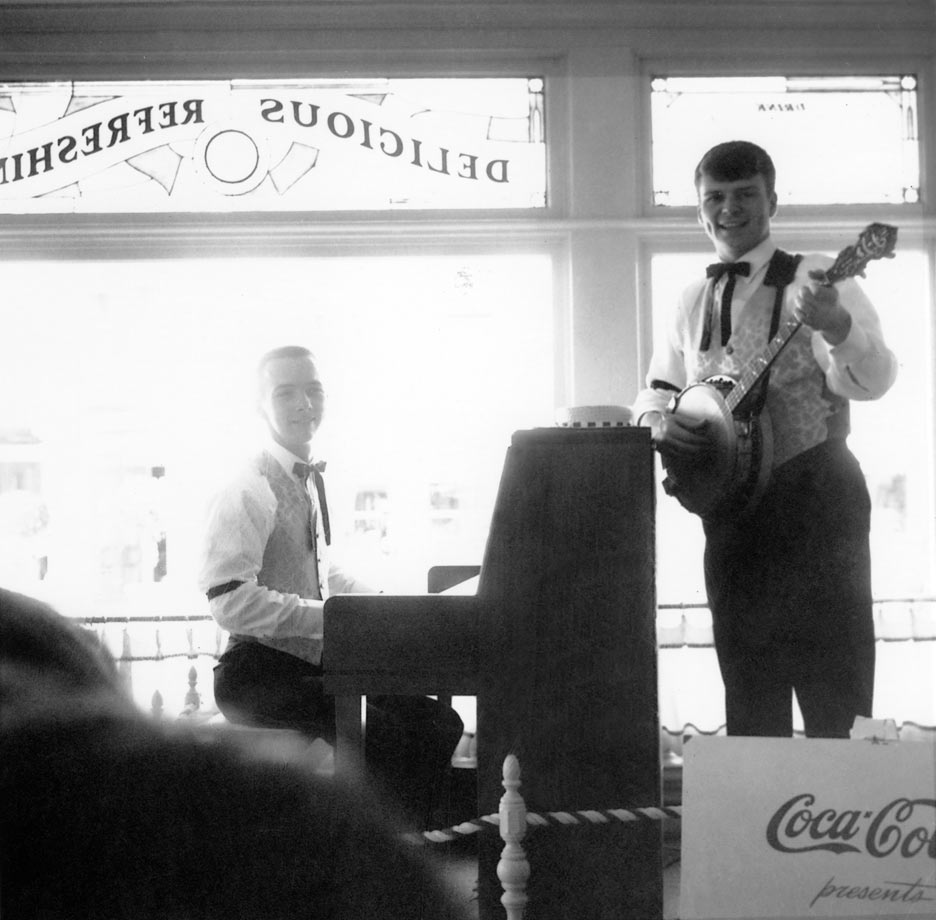 Meanwhile Scot Thistlewaite (stage name Colin Scot) had been playing banjo and guitar with a ragtime duo called Bud and Scotty at Coke Corner in Disneyland, with Bud Hedrick on piano.
Scot was born in the UK, moved to Canada in the late '50s where he went to Sir Adam Beck Collegiate High School in London, Ontario, then moved to California where he attended Cal State University at Long Beach.
In October, 1965, French chanteuse Line Renaud and her husband Louis "Loulou" Gasté saw the Yatchsmen at Disneyland and brought the group over to Paris in January, 1966.
Kevin Shipman wrote to me about how Scot joined the group:
Scotty was a friend of our folk group The Yachtsmen when we were all at Disneyland. As you have noted in your piece, he and Bud Hedrick played ragtime at Coke Corner.

Some time in December 1965, Line Renaud, the star of the Casino de Paris in Las Vegas, toured Disneyland and saw us performing. Shortly after that we received a call from her representative saying that she wanted us to come to Paris to be second billing in her new show at the original Casino de Paris. We talked about it and decided it would be a great opportunity to live in an amazing place and to re-charge our creative batteries.

One of our guys was finishing up his master's degree and had just been engaged to be married and he declined to make the trip. We immediately went to Scotty to see if he might be interested. He jumped a foot off the ground and yelled "YES". Scot had just been called up by the draft board and there was no way he could have been a soldier. He was barely an American having arrived from Canada only a few years earlier and he was a committed pacifist. This would be his way out of that and into a new and exciting chapter.

Scotty was the perfect addition to our group. He spoke French with near fluency – something we were not aware of when we approached him – and he brought a lot of energy and heart to what was to become a folk-rock band. We wanted to break out of the folk music constraints and do original music with power and finesse. All the members were strong musicians with great harmony sensibilities and we could all sing solo. I like to think that we were predecessors of bands like Crosby, Stills and Nash and the Eagles.
The band changed their name to the What's New though they still look very collegiate performing "Des mots d'amor" with Line Renaud on French TV. [Unfortunately all the excellent videos of the band on French TV have been taken down from Youtube since I first posted this article.]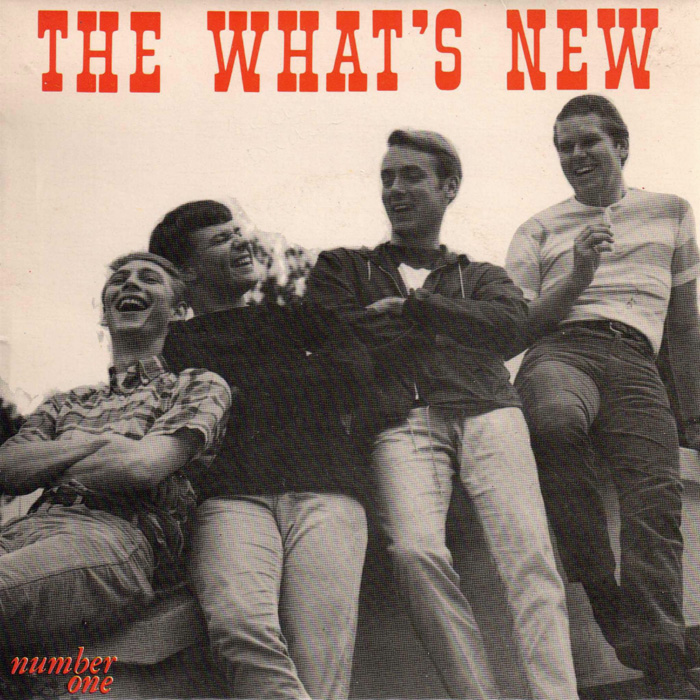 They recorded their first EP in July, '66 at Gasté's own studio in Paris, scoring a French hit with a single version of Gordon Lightfoot's "Early Morning Rain". Their first EP also has their version of Tom Paxton's "The Last Thing on My Mind" and two songs by Randy Sparks of the New Christy Minstrels, "Huckleberry Finn" and "Driving Wheels".
Kevin Shipman told me:
We had a hit in France (number one or two depending on who you talk to) with "Early Morning Rain" but we did not have the management we needed. Line Renaud's husband Lou Lou Gaste liked to think that he was performing those tasks and fended off other true management people who approached him.

One of our best moments was one of our last. We played the premiere music venue in Paris – the Olympia – opening for Michel Polnareff and the Beach Boys [October 25, 1966]. Everyone one who saw the show said that we blew the Beach Boys off the stage. They had great hits but they were weak in live performance.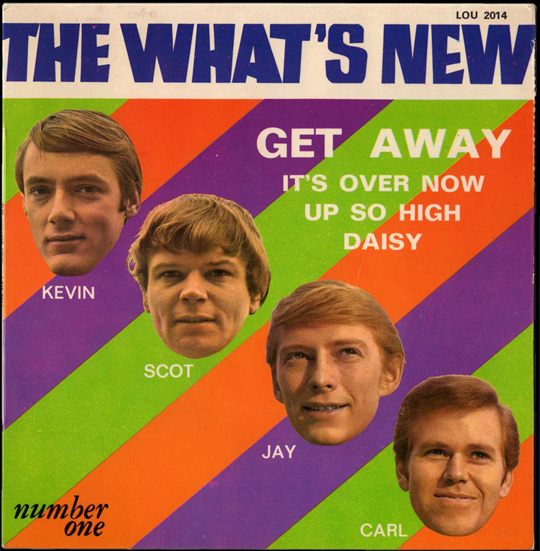 Their second EP showcases four original songs by Colin Scot, putting a sharp folk-rock sound behind Scot's plaintive lead vocal and the group's harmonies. It includes the now-famous "Up So High" ("Got no use for LSD, every time you look at me I'm up so high") and the excellent "Get Away" which moves from dreamy verse to tough chorus.
The What's New disbanded in early 1967.
Kevin Shipman explains:
I had decided that I needed to go back and finish my college studies. I was one year away from graduation and I felt that goal slipping away after a year and a half in Paris. Another member was having marital troubles and his wife insisted on returning to the US and her church group. So, we reluctantly parted ways as friends having come very close to the prize but not at the right time.

Scot could not go back to the US having eluded the military and chose to go to England where the music scene was far more vibrant than in France.
Colin Scot became part owner of a nightclub called Kahuna's Cave in Cala Mayor, Palma de Majorca, and toured the folk circuit in the UK in the late '60s. In the 1970s he released LPs on United Artists and Warner Bros, with a final single "Mandolin Man" / "Boris" on RCA in 1977. He died in Amsterdam in 1999.
Kevin Shipman:
My wife and I remained close to Scotty over the years and visited him twice in Amsterdam. He came twice to our home at Lake Tahoe and we found all our visits to be both rich in friendship and yet agonizing witnessing his descent in ever-deeper and more virulent alcoholism. I never saw him pass out which was amazing considering how much he drank.

Our last visit from him was in winter of 1999 and he would die a few months later. During that last visit he was not drinking for the first time in his adult life but he was having liver failure. He resumed drinking when he returned home.

Scotty was a beacon and a natural Pied Piper. Everyone loved him and he seemed to love everyone. I can tell you from reading his poetry that he came to view life in a fundamentally dark way. He trusted everyone and was taken advantage of by many. He had no concept of money management and it vaporized in his possession.

Ultimately, his life was very difficult with bright chapters – Disneyland and Paris in particular – and many dark ones. In reflection, it could not have gone any other way. This was Scotty and there was no other life option for him. Music and entertaining was his passion and alcohol was a demon none of us could exorcise from him. Interventions were planned but failed.

Scot's writing was always a reflection of his life circumstances. The music he wrote during the What's New period was mostly upbeat. He intensely disliked the dreariness of London and addressed that directly in one of his solo songs. His writing became darker as his circumstances deteriorated and that diminished the appeal of his music for many. I repeatedly encouraged him to lighten up and inject some humor or irony, as he used to do, into his writing rather than hitting us on the nose with what he didn't like. He preferred the direct approach. Regardless, he was a great talent and a wonderful, sensitive person.

In the end, he should be remembered as a loving, caring, zany bundle of gifts and excesses. His was the life of the clown. Happy on the outside and often tortured within. The day his father Cy called to inform me of his passing I cried. I knew Cy would call with that message before too long so I was prepared for it. But it pained me greatly and it still does. He was one of a kind and he is missed.
Thank you to Jeff of the Limestone Lounge and Obsolete for the What's New EP scans. Yachtsmen LP scan from Vintage Disneyland Tickets.
Special thanks to Kevin Shipman and Bud Hedrick.