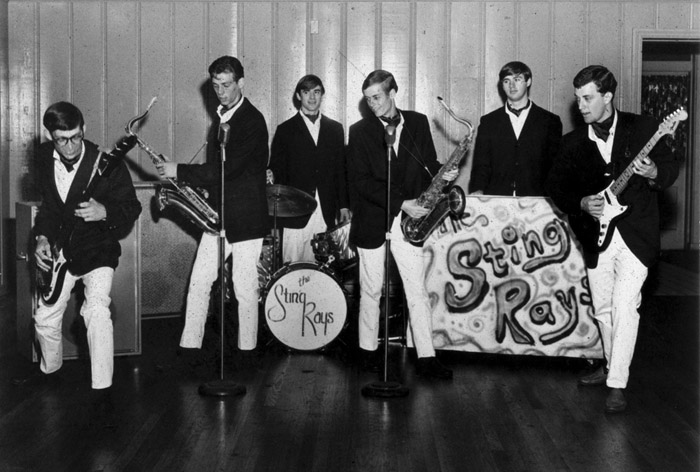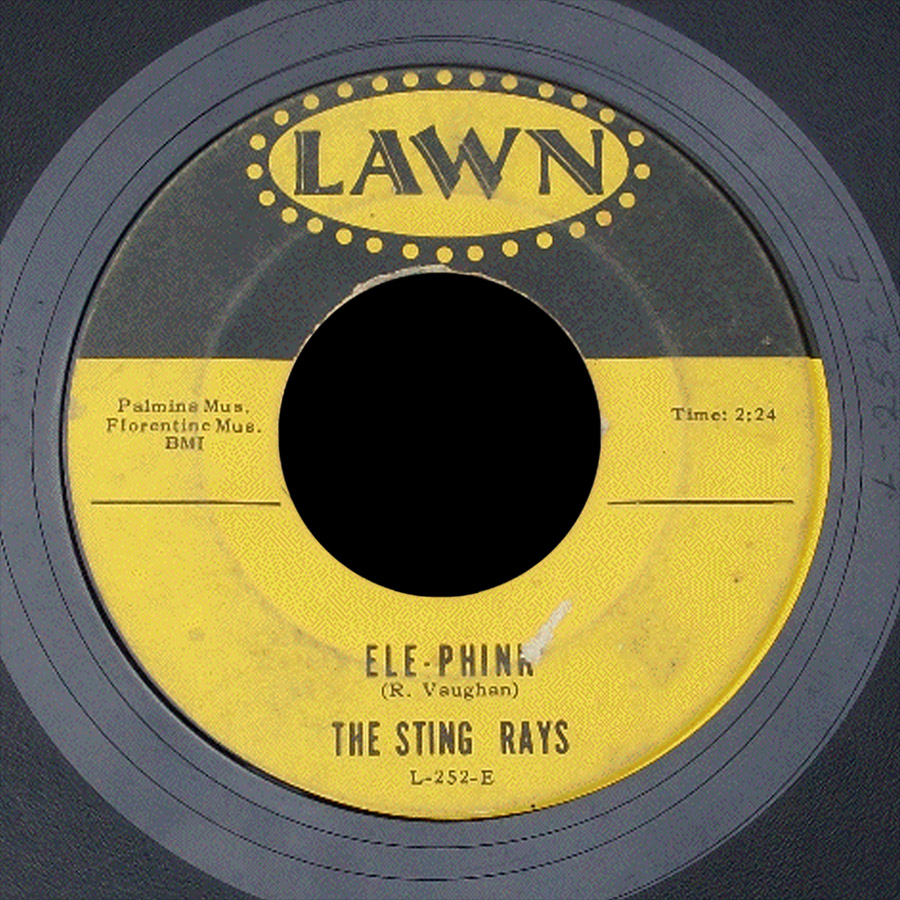 For the 500th story I've done on US artists and labels since starting this site, I'm featuring a couple records that are very obscure and rarely heard, but both excellent examples of the sound of bands in the Tidewater region in the mid-60s.
The Sting Rays came from Portsmouth, Virginia. They had two 45s, one on Lawn and another on Vermillion. Both 45s feature an r&b influenced vocal number on one side, and an instrumental on the other.
Their first record is quite a rocker, featuring the swinging horn-led instro "Ele-Phink" backed with the fine, tough vocal "Hey Girl, Watcha Gonna Do" on the flip. Both songs written by R. Vaughn and published through Palmina Music and Florentine, BMI.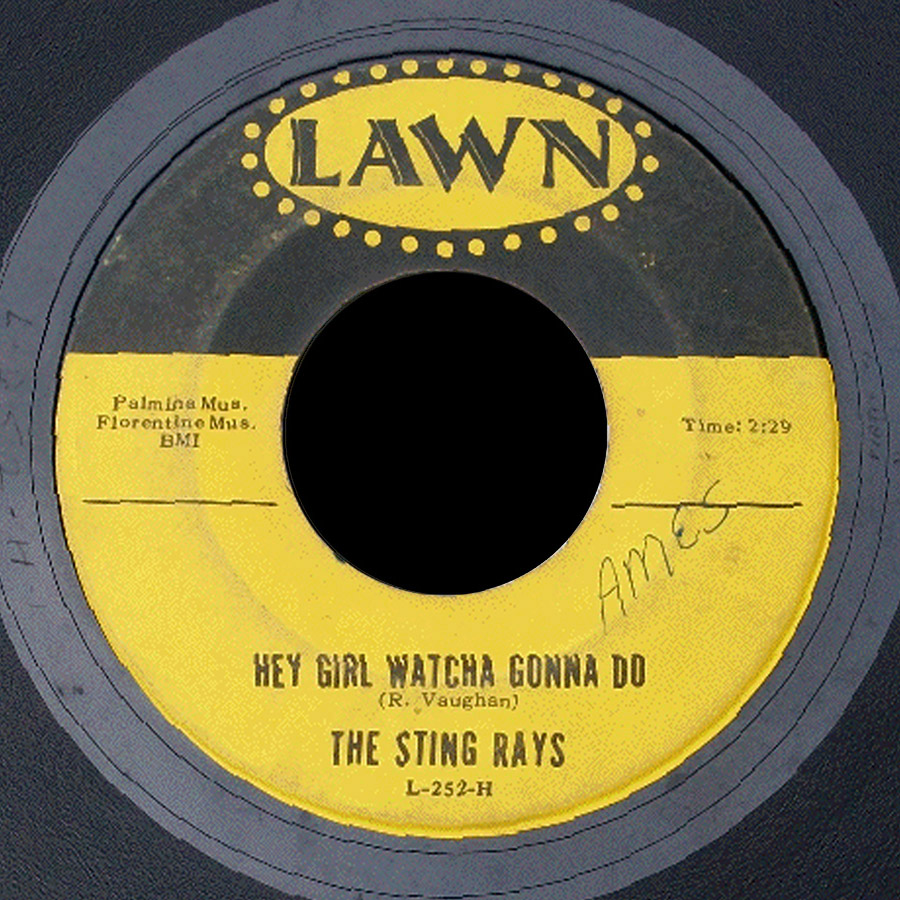 "I Need Her", the vocal side of their second 45 might be their best track. The soulful singing is strong and the horns work perfectly with the driving rhythm section. "Calhoon-a", the instrumental side, featured piano with bursts of horns (sorry about the warbled sound on this transfer). "Cahoon-A" was written by Tommy Parker, while "I Need Her" was by Tommy Pitman. Both sides produced by F.W. Singleton and published by Florentine Music, BMI. Released on Vermillion 107, the RCA custom press number S4KM-8478/9 indicates that this was pressed in the first half of 1965.
Their lead guitarist Vince Screeney took over on bass for the Swinging Machine when Evan Pierce was in the army.
Vince wrote to me that his time with the Machine, as he calls them, "started with me playing lead guitar for a rival band, The Sting Rays." Vince gave me some background on the group and sent in the photo at top:
The Sting Rays were:

Cecil DeHart – bass
Tom Pittman – lead sax and vocals
"Butch" Schodt – drums
Randy Vaughn – sax, vocals
Tom Parker – organ
Vince Screeney – guitar, vocals

These were the members in the group that made the records and we were in top form before we had to break up so that three of our guys could go to college. This is the same group that shared the stage and alternated sets and jam sessions with the Rhondels at the Top Hat club in Virginia Beach.

We certainly weren't any slouches and recorded twice at a studio in Accokeek, MD. It's hard to read on the Vermillion label but if you look closely you'll see that they were recorded by Ray Vernon Productions. His real name was Vernon Ray and he was the brother of Link Wray. Yes, he spelled it differently and I guess he had his reasons. He joked with us that he called his little basement studio "Ray's Three Track Chicken Shack". We got to meet Link Wray at our final recording session and I can tell you it was a real charge for me to meet the rockabilly legend.

The Sting Rays had a manager, a retired Portsmouth cop named Woody Singleton who was responsible for getting us recorded. I believe he must have met Vernon during the time Vernon was driving taxis in Portsmouth.

By the way, in case you're curious, those were yellow shirts, white pants, burgundy jackets and ascots! and of course… Weejuns!

Sadly, we lost Randy on Dec. 23, 2010. The rest of us are hoping for a reunion soon. Thanks to all who remember us and wish us well.

Vince Screeney
I'm sorry to report Vince Screeney passed away on May 25, 2013. Last time I heard from Vince in 2011 he said the remaining Sting Rays were planning a reunion. Vince helped me put this page on the Sting Rays together, and also wrote to me about his next group, the Swinging Machine. He lived in a golden age for music generally and Portsmouth especially.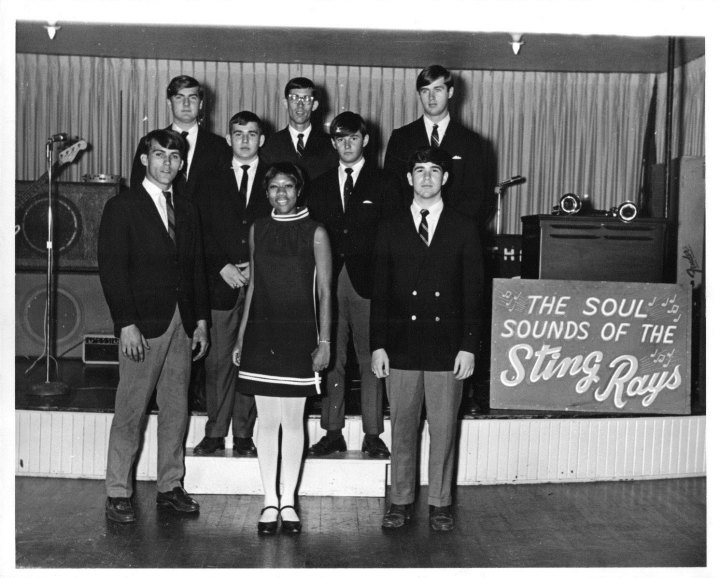 Randy Boone sent in the photo above with a later lineup of the Sting Rays that included:
Elsie Strong – lead vocals
Roger Thacker – lead vocals
Terry Legum – lead guitar
Cecil Dehart – bass
Tommy Parker – Hammond organ
Randy Boone – drums
Brent Brower – horns
David Todd – horns
Thank you to Mop Top Mike for the transfers of the 45s, and to Vince for the scans of both records and the photo of the group.
Vermillion (Ver-Million, get it?) had some cool 45s, most notably the Executioners "You Won't Find Me" / "Haunting My Mind", the top side of which is a fantastic garage number with a cool guitar intro. The band is still something of a mystery, so if anyone hears of an Executioners from Virginia, Maryland or even PA, please let me know!