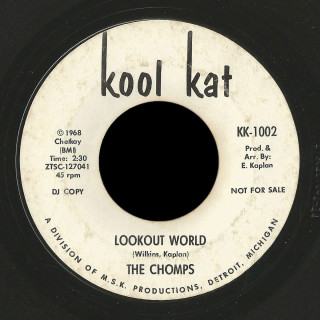 The Chomps seem to be a studio group, releasing one pop side, "Kiss My Lips (One More Time)" (Kaplan, Rabinowitz for Chetkay, BMI and Floss, BMI) b/w a nifty, tongue-in-cheek biker tribute, "Lookout World" (Wilkins, Kaplan for Chetkay, BMI) on Kool Kat KK-1002 in 1968.
Copyright records show these names as Steve Rabinowitz and Eddy Marvin Kaplan. Eddy Kaplan produced and arranged the Chomps single.
Kool Kat is otherwise a soul label, run by M.S.K. Productions, Detroit, Michigan. The Chomps was a Columbia custom pressing, ZTSC 127041/2
Kool Kat 1001 – Joe Matthews – "(You Better) Check Yourself)" (C. McMurray, W. Hampton) / "Ain't Nothin' You Can Do"
Kool Kat 1003 – Hindal Butts – "Giggin" (Butts, Hicks, Block, instrumental, ZTSC 107007) / "Happiness (Is So Far Away)"
Kool Kat 1004 – Virgil Murray's Tomorrow's Yesterday – "I Still Care" (Huff, Murray, McGuire) / "Summer Dreamin'" (also released on Airtown A-015)
The Soul Source site gives some background on these names:
MSK stands for Martin, Schneider and Kajeski, who owned M-S records, Detroit. Chester J Kajeski owned the music publisher Chetkay, that published the Silky Hargraves tracks (DBA CHETKAY Music Pub, 15401 Tirman, DEARBORN, MI) Kool Kat records were a division of MSK productions, Detroit. Martin & Schneider also owned Marquee records, distributed by MSK productions. Marquee & Dearborn were run out of the same building in Dearborn.
Marquee put out the Free's "Decision For Lost Soul Blue". Dearborn is a cool label that had some in-demand soul singles, as well as rock stuff by Tino & the Revlons, the Undecided, H.T. & the Green Flames, the Jammers, Me & Dem Guys, and the Detroit Riots.