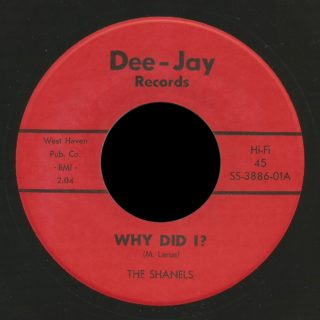 The Shanels came out of New Haven, Indiana, a town just east of Fort Wayne. The only band member's name I can find is Marvin Larue, who wrote both songs on this single. "Why Did I" is a stomping Stones-influenced song with harmonica wailing throughout.
The band changes instruments for the ballad flip, "I Really Care For You" utilizing 12-string guitar and organ instead. Vocals are sung in unison for both songs.
West Haven Pub. Co published both songs through BMI, where I found M. Larue's full name. Timothy Cox of 60s Indiana Band Szene wrote in a comment on Artyfacts in Wax that "every 'West Haven' publishing I've seen, and I've seen a few, is from Ft. Wayne Indiana. Surf Suns, Olivers, Chessmen, and Blues Inc, all shared this."
From an online obituary, it seems that Marvin LaRue passed away on September 26, 2004 in Minnesota. In 1963 he graduated from New Haven High School and then attended Purdue University.
According to Teen Beat Mayhem, the record dates to February 1965. The number "SS-3886" indicates a pressing by Stereo Sound in Chicago.