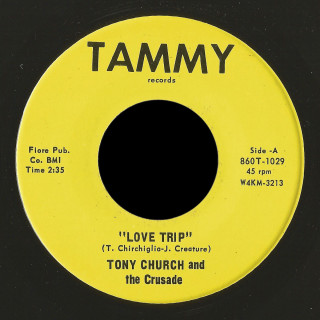 Tony Church and the Crusade came from Youngstown, Ohio; Church's real name was Tony Chirchiglia.
Chirchiglia started as early as 1960 in a rockabilly style, recording two of his original songs, "A Car" / "Oh! By the Way" on Hy Joy, released as Tony Chick, and backed by his brother Rocky Chirchiglia's group (hear both songs over at Rockin' Country Style). "Rocky" Rocco Chirchiglia owned music stores in Ravenna and Youngstown.
In the '60s Tony Chirchiglia had a group for live shows called the Imperials, who may be the ones backing him as the Crusade on this single on Tammy. He did a great job of keeping up with the times, as "Love Trip" has an eerie psychedelic vibe and "Can You Picture Yourself" is catchy late '60s pop, though his vocals are deeper and more stylized than a typical teen sound. It's too bad he only has two singles, eight years apart to his name. He was obviously a creative writer and arranger, I would like to hear more of his work.
Tony Chirchiglia and J. Creature wrote both songs for Fiore Pub. Co, BMI. The RCA pressing code W4KM-3213/4 indicates a release in the second half of 1968.
Anthony Chirchiglia died in 1994.
Some info on Chirchiglia came from Buckeye Beat.