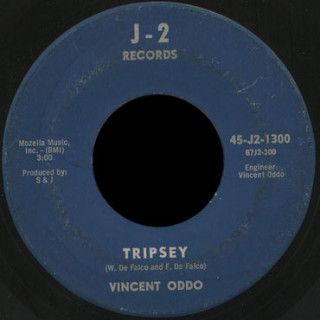 Bill DeFalco – lead guitar
Frank DeFalco – rhythm guitar
Jimmy DiGiacomo – bass
Joey Erico – drums
Brothers Bill and Frank DeFalco had a previous group called the Rock Monacles with a different drummer, Henry Bauman and vocalist George Malin. In the summer of 1967 the Pebble Episode went to O.D.O. Sound Studio on West 54th Street in Manhattan to record two songs, "Tripsey" (by William DeFalco, Frank DeFalco) and "The Plum Song" (by William DeFalco, Frank DeFalco and James DiGiacomo). Publishing by Mozella Music BMI, and produced by S. & J.
Juggy Murray of Sue Records signed the group to J-2 Records, his new label as Sue was sliding into bankruptcy to be sold to United Artists around 1968.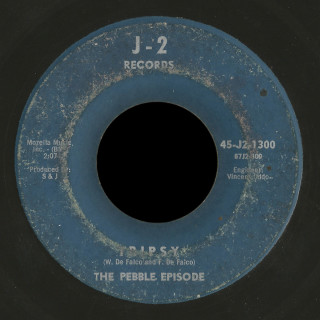 To compound the problems Murray had with Sue at the time, the first pressing of this 45 was mistakenly labelled with Vincent Oddo's name, the engineer and owner of the ODO studio where the band recorded, but most definitely not the artist! New labels were printed up with the correct band name, though this time the A-side was spelled "Tripsy".
"Tripsy" is an apt name for this wild instrumental loaded with echo and repeating riffs that wouldn't be out of place on The Inner Mystique. By comparison, "The Plum Song" is much more conventional in sound, dominated by Bill DeFalco on organ and Joe Erico's fine drum fills.
This was the first release on J-2 Records followed by Baby Washington doing "Like a Rolling Stone" (I'd like to hear that version!) b/w "The New Yorker" (J2-1301) and the Poets in-demand soul classic "Wrapped Around Your Finger" / "Can't Wait Until Tomorrow" (J2-1302).
The Pebble Episode continued until 1972, with home recordings I haven't heard but no further releases.
More info is in the comments to the Discogs page for the single.
Sorry for the atrocious condition of the labels for this post, but if you have a better high-resolution scan of Tripsy, please send it in.
Anyone have a photo of the group?