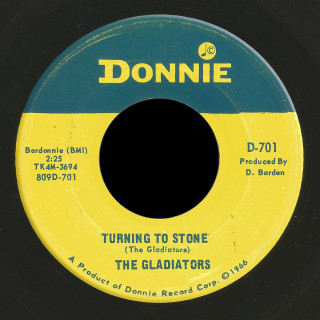 Mickey Ward – keyboards
Dan Walker – guitar
Glen Mikaland – bass and saxophone
George Neuhoff – drums
This is a 45 I'd been trying to track down for a few years, and finally found a copy through Buckeye Beat, whose website has the full story on this Lorain, Ohio band.
"Turning to Stone" has a sharp fuzz riff and gloomy vocals, with a shift to a bright chorus with tambourine. The flip, "I Need You" comes from a doo wop or vocal group era, it sounds like a different group entirely, though it is well done. "I Need You" is an original by Mickey Ward, "Turning to Stone" was a group original.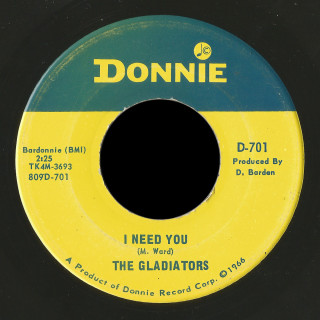 The Gladiators name was only used for this one single from September, 1966 on the Donnie label run by Donnie Barden. The group was actually known as Mickey & the Clean Cuts in live shows and on their first 45 from October, 1965, "Soapy" / "Static Electricity", also on Donnie and picked up by Wand. I'm not sure why they changed their name for the release of "Turning to Stone". They had a good sound on that song and I wish they cut more in that style.
Anyone have a photo of the group?
The band continued as Mickey & the Clean Cuts, and backed the other two artists on the Donnie label for their releases: Dave Charles' excellent soul 45 "Ain't Gonna Cry No More" / "My Love", and Tillie Wow's "I Wanna Tell You A Thing Or Two" / "The Sway", but had no other releases under their own name. Mickey Ward kept the Clean Cuts act going with different members into the '80s.