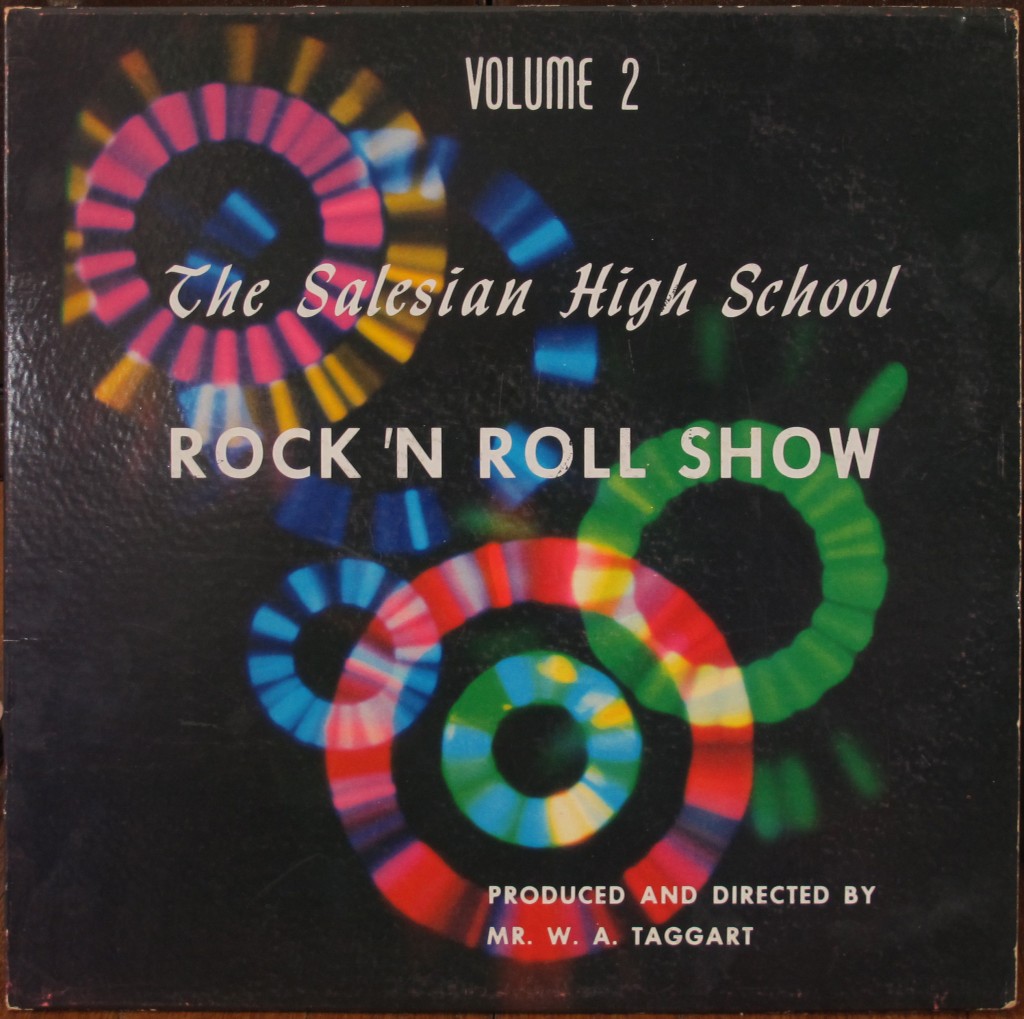 Bishop Mora Salesian High is a Catholic school at the intersection of Whittier Boulevard and South Soto Street in the Boyle Heights neighborhood of Los Angeles. In 1964, the school's band director W.A. Taggart began producing concerts at East Los Angeles City College, where the auditorium would hold over 2,500 attendees, and at least three of these were recorded and released through Century Custom Recording Service in 1964 and '65..
The Salesian High School Rock 'n Roll Show LPs are little known outside of collectors of Los Angeles r&b and rock'n'roll. I've seen three volumes, one each from concerts on April 19, 1964,  October 18, 1964 and May 16, 1965 at the auditorium of East Los Angeles City College (ELACC) in Monterey Park. I've read there is a fourth volume, but haven't seen it yet. I only own Volume 2, so if anyone has the music from Volume 3 please get in contact with me.
Volume 1 (Century Custom 19070, recorded April 19, 1964):
Bobbie and the Esquires – You'll Lose A Good Thing
John Gamboa Sextet – Down at The Chicken Shack, Moody's Mood For Love
Sal Padilla and the Leggeriors – Night Train
Thee Midnighters – Chinese Checkers, For Your Love
The Vesuvians – The Fugitive, Hand Clapping
Blue Satins – Summertime, Love Lights, My First Love,
The Salesian Mustang Swing Band – Theme For Rock 'n Roll
Volume 2 (Century Custom 20069, recorded October 18, 1964):
Art and the Nite Liters – Tuff Talk
The Velvetones – Tenderly
Ronnie and the Casuals – 20.75
The Rhythm Playboys – This Is My Prayer, One Degree North
Thee Midniters with Li'l Willie G. vocalist – And I Love Her, So Far Away, I Need Someone, Darling Forever, Sad Girl
The Blue Satins – Help Yourself, Oh-Pu-Pi-Do (featuring The Sisters Trio), The Bounce
Notes by George L. Pineda.
Volume 3 (Century Custom 21995, recorded May 16, 1965):
The Goofy Six Plus One – I Need Someone
The Relations – I Do Love You
The Invaders – Sad Girl, Darling Forever
The Etalons – Out Of Sight
The Little Heartbreakers – Cradle Rock
The Enchanters – Try Me
The Parley Brothers – Uncle Sams Men
The Emeralds – Wooly Bully
The Precisions – I Been Trying
The Counts – Girl of My Dreams
Clarence Playa – I Wake Up Crying
The Velvetones – Gloria
The Progressions – Twine Time
Li'l Ray – Oooh Baby Baby
The Ambertones – Ebb Tide
Produced by W.A. Taggart, directed by Gilbert Pineda, photography by R. Ruiz.
The first volume is less than half an hour long, consisting mostly of r&b covers, instrumentals and ballads. It includes Thee Midniters first recordings, a cover of Booker T & the MGs "Chinese Checkers" and "For Your Love" (a ballad, not the Yardbirds song). Larry Rendon and Romeo Prado of Thee Midniters were students of Bill Taggart.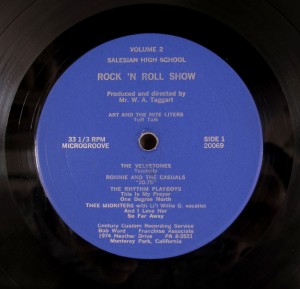 Dominic Priore gives a concise early history of the group in the liner notes to the Norton Records compilation In Thee Midnite Hour!:
"Ex-Gentiles Little Willie G and Larry Rendon had first clicked with Benny Ceballos as Benny & the Midniters. This early lineup was know for wearing Lone Ranger style masks, which they would throw into the audience, driving the girls wild. The usual band lineup swaps (including a period with two lead singers, Little Willie G and Little Ray Jimenez) resulted in the solid recording band Thee Midniters, Willie, together with George Dominguez (lead guitar), Roy Marquez (rhythm guitar), Ronny Figueroa (organ), Larry Rendon (tenor sax), and trombone blaster Romeo Prado formed the core of the group with the drummer George Salazar and bass player Benny Lopez being succeeded by Danny La Mont and Jimmy Espinoza, respectively, Jimmy coming to the group via the Vesuvians and the Crowns, led by local legend Johnny Gamboa. Romeo too had entered the Midniters fold via the Crowns."
Another notable performance is the Blue Satins, who do a rockin' extended version of "Turn on Your Love Light". The Blue Satins included Mike Gomez (vocals), Louie Lopez (vocals), Pete Ventura, Raul Suarez (lead guitar), Frank Estrella, Frank Mezquita (bass guitar), Bobby Loya (trumpet), Charles Lueras (sax), Robert Perez (sax), John Betancourt (drums). They had one 45 single, "You Don't Know Me" / "My Wife Can't Cook on Scarlet 501. More info on the Blue Satins is at the excellent site, You Found That Eastside Sound.
You can hear the album in its entirety at East LA Revue Radio, where Steven Chavez writes "the concert admission price was $1.25 and only $1 if you were a high school student with a valid school ID. I was one of the 2,000 in attendance that Sunday afternoon. It was initially sold at the high school book store for a hefty $3.25. This is the first concert record produced by 'The Prof' Bill Taggart's team at the Boyle Heights parochial school for boys. Another person that was instrumental in the production and recording of this event is Tony Garcia."
The October 18, 1964 concert is especially interesting to me because part of it was released as Thee Midniters' first single, "Land of a Thousand Dances" (parts 1 & 2) on Chattahoochee 666. The rest of their performance from that concert is on "Rock 'n Roll Show Volume 2″, including a version of the Beatles "And I Love Her" and Hank Jacobs' "So Far Away" along with a few ballads.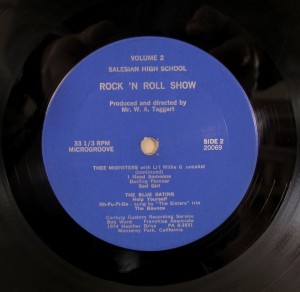 Thee Midniters were supposed to be backing Cannibal & the Headhunters who were known locally for their version of Chris Kenner's "Land Of A Thousand Dances." But with Cannibal & the Headhunters stuck in Fresno with bad weather, Thee Midniters had the starring spot and did their own version of the song. Richie Unterberger recounts the story in more depth in "Urban Spacemen and Wayfaring Strangers".
The obvious appeal of their performance somehow led concert producer W.A. Taggart to let the group bring the recording to Ruth Contes of Chattahoochee Records in Hollywood, who quickly released it in the month following the concert. In fact, it seems Thee Midniters released their version within weeks of Cannibal & the Headhunters cutting their own, recorded live at the Rhythm Room. In an interview, Headhunters member Richard "Scar" Lopez said their Rampart single was released in May, 1964 but this date is too early, as it wouldn't have taken nine months to start showing up on local charts. Thee Midniters's single turns up in radio station playlists beginning in December of '64, then goes head to head in competition with Cannibal & the Headhunters' single beginning in mid-January of '65. The Headhunters' Rampart single has a Monarch pressing # of 54957, indicating a November, 1964 mastering and pressing date. I would guess Cannibal & the Headhunters saw Thee Midniters were about to make a hit out of their signature song and rushed their own version out.
No one seems to dispute the legend that Headhunter lead vocalist Frankie Garcia came up with the "Na, Na Na Na Na…" hook spontaneously during a performance when he forgot a verse, though Thee Midniters include the Na Na Na Na hook in their version at the concert. In any case, Cannibal & the Headhunters won out in the national charts and the song is now associated with them, while Thee Midniters went on to record many great singles.
Other highlights on Volume 2 are the Blue Satins again who do a great trio of "Help Yourself", "Oh-Pu-Pi-Do" (featuring The Sisters Trio) & "The Bounce". Ronnie & the Casuals get only one song, the fine "20-75″; they had many releases on Donna and Mustang as Ronnie & the Pomona Casuals, including a version of "Land of a Thousand Dances" on their LP Everybody Jerk. The Rhythm Playboys had been Frankie Garcia's group before joining Cannibal & the Headhunters. Their instrumental "One Degree North" is one of the best cuts on the LP.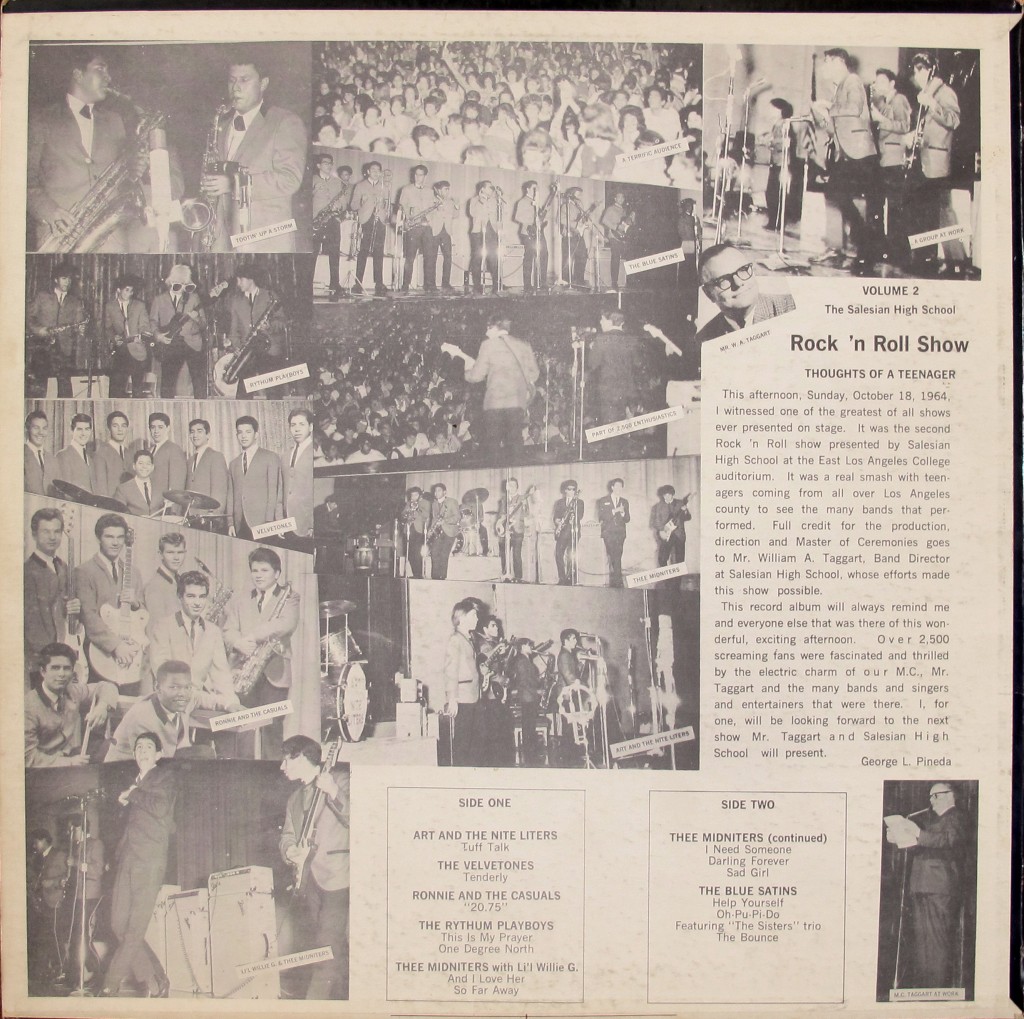 Volume 1 and 2 have similar front covers, with band photos on the back, while Volume 3 has band and audience photos on both front and back covers (unfortunately without identifying which band is which).
Volume 3 has an expanded lineup with all new acts except the Velvetones, each receiving one song on the album with the exception of the Invaders. Many Eastside legends show up on this LP, including the Invaders (likely Mickey Aversa & the Invaders), the Heartbreakers (brothers Benny & Joe Rodriguez, with several singles on Donna, Brent and Linda labels), The Counts aka Thee Counts: Johnny Joe Ramos, bass; Bobby Gurrola, guitar; Bobby Rodriguez, trumpet; Don Viray, guitar; Charlie Montijo, lead singer; Albert Barron, sax; Ronnie Wheat, drums; Arnold Serafin, keyboards; and Joe Vasquez, sax; with a great single on Highland, "Someday I'm Gonna Get You" / "So Far Away"), and the Ambertones, who I've covered on this site. Clarence Playa was in the Progressions, who are probably backing Li'l Ray on "Oooh Baby Baby" on the Volume 3 LP, as they were his backing for a single on Donna as Little Ray, "I Who Have Nothing" / "I Been Trying".
Salesian continued producing shows for decades, but no others were released to my knowledge. If anyone has scans or music from the reputed Volume 4 release, please contact me!