My fellow DJ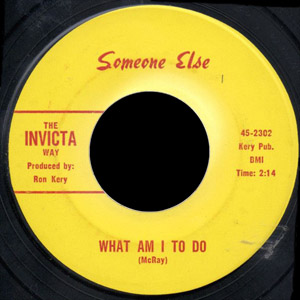 on WGXC known as "The Magic Stranger" played this intriguing 45 for me, so I said I'd try to find out more about it.
The group seems to be The Invicta Way, and each side of the record has its own label name. Or maybe the label is The Invicta Way and different artists are listed at the top. "What Am I To Do" has an interesting keyboard sound – anyone know what instrument makes that exactly? This side lists Someone Else at the top.
"Things As They Should Be (Two Flowers Spreading Love)" has 'Du Rango La Platz' where the label name would usually go. I'm not sure what this refers to, but Durango is a city in La Plata County in southwest Colorado.
Teen Beat Mayhem lists the group as Someone Else with a possible Texas origin, but notes that this 45 has maybe the most ambiguous label on any '60s single. Dead wax reads INVICTA 45-2301/2 BRS. However, both songs were written by McRay for Kery Pub, BMI which suggests only one group. Ron Kery was producer for both sides. Released circa 1968.