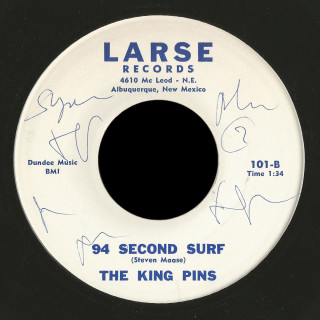 The King Pins came from Sandia High School in Albuquerque, New Mexico. Though they recorded in 1965, they were an instrumental group, not at all 'garage' but I dig this record.
Members were:
Steve Maase – lead guitar
Gary Shouse – rhythm guitar
Rob Cardin – bass
Larry Kuck -drums
In August 1965 they released a 45 "Rod Hot Rod" / "94 Second Surf" on Larse 101, recorded at Norman Petty's studio in Clovis, NM. The group's manager Bill Sego, a DJ on KCLV in Clovis, wrote the top side "Rod Hot Rod". This song has its fans but Steve Maase's original "94 Second Surf" commands the most attention nowadays.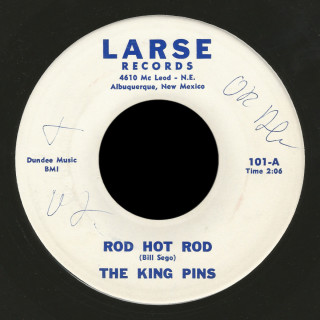 MGM picked up the single for a national release in November 1965. "94 Second Surf" is retitled "Door Banger" on the MGM 45, but there is a difference. The Larse single features a female vocal chorus on both sides, while the MGM leaves it off completely on "Door Banger" and cuts the vocal intro on "Rod Hot Rod" but keeps the rest of the vocals.
I've found a couple news clips of the group but haven't found a photo yet.
There are many clips of "94 Second Surf" and "Door Banger" on Youtube but let me say they're a mess, often slowed down, and mixing up the versions.
Below is the Larse version with chorus:
Below the MGM version without the chorus:
Larse was Bill Sego's label but I don't know of any other releases on it. Prior to managing he had his own single on the Nor-Va-Jak label "Down From The Clouds" / "Come Along Dolly".