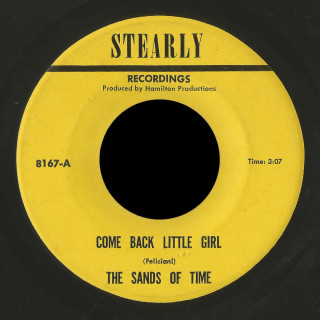 The Sands of Time came from Philadelphia, Pennsylvania, and recorded one single on Stearly Records 8167 in August, 1967.
I don't know the band members' names other than what's suggested by the surnames listed on the song writing credits.
"Come Back Little Girl", written by Feliciani, has a catchy intro with a distorted treble guitar sound.
The singer breathlessly calls out the lyrics to the flip "When She Crys For Me", written by Ellis, with more cool buzzing guitar between verses.
I don't believe there is any connection to the Sands of Time who recorded Red Light on Sterling Award records out of New York.
Hamilton Productions, run by Bill Hamilton, produced the single.
As far as I can tell Hamilton never used the Stearly label again, but Hamilton would go on to put out a number of singles, mainly soul, on the Groovey Grooves label starting in 1968, including the Exceptions "The Look in Her Eyes" and Phillies player Rich Allen and the Ebonistics doing "Echoes of November".
Groovey Grooves discography
any help with this would be appreciated
Groovey Grooves 160 – Rich Allen and the Ebonistics "Echoes of November" / "Fannari"
Groovey Grooves 161 – Exceptions "The Look in Her Eyes" / "Baby You Know I Need You" (Hynes, Walker, Ellis, Jones, arr. by Bob Lowden)
Groovey Grooves 162 – Collectors "Cruel World" / "I Still Love You" (March, 1969)
Groovey Grooves 163 – Isthmus of Sound "River" / "Sweet Love"
Groovey Grooves 164 – Stone Dawn "Agent Promise Blues" / "What You Think Is Right" (both by Penny Stubbs, Assoc. prod Bill Hoy)
Groovey Grooves 165 – ?
Groovey Grooves 166 – Norwood Long "I'd Like to Have You" / "She Belongs to Me"
Groovey Grooves 167 – Exceptions "The Shagg" / "Danny Boy"
Groovey Grooves 168 – Great Compromise "Let The Evening Roll On" / "He Was A Man"
Groovey Grooves 169 – Les Stewart, Jr. "One Woman Man" / "Mind Your Own Business"
Groovey Grooves 170 – Fairwinds "She & Me" (J. Swank, R. Smith) / "Height in Funland"
Groovey Grooves 176 – Fantastic Soul-Locks "Come On Home Girl" / "Funky Prance"
The Exceptions recorded at Impact Sound Recording Studio on Castor Ave in Philadelphia, while Stone Dawn recorded at Baker Sound in New Jersey.
Folsom Music, BMI published many of the original songs on Groovey Grooves.
Klemen Breznikar has an interview with one of the members of Stone Dawn at It's Psychedelic Baby!. The piece doesn't identify which member he interviewed but I believe it's George Manney.
Thank you to Laurent, Max Waller and Teen Beat Mayhem for help with this post.