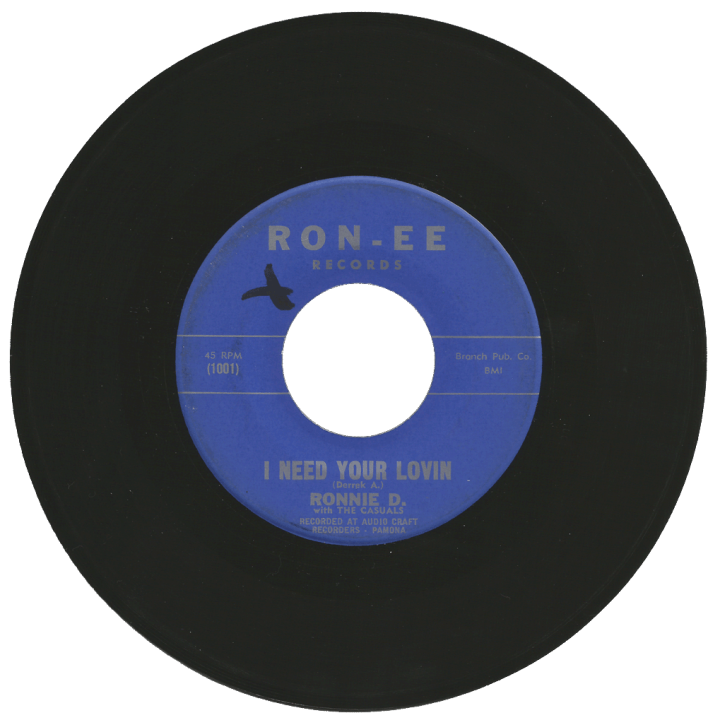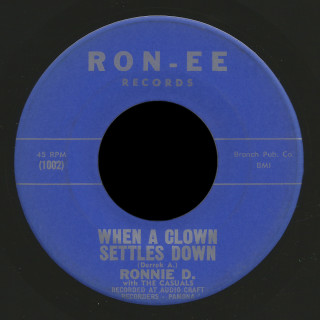 Tim Warren turned me on to "I Need Your Lovin" by Ronnie D. & the Casuals. The band is better known as Ronnie & the Pomona Casuals for their hit on Donna "I Wanna Do the Jerk".
"I Need Your Lovin'" has a different sound, even though the chunky guitar, swinging bass lines and solid drumming are typical of the Eastside style.
The similarity to John English III's "I Need You Near" is striking and begs the question, which came first? The Sabra label released John English III's single in May of 1965. The release date for Ronnie D. & the Casuals 45 is much less certain. The very small stamped "H" in the deadwax only indicates an RCA Custom press.
I've read that this is the first release by Ronnie D. & the Casuals, but that would date it to before the release of their Donna 45s which began around November of 1964. More likely it comes after their contract with Bob Keane ran out following three singles and LP on Donna, and a 45 on Mustang in May of 1965. This would make it a cover, or adaption, of the John English III song.
Song writing credits aren't much help – John English is credited as writer on "I Need You Near", published by Rattan Music BMI, while Ronnie D. & the Casuals' "I Need Your Lovin" lists Derrek A. as writer, published by Branch Pub. Co. BMI.
The flip is "When a Clown Settles Down" a long ballad with some good moments, but poorly-produced. I can't imagine the band was happy with the sound of this side of the single. This side also written by Derrek A., a name I can not trace to any other release from this era.
If John English III had the first release, one question is how did it come to the attention of Ronnie D. & the Casuals? The John English III single is especially rare, only a handful of copies now exist. It had almost no distribution or airplay at the time. Though based in San Fernando, John English III did perform with his group the Heathens at the Retail Clerks Auditorium in Buena Park, and at Pandora's Box on the Sunset Strip, so some exposure was possible. By coincidence the Casuals single on Ron-Ee seems to be very rare as well.
Another question would be who is singing on this record? Chas Lett was the usual lead vocalist for Ronnie & the Pomona Casuals, but to my ears this sounds like someone else.
Ronnie & the Pomona Casuals were:
Charles Lett (vocals)
Ronnie Duran (lead guitar)
Robert Arroyo (organ) replaced by Les Kalil (Wurlitzer electric piano)
Jimmie Duran (tenor sax)
Robert Foley (baritone sax)
Ryan O'Brien Jr. (bass)
Phillip Duran (drums)
Ronnie Duran and his brother Jimmie attended Damien High School in San Dimas, California, where they formed the Casuals. Their first recording may have been "20.75", which appeared on the second volume of the Salesian High School Rock 'n Roll Show, recorded October 18, 1964. Billy Cardenas, manager and producer of Cannibal & the Headhunters, The Premiers, The Blendells, Mark & the Escorts and many other great acts, took them on and brought them to Bob Keane's Donna Records.
In November, 1964 they put out the first of three singles and an LP on Donna. An interesting side note is that Arthur Lee of Love wrote "Everybody Jerk" and "Slow Jerk", and sang backing vocals on the album. The Pomona Casuals had one further single on Mustang (the replacement label for Donna, which Keane retired), and also backed the Sisters on their Del-Fi single, "Ooh Poo Pa Do" and "Happy New Year Baby" (Del-Fi 4302).
The Casuals recorded their Donna and Mustang singles at Stereo Masters in Hollywood with Bruce Morgan engineering and Billy Cardenas producing. This single on Ron-Ee was cut at Audio Craft Recorders (aka Audio Craft Recording Studios) at 283 North Garey Avenue in Pomona.
Ronnie & the Casuals continued performing into the 1970s (I can find ads for their appearances through January 1970). Charlie Lett was killed many years ago and Les Kalil has passed away.
Mark Guerrero wrote an excellent history of Ronnie & the Pomona Casuals at http://www.markguerrero.com/26.php that I highly recommend. You Found That Eastside Sound has scans of their records and more info.
Ronnie & the Pomona Casuals discography:
Donna 1400 – "Swimming at the Rainbow" / "Casual Blues"
Donna 1402 – "I Wanna Do the Jerk" / "Sloopy"
Donna 1405 – "Out of the Blue" (Cherry-Wright) / "Slow Jerk" (Arthur Lee, Maravilla Mus, Inc. BMI)
Donna DO-2112 – Everybody Jerk (LP)
Mustang 3005 – "Please, Please, Please" / "We're Gonna Do the Freddie"
Ron-Ee 1001 – "I Need Your Lovin" / "When a Clown Settles Down"