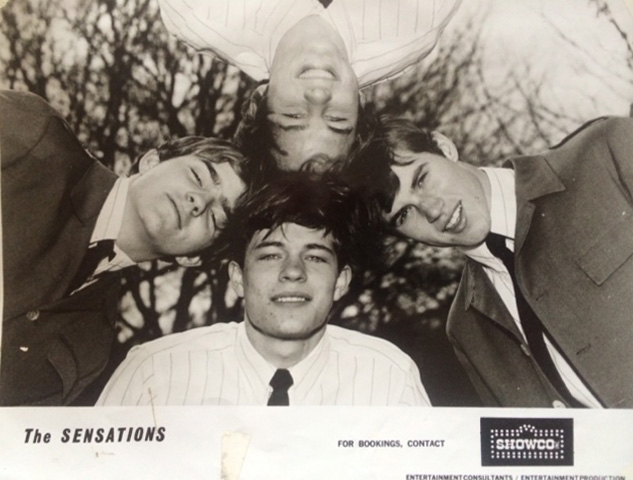 Mike Cooper sent in this photo of the Sensations, who were one of the bands on a list of groups playing the Texas State Fair in 1967.
Mike wrote to me about the band:
Roe Cree – lead singer, rhythm guitar
Mike Nelson – lead guitar
Mike Cooper – bass and vocals
Richard Schulze – drums

All alive and kicking. Played around Dallas from 1964 to 1968, Studio Club regular. We recorded three songs written by Mike Jones but they never went past demo.

We played similar venues as groups like The Novas, The Briks, Kenny and The Kasuals. We never called them rivals because we were all friends. Mike Nelson plays gigs with Kenny yet today.

From the Sensations Mike Nelson went on to play with Gladstone who had a top 20 song "A Piece of Paper" in 1973. Later he became founder and owner of Boomerang Musical Products.

Roe Cree went on with Rose Colored Glass. They had a top ten hit "Can't Find The Time," 1971. They played American Bandstand. Roe said Dick Clark was one of the nicest guy he had ever met.

Mike Cooper and Richard Schulze did not continue to pursue music.
Roe Cree's brother Joe was in the U.S. Britons with Mike Jones, Larry McNeny, Herman Drees and Larry Meletio.