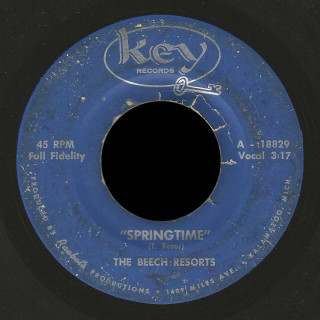 The Beech Resorts give us two sides of teen anguish, pining for a girlfriend left behind in the maudlin "Springtime" while wondering why he's in a relationship in the crude rocker "Distortion Don't Know". Why is "Distortion" part of the title? I don't know.
According to Teen Beat Mayhem, the Beech Resorts came from Jackson, Michigan, a town 36 miles west of Ann Arbor and 66 miles east of Kalamazoo.
I can't find any publishing info, but D. Williams wrote "Distortion Don't Know" while "Springtime" is credited to T. Resor (anagram of Resort – a band composition)?
1609 Miles Ave, Kalamazoo was the home of Key Records. Key Records had at least 15 releases during the '60s, mainly religious or country in nature, but with one other rock single, the Counts "All Night" / "Sittin Here Wonderin'" released in 1965 with a picture sleeve.
This is a Rite pressing from March 1967, 18829/30. Like other Key releases it lists "Raebet's Productions" on the label.