D'Arcy Studios was started by Warren Miller, who had cut "Everybody's Got a Baby But Me" / "Say You'll Be True" for United Artists in 1958. In 1964 Miller had a label called D'Arcy with two country releases, one each by Charlie Wiggs and Jesse Travers.
In 1966 Miller started D'Arcy Sound Studios in Norfolk, and Sounds International seems to have been the house label for the studio.
About half the label's releases were soul, of which the Sheepherders is most in demand. The Nite Liters and Del-Notes are good blue eyed soul.
The Rude Awakening is garage, the Outcasts single is heavy organ-based rock. The Common Wealth has been described as folky rock. The Holmes Brothers singles are country.
Of course many artists recorded their at D'Arcy and for release on other labels, such as the Regents with Mel Gaines and the Del Notes.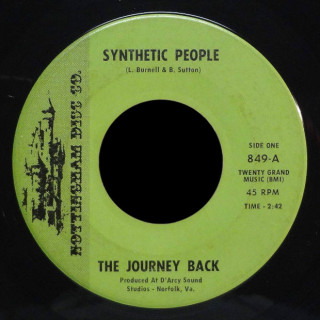 In 1968 Miller started using a new label, Nottingham Disc Co., which continued the last two digits of the numbering system (for example, changing from Sounds International 640, 641, 642 to 849, 850, 851 for Nottingham Disc Co). Nottingham 853 and 854 read "D'Arcy Studio Center" on the labels instead of "D'Arcy Sound Studios".
The Journey Back's single on Nottingham Disc is much sought after, and New Directions "Springtime Lady" is also very good. I haven't heard the Russ Spooner or Mark III singles yet.
Around 1970 Miller changed the name of the studio to simply Studio Center and began a new five-digit numbering system beginning with "50". He revived the Sounds International label for at least two releases in a 70s rural rock style.
Twenty Grand Music BMI published all original songs on Sounds International and Nottingham Disc Co.
Sounds International and Nottingham Disc Co. discography:
Any help with this discography would be appreciated.
Sounds International 631 – Nite Liters – "Set Me Free" / "Harlem Shuffle"
Sounds International 633 – Gentle-Men – "Only Love" (Wilson) / "Old McDonald"
Sounds International 634 – Rude Awakening – "Certain Girl" / "Fortune Teller"
Sounds International 635 – ?
Sounds International SI-636 – The Del-Notes – "I Love You" b/w "I Wish I Was Home"
Sounds International SI-637 – ?
Sounds International SI-638 – The Sheepherders with Bubba Bailey – "If You Ever Need Me" (Jones, Lowder, O'Sullivan) / "By the Time I Get to Phoenix"
Sounds International SI-639 – The Outcasts – "While I'm Here" / "Spell" (J.G. Heisler)
Sounds International SI 640 – Elsie Strong "This is the Last Time" (Gene Casey) / "Ask the Lonely" (William Stevenson, Jobete BMI)
Sounds International SI 641 – Holmes Brothers – "September Love" / "Splendor of Love"
Sounds International SI 642 – Pop Tops featuring Roy Hines – "I Want to Make It With You" (Hines, Weaver, Leibman, Esenberg, Barthlow) / "I Can Live"
Sounds International SI 643 – ?
Sounds International SI 644 – Holmes Brothers – "Searching Eyes" / "It's a Big Big World"
Nottingham Disc Co. 848 – Russ Spooner with the Sheep Herders – "We Got That" (Bobby Moore) / "The Truth"
Nottingham Disc Co. 849 – The Journey Back – "Synthetic People" / "Run Away Baby" (L. Burnell, B. Sutton)
Nottingham Disc Co. 850 – New Directions – "Springtime Lady" (L.H. Jones) / "Swlabr" (arranged by Chip Golden III)
Nottingham Disc Co. 851 – The Machine – "Hey Grandma" / "Roll With It"
Nottingham Disc Co. 852 – ?
Nottingham Disc Co. 853 – Mark III "Gigolo" / "39-21-46″ (Norman Johnson)
Nottingham Disc Co. 854 – Plague – "Brighter Side" (T. Charauros, J. Burcham) / "Cherry Road"
The following releases have a different numbering system and credit "A Product of Sound Center, Norfolk, Va." on the labels:
Nottingham Disc Co. 50104 – New Directions – "Lalena" / "Them Changes"
Sounds International 50120 – Franklin Freight Train – "Full on the Hill" / "Loving What You Can" (Seale-Leighton-Mahl-Seale)
Sounds International 50166 – Common Wealth – "Circles" (Carl Brody) / "It's Over" (Phil Liebman)
Thank you to Matt Beck for his videos of the Plague 45 on Youtube.