Johnny Thompson was a guitarist, producer and song publisher with an exotic bent to his records. He released singles under two group names, Johnny Thompson & the One-Eyed Jacks and the Johnny Thompson Quintet, all released on Guitarsville except the last, on Lyra.
The first releases were by Johnny Thompson and the One-Eyed Jacks. These had a simple label design, gold background with a basic logo and "A Circa Release". "Soul Chant" actually had a release in the UK on Ember EMBS 206 with a picture sleeve.
Johnny seemed to like bizarre vocals referencing the supernatural, as his cut "The Sorcerer" demonstrates:
There were three 45s with the One-Eyed Jacks:
Guitarsville G- 2121: "Soul Chant" (J. Thompson) / "For Us There'll Be No Tomorrow" (G-1755)
Guitarsville G- 2122: "Battle of Jerico '65" / "I Feel Like A Saturday Night"
Guitarsville G-102: "The Sorcorer" (vocal)/ "The Sorcorer" (instrumental) (label shows address as 112 N. Garfield in Monterey Park)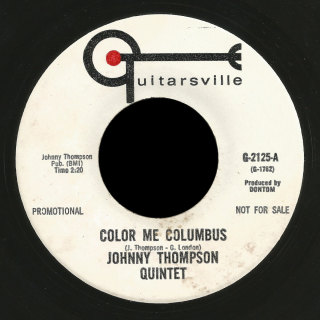 The Johnny Thompson Quintet is known now primarily for one song, "Color Me Columbus" an intense psychedelic track with a horror-movie vocal. The backing has congas, flute, heavy guitars, and a great overall crunching sound. Unfortunately the flip replaces the heavy vocals for a lisping parody. I would have much preferred an instrumental version.
Two picture sleeves show a quintet, but the only names I can associate with this group are Johnny C. Thompson and Gilbert London who are credited as songwriters on the A-sides "Color Me Columbus" and "Promise Her Anything".
The Johnny Thompson Quintet had three 45s:
Guitarsville 2125 (G-1762): "Color Me Columbus" / "Color Me Columbuth" (October 1966)
Guitarsville 2126: "Promise Her Anything" (Thompson/London)/ "For Us There'll Be No Tomorrow" (J. Thompson) (Jan. 1967)
Lyra L100: "Turn Me Down" / "We'll Make It Good" with b&w art sleeve (late '60s)
The change in label name makes sense as Lyra L100: "Turn Me Down" / "We'll Make It Good" is dominated by a harpsichord sound instead of guitar. With the exception of "Sorcerer", Guitarsville singles list an address at 222 E. Garvey, Monterey Park, CA. Most of the 45s were produced by Dontom, or Don Tom as listed on other Guitarsville 45s. Publishing by Johnny Thompson Pub BMI.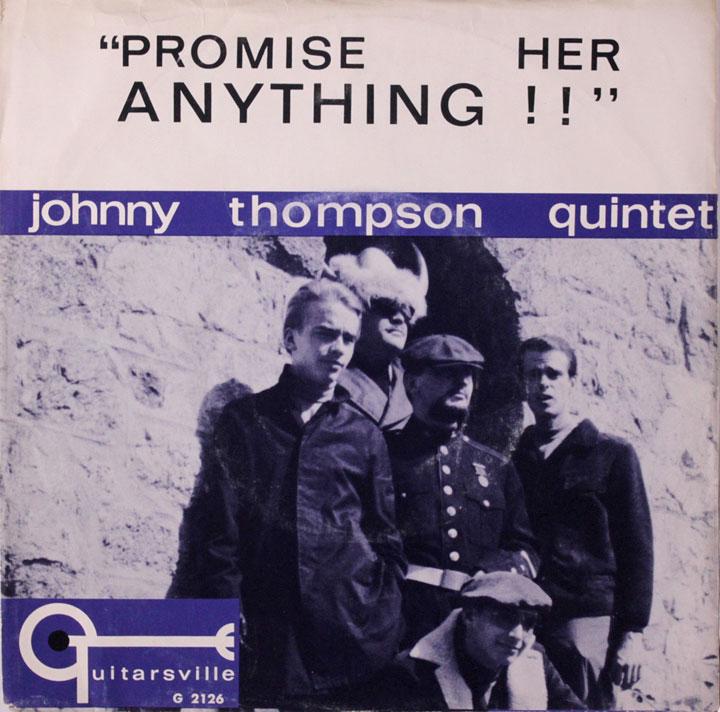 There were a couple other 45s on the Guitarsville label. Most notable is Guitarsville G 2123: the V.I.P.'s "It" / "Don't Turn Around" which seems to be highly rated as a garage 45, though I've never heard it. The other is the Clark Brothers on Guitarsville 2124: "Hide Me" / "Listen Girl" (both by T.J. Kouza for Nova Pub. BMI, produced by Don Tom) (G-1760/1).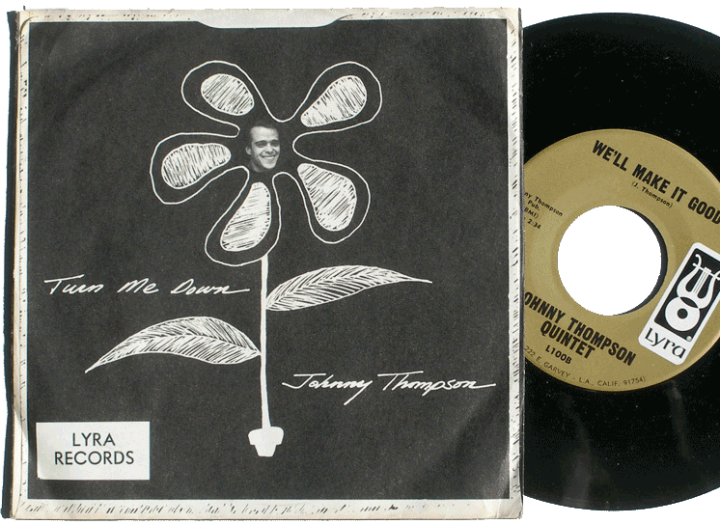 While making these records, Johnny Thompson had opened an instrument shop, first at 112 N. Garfield and then at 222 E. Garvey in Monterey Park, where it is still in business today. The shop's website has many early photos of Johnny and his shop, his early country & western groups and a remembrance of Johnny as a music instructor. It includes a promotional flyer for the Johnny Thompson Sextet, but curiously no mention of any of these records.
The Johnny Thompson Music shop was obviously involved in the Eastside sound of such bands as the Premiers, Thee Midniters & Cannibal & the Headhunters and continues to be involved in community music projects to this day. Thank you to Gary Myers for pointing out that connection.