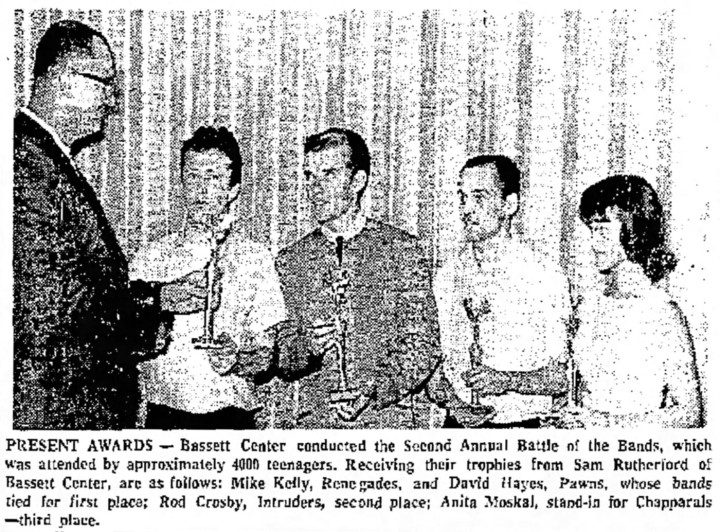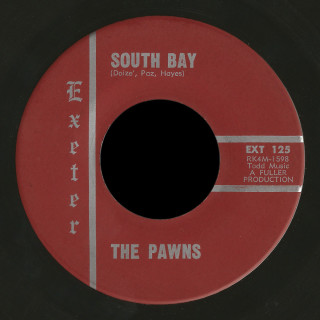 The Pawns had two releases on Bobby Fuller's Exeter label. First was Exeter 125, featurin, two good surf type instrumentals, "South Bay" / "The Pawn", released about August, 1964.
Just a month later they released their next 45 on Exeter 127. The top side has David Hayes, the leader and vocalist with the Pawns, listed as the artist, with his original "Meet Me Here (In New Orleans)". The Pawns are listed on the flip for the sleepy instrumental "Lonely".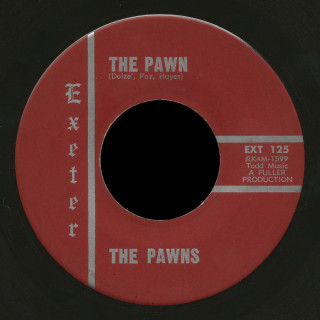 Interestingly, both sides were re-released as the first record on the Coronado label, but given the same release number, 127, as the Exeter 45. Credits are the same, including "A Fuller Production", Todd Music BMI, and the RCA custom master code RK4M-3630/1. Since 127 was the last of seven 45 releases on Exeter, I assume Fuller gave up the label when he moved to California and let the Pawns take record and/or contract to Coronado.
David Hayes and the Pawns were one of only three 45 rpm artists on Exeter, the others being Bill Taylor & the Sherwoods and Bobby Fuller himself. Exeter also had an LP by Los Paisanos.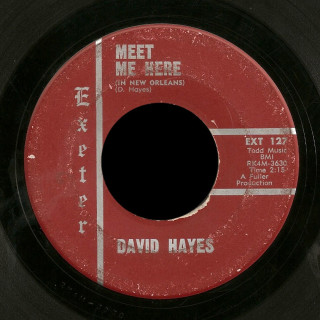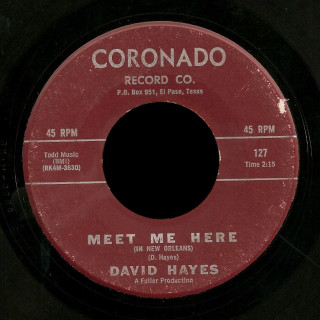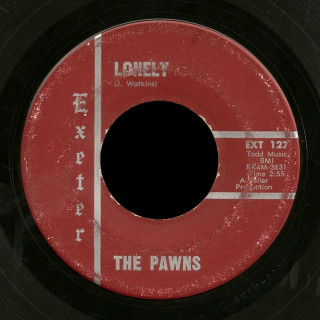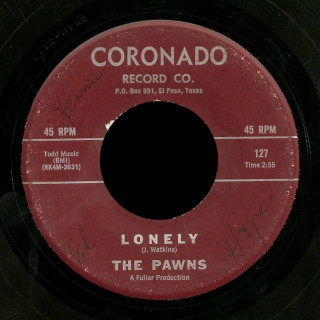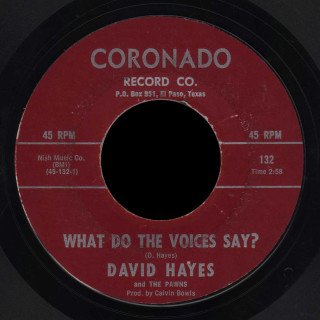 Their last 45 came out as David Hayes and the Pawns and featured two vocals, a cover of Charlie Rich's "Lonely Weekends" backed with a strange original by Hayes, "What Do the Voices Say". Produced by Calvin Bowls, it saw release sometime in 1965 on Coronado 132.
I know David Hayes was in the group, but the other members are unclear. Songwriting credits on "The Pawn" and "South Bay" are Doize', Paz and Hayes. Since these are instrumentals and Hayes was definitely part of the group, I assume Doize' and Paz were the other two members of the group.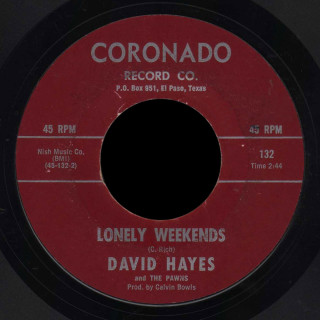 However a post by Patrick Lundborg from 2012 on the Acid Archives Updates states "Jack Duncan (bass) and Gary Davis (drums) [I think this should be Barry Davis] learned their chops … in surf-band the Pawns. The leader of this group was one David Hayes, who presumably took on vocal duties on the later 45s, at least he receives separate billing. The two would-be Dragonflies Duncan and Davis did not contribute any songwriting from what I can tell, but were definitely present for the Pawns' 1964 debut 45 … Duncan and Davis left the Pawns to join a more experienced musician friend in a band called Lords Of London, based in Durango, Colorado. After some time they recruited their old El Paso friend Randy Russ who left the Infants Of Soul to join them, and the band also changed its name to Legend around this time (1967)." Legend had three 45s and two LPs on the Megaphone label, the second and better of the two as Dragonfly.
Info on Legend from Klemen's interview with Randy Russ. Exeter discography info from the Bobby Fuller – Never to Be Forgotten site.
Thank you to Sam Stephenson for scans of the Coronado 45s and Exeter 127.