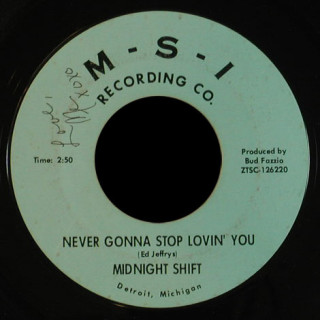 Midnight Shift came from Redford Township, Michigan, a suburb about ten miles west of Detroit.
Members were:
George Whitfield – vocals
Ed Jeffries (or Jeffreys, aka Ed Pianasac) – guitar and vocals
Ken Victor (aka Ken Mose ?) – bass and vocals
Bob Colone – drums and vocals
Their first release was "She's Gone Far Away" b/w "Never Gonna Stop Lovin' You", both written by Ed Jeffreys and recorded sometime in late 1966.
The A-side is a gentle kind of love song while the flip has a harder sound with droning guitar and Bob Colane pounding the drums.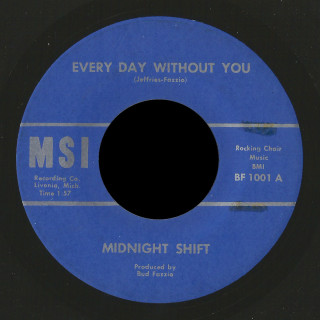 The band refined their sound for the next single in '67, creating two beautiful melancholy compositions using acoustic guitar for rhythm.
"Every Day Without You", written by Jeffries and Fazzio, is the more upbeat of the two, with excellent harmonies and hooks.
"Just Another Day", written by Jeffries and Colone, is gentler and sadder, featuring a beautiful San Francisco-influenced electric solo.
They recorded both singles at M-S-I Recording Company in Livonia (next door to Redford). The band's manager Bud Fazzio produced both singles.
I don't know of other groups that used M-S-I Recording, I suspect it was the band's own rehearsal or studio space.
Midnight Shift changed into the Thomas Blood Band, who played at the nearby Grande Ballroom and continues with different lineups to the present day.
Does anyone have a photo of the band?
Some photos of the members of Thomas Blood Band can be seen at Motor City Music Archives.