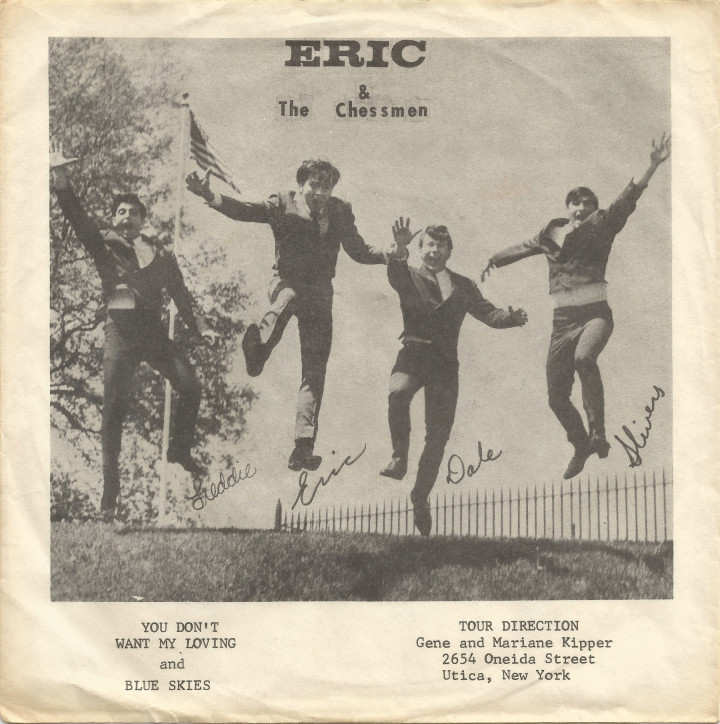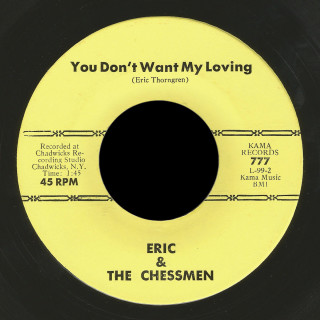 Eric and the Chessmen were a well-known group from Utica, New York. They toured throughout upstate New York and into Vermont, and even had a stand at the Peppermint Lounge in New York City. They released only one single: the original song "You Don't Want My Loving" by the band's leader, Eric Thorngren, backed with a rocked-up version of "Blue Skies", on Kama Records 777.
The band's membership changed many times, so I'll list some of the lineups below to the best of what I can gather: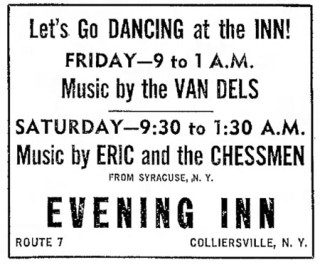 As simply the Chessmen, the original lineup consisted of:
Eric Thorngren – guitar
Tony Frontera – saxophone
Jon Hynes – bass
Butch DeAngelo – drums
By March 1965 the band consisted of:
Eric Thorngren – guitar & vocals
Norm Knapp – guitar
Dale Rider – bass
Wayne Bohling – drums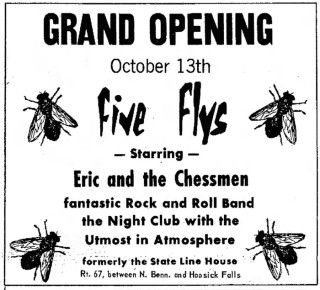 When Norm Knapp took a leave of absence in 1965, Chuck Schoenley became the band's first keyboardist:
Eric Thorngren – guitar & vocals
Chuck Schoenley – organ
Dale Rider – bass
Wayne Bohling – drums
After Chuck Schoenley left the group to join the Rogues, Frankie Convertino became the keyboard player, then Fred Faccioli.
Slivers Matrassi replaced Wayne Bowling on drums by early or mid-1966.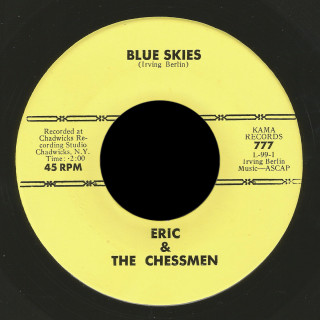 The band featured on the picture sleeve to their 45 and probably on the recording is:
Freddie Faccioli – organ
Eric Thorngren – guitar & vocals
Dale Rider – bass
Slivers Matrassi – drums
The sleeve at the top of this post seems to be very rare. The labels note "Recorded at Chadwicks Recording Studio, Chadwicks, NY". For more on the Kama and related labels like Krishna and Sutra, see the final section of my post on the Roosters.
The band had other recordings that weren't released at the time. An atmospheric instrumental featuring organ and a reserved guitar solo called "Too Much" appeared on The Best of Twist-a-Rama: Crude 1965 Garage Sounds from the Mohawk Valley. There are also demos of "Wooly Bully", "New Orleans" and "Heat Wave".
The Chessmen continued in different forms into the late 1960s, eventually without any original members. Sometime in 1967 or 1968 Ted Alexander replaced Freddie Faccioli. Dale Rider left to join the Rochester group the Oxford Watchband – a group by that name had a 45 in 1969 on the Hand label, "Diagnosis (One Way Empty and Down)" / "Welcome to the World".
Eric Thorngren joined the Brass Buttons and went on to a long career as a recording and mixing engineer.
I found this info on the band at the forum After Bebop a Lula: Utica Bands 50s 60s. There are many photos of the band in that thread, see these pages for some of them:
http://clipper220.proboards.com/thread/779?page=108
http://clipper220.proboards.com/thread/779?page=110
http://clipper220.proboards.com/thread/779?page=111