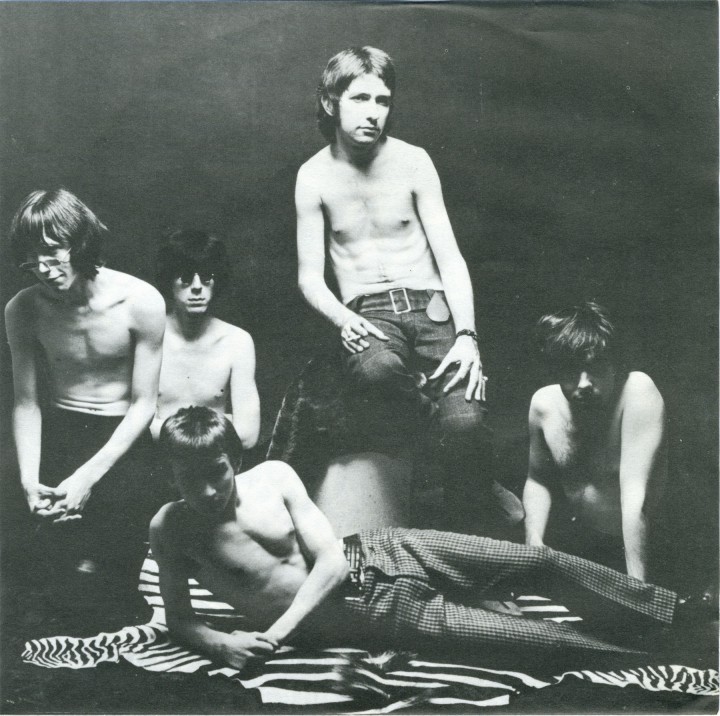 The Big Wheel, Switzerland, late 1966, left to right: Mick Holland, Del Coverley (front), Andy Clark (wearing glasses), Paul Stroud and Ron Bryer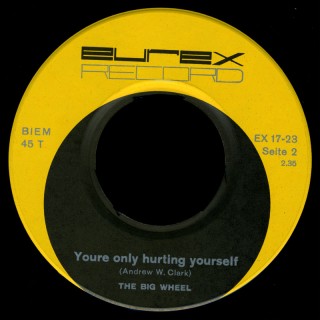 Paul Stroud – lead vocals
Del Grace – lead guitar (replaced in 1966 by Ron Bryer)
Mike Manners – organ (replaced in 1966 by Andy Clark)
Barry Nicholls – bass (replaced in 1966 by Mick Holland)
Del Coverely – drums
Formed in the Bexley, Kent area in mid-1964, the original line-up included former Carl Lee & The Epitaphs guitarist Del Grace, who joined longstanding lead singer Paul Stroud, bass player Barry Nicholls and organist Mike Manners. Towards the end of the year, former Scimitars sticks man Del Coverley replaced the original drummer.
Big Wheel gigged incessantly around the London area and played regularly at the Black Prince Hotel in Bexley, working with notable acts like John Mayall's Bluesbreakers and The Graham Bond Organisation. In March 1966, the musicians played at a festival in Berlin, Germany.
Around April 1966, Mike Manners dropped out and Andy Clark took his place. On 6 June, the new formation left England to tour Germany and Switzerland. On the band's return, both Del Grace and Barry Nicholls both departed.
Del Grace joined The Carl Douglas Set in July 1966, which morphed into Carl Douglas & The Big Stampede. Barry 'Baz' Nicholls, years later, joined heavy metal band, More, with whom he continues to gig.
With further gigs lined up in Switzerland, the remaining members brought in former Carl Douglas Set guitarist Ron Bryer, who'd previously worked with Lewisham group, The Loose Ends and bass player Mick Holland.
The new configuration developed quite a following in Switzerland, playing at the Tanzrad in Basel before moving on to Zurich. Big Wheel even issued a hopelessly rare (Swiss-only) mod single, Andy Clark's "Don't Give Up That Easy" c/w "You're Only Hurting Yourself", released on the Eurex label in February 1967.
However, in early October 1966, Del Coverley left to join Del Grace and original Big Wheel organist Mike Manners in Carl Douglas & The Big Stampede.
It's likely that the remaining Big Wheel members stayed in Switzerland until at least May 1967 whereupon all of the musicians except Ron Bryer returned to the UK.
Bryer joined Dee Dee Barry & The Movements before forming Brainticket in 1968. The band cut a lone album "Cottonwoodhill" in 1971, shortly after which Bryer died of a drug overdose.
Back in the UK, Andy Clark reunited with Del Coverley in The Fenmen (aka Kindness). This proved to be short-lived and after working with Sam Gopal's Dream and Vamp, he formed Clark-Hutchinson, which brought Coverley in for its 1970 and 1971 albums, "Retribution" and "Gestalt".
Original member, Mike Manners would record two singles with Johnny Young in 1967 after leaving Carl Douglas in July 1967. Del Grace, meanwhile, would record solo material for United Artists and Liberty before moving to Spain and cutting solo CDs.
Many thanks to Del Coverley, Del Grace and Mike Manners for helping to piece this story together. Thanks also to Rolf at Feathered Apple Records in Switzerland for the use of the Eurex single scans